Breaking News: How to Tell What's Real From What's Rubbish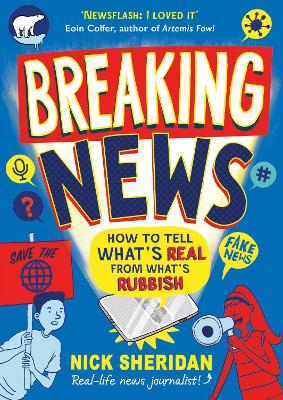 By Author / Illustrator
Nick Sheridan
Genre
Non Fiction
Age range(s)
9+
Publisher
Simon & Schuster Ltd
ISBN
9781398506787
Format
Paperback / softback
Published
23-12-2021
Synopsis
A funny, practical and ever-so timely guide to the NEWS for 8-12-year-olds. Find out how to understand and navigate 24/7 news, how to spot the facts from the fake . . . and what to do if the news becomes overwhelming. Perfect for fans of Matthew Syed's You Are Awesome and Rashmi Sirdeshpande's Dosh.

It's never been easier to access the news; TV, radio, billboards, newspapers and endlessly buzzing on to the screens in our pockets. But with more and more news available, it's hard to know what to trust. Where do stories come from? What's real news and what's fake? And what role does social media play in all of this? 
Insightful, hands-on, essential and reassuring, Breaking News will help children navigate the peaks and pitfalls of our modern day news cycle, through laugh-out-loud text, amusing illustration and interactive activities.
'A perfect read for any budding young journalists out there.' - Konnie Huq, TV presenter and author of the COOKIE! series.  'Jam-packed with fascinating facts, this is a fantastically funny and much-needed guide to navigating the news.' - Rashmi Sirdeshpande, author of DOSH
Reviews
Rhiannon
A humorous and reassuring look at all things news, Nick Sheridan explains in a gentle and informative way how to read, write and question information like a real journalist. Beginning with the basics of what news is, Breaking News: how to tell what's real from what's rubbish, also explores the history of news, why stories are written, how to identify fake news and gives tips on how to write your own reports.
The book features plenty of practical advice to help children navigate the dangers of modern news and social media while highlighting the work of important journalists such as Ida B. Wells, Marie Colvin and Lyse Doucet. David O'Connell's illustrations add extra fun to this wonderful guide for 8-12 year olds and as well as a comprehensive glossary of terms, there are links to all important, child-friendly, fact-checking websites in the final pages.
An excellent read, particularly for any child interested in journalism or concerned by ever-increasing news sources, packed with accessible activities to try at home.
163 pages / Reviewed by Rhiannon Cook, school librarian
Suggested Reading Age 7+
Other titles