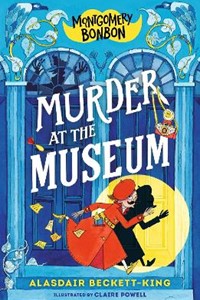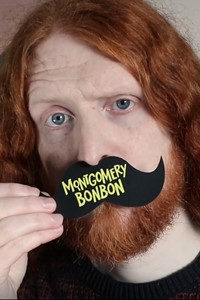 About Author
Comedian and writer Alasdair Beckett-King's first book for children is the hilarious murder-mystery Montgomery Bonbon: Murder at the Museum. Alasdair is a multi-award-winning comedian and writer. He studied at the London Film School and was nominated for a Student Oscar in 2012. Since then he has performed critically lauded solo shows at the Edinburgh Festival Fringe, written for BBC radio, co-written an award-winning video game and created numerous viral sketches for social media, including an interactive whodunit.
Interview
Montgomery Bonbon: Murder at the Museum (Walker Books)
February 2023
Comedian Alasdair Beckett-King turns to mystery and murder in his first book for children, Montgomery Bonbon - Murder at the Museum! Look out for disguises, mysterious happenings and unexpected villains in Murder at the Museum.... and fabulous illustrations by Claire Powell.
Read a chapter from Montgomery Bonbon: Murder at the Museum
Q&A with Alasdair Beckett-King
Here's Alasdair to tell us more about writing funny stories, his favourite joke and getting stuck in the doldrums:
1.   Your day job is in comedy - what is life like as a comedian? How did you become one?
Stand-up comedy is more of a night job than a day job. It's a bit like being a door-to-door salesperson. You travel all over the place trying to sell your wares to strangers and if they don't throw things at you, that means you did a pretty good job. The way to become a professional comedian is to start writing jokes, and not to stop until someone agrees to pay you.

2.   Why did you decide to write a book - and to write a murder mystery for children?
A couple of years ago, for reasons that I won't go into, comedy clubs were all closed and it was illegal to go to them. So, I had no choice but to watch lots of Columbo on TV and create an interactive murder mystery on Twitter. That's when Montgomery Bonbon (aka Bonnie Montgomery) came into existence - a child detective who solves crimes with the aid of a brilliant disguise and a funny accent.

3.   Who are your favourite murder mystery authors?
I especially enjoy Wilkie Collins, Margery Allingham and John Dickson Carr. And naturally, I am a huge admirer of the Most Unladylike Robin Stevens. I'm going to be very rude to Agatha Christie and say that I know David Suchet's portrayal of Poirot on TV far better than anything she actually wrote. (Sorry, Agz.)

4.   Can you tell us a bit about Montgomery Bonbon and what happens in Murder at the Museum?
While Bonnie Montgomery is visiting the Hornville Museum with Grampa Banks, there is a power-cut. When the lights come back on, a security guard has been murdered, and the priceless Widdlington Eagle has been stolen. But that's not the only thing that has changed. With the help of a raincoat, a beret and a fake moustache, Bonnie Montgomery has transformed into the world's finest detective: Montgomery Bonbon.

5.   Did you enjoy writing it? Which bit of the book makes you laugh the most?
There's a joke about a hamster's gravestone that I am very pleased with. I won't spoil it, but I will say that no hamsters were harmed in the writing of the book.

6.   Where did you get the name for your young detective, and did anyone help inspire Montgomery Bonbon? 
When I was ten, I wanted to be a private detective. But my dad (correctly) told me that ten-year-olds are not allowed to solve crimes. So, in some ways, Bonnie is based on me. I wanted to give her a chance to solve an intriguing mystery - and she's a lot better at it than I would have been.

7.   Who is your favourite supporting character/suspect and why?
Grampa Banks is a loyal detective's assistant and fiercely protective grandfather. Without his help, Bonnie would never be able to solve a mystery or keep her identity a secret from the wider world. (Even from her mum.) Grampa Banks is there to make sure Bonnie is always safe, except when he falls asleep during a stake-out ...

8.   Which of the character illustrations by Claire Powell stands out for you?
There's a brilliant drawing of Bonnie when she's stuck in the doldrums. Getting stuck in the doldrums happens to all good detectives if they run out of clues. Bonnie lies on the floor with her arms and legs sticking out like a dead fly ... waiting for inspiration to strike.

9.   Do you have more mysteries planned for Bonnie / Montgomery Bonbon?
Yes! Monsieur Bonbon's work is not done. Bonnie's next case is still a secret, but I am probably allowed to tell you that it involves a lighthouse, a smugglers' cave and an onion ring.

10.   What are your top tips for children who want to write funny stories?
Making people laugh is often about surprise. Why not try to write a sensible story, and then add in something completely unexpected? All you need is a pencil, a piece of paper and the longest possible goose.
...Away from your desk:
1. What makes you laugh in real life?
I like it when animals wear small hats.
2. Where is your favourite place to escape to?
Anywhere that sells vegan chocolate cake.
3. If you weren't a comedian, what would you be?
A door-to-door salesperson.
Author's Titles