Alex Bellos And Ben Lyttleton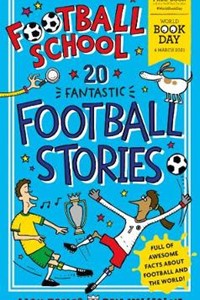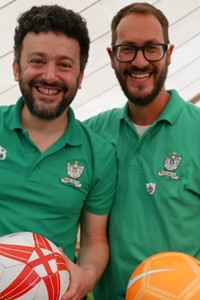 Biography
En Lyttleton is an author, broadcaster and consultant to professional football clubs. He has written for The Guardian, Sunday Times, Newsweek and TIME International. His work has been syndicated in over 20 countries. He is the author of Twelve Yards: The Art and Psychology of the Perfect Penalty and he advises top clubs and national teams on how to improve their penalty-taking skills. His new book is Edge: Leadership Secrets from Football's Top Thinkers. He lives in London.

Alex Bellos is the author of several bestselling books about mathematics, football and Brazil. His maths books Alex's Adventures in Numberland, Alex Through the Looking Glass and Can You Solve My Problems? were all top ten bestsellers and have been translated into many languages. He used to be the Guardian's correspondent in South America, where he wrote Futebol: The Brazilian Way of Life, which was shortlisted for Sports Book of the Year. He ghost-wrote Pele's bestselling autobiography. He has presented a TV series on Brazil for the BBC and made several BBC radio documentaries on maths. His YouTube videos have had more than 20m views. He currently writes a puzzle column for the Guardian and lives in London.
You can watch Ben Lyttleton answering questions about the Football School series here on ReadingZone Live: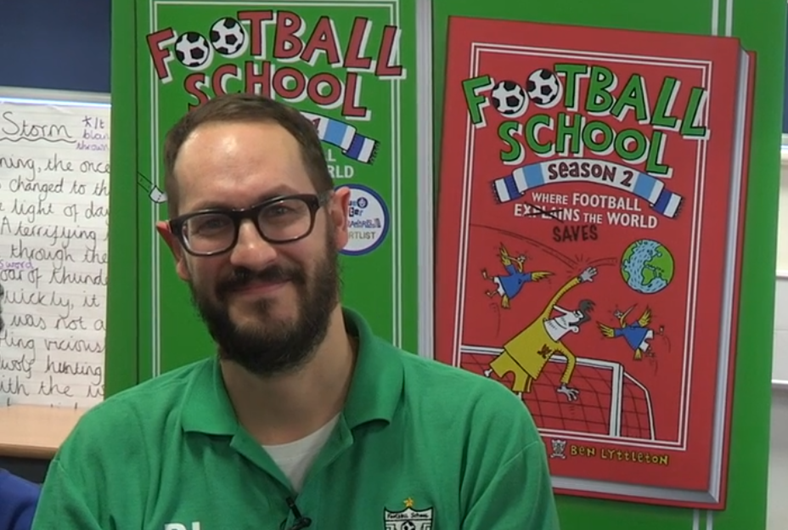 Interview
Football School: 20 Fantastic Football Stories, Walker Books

March 2021
World Book Day 2021


If you're trying to entice football-mad children into reading, look no further than the Football School series from Alex Bellos And Ben Lyttleton, which feature football-related facts across subjects from maths and science to history and geography.

Now, with World Book Day approaching, publisher Walker Books has produced a World Book Day £1 book that is very accessible with 20 football stories, making it easy to dip into. This is a fun book with plenty of appeal to young readers and football fans.

We asked Alex Bellos and Ben Lyttleton tell us more about their Football School books:


1. You are both passionate about football, can you describe your childhood footballing 'careers' for our readers?

Ben - Career makes it sound more impressive than it was, but I essentially played football whenever I wasn't in lessons or eating or asleep. I would always have a ball at my feet (I still do when I work) and though I played for school teams, I spent more time at home, practising taking penalties with a small sponge ball against a goal-shaped radiator. I have since become an expert in penalty strategy and I think it all started back then!

Alex - I loved playing football but was never good enough to play for the school team. As a budding mathematician I always saw my best move as the precise geometrical pass.


2.  Why did you decide to write a series of books drawing on this passion?

Ben - We are both parents and are passionate about helping kids develop a love of reading and a curiosity about the world. I would have loved to have read these books as a child, because the only time I was not talking or thinking about football was during lessons. In Football School, every lesson is about football AND you are learning about the world. It's a win-win!

Alex - Football is the perfect hook to get kids reading because it is a subject they want to read about. And it enables us to include education by stealth. By linking everything to football we can show how in the real world everything is connected. Also, we are friends and we wanted to work together!



3. How do you go about finding your facts for the Football School books and how do you research all the facts?

Ben - We read loads of books about the World Cup - and the world - to find out the best facts to include. We are journalists by profession and are very used to doing deep research on subjects to make sure we get the right information. These are no different - everything is verified and checked and double-checked for super-accuracy!

Alex - The most important thing about our books is that they are entertaining and fun to read. But also we wanted to make sure that children are learning stuff they don't know, from basic facts like capital cities and national flags to important events in global history. So once we find a fantastic fact we work out the best way to present that fact in a humorous and educational way.


4. How do you decide what to include and what to leave out? Do you always agree on what should go in the book, as you work collaboratively?

Ben - We don't always agree and that's the joy of working with someone else. Alex constantly challenges and encourages me to come up with good content, and I (hopefully) do the same with him. We know that the other person can often improve our work, and that helps us be creative in the first place.

Alex - Having a collaborator works well in writing a book with humour and learning. We tend to write the questions individually and then send them to the other person...we aim to make each other laugh and learn something new. If Ben's response is "Alex that pun is terrible" then I need to try harder!


5.  What are each of your favourite football moments, ever?

Ben - My greatest moment was scoring a penalty kick in front of 25,000 fans against former Ireland goalkeeper Packie Bonner. Sadly I missed my next penalty - horribly, with a Panenka that went wrong - two minutes later, so the glory did not last long.

Alex - Celebrating Brazil win the 2002 World Cup with tens of thousands of Brazilians on a sunny morning on Copacabana beach. (The game was in Tokyo)


6.  What are the strangest question you've ever been asked as authors?
Ben - I was once asked to do a floss. I didn't know what it was then (of course I do now) and it did not end well for me!
Alex - Can you do my maths homework?


7. How do you get involved in school events?

Ben - We can turn your school (or stadium!) into a Football School with a talk that will help inspire children to pick up a book and develop a curiosity about the world! See our website footballschool.co if you want us to visit!


Author's Titles