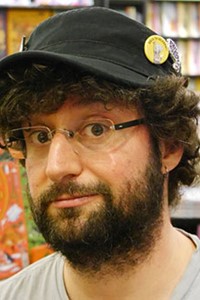 Biography
Andy Stanton lives in North London. He studied English at Oxford but they kicked him out. He has been a stand-up comedian, a film script reader, a cartoonist, an NHS lackey and lots of other things.
He has many interests, but best of all he likes cartoons, books and music (even jazz). One day he'd like to live in New York or Berlin or one of those places because he's got fantasies of bohemia.
His favourite expression is 'Good evening' and his favourite word is 'captain'. Andy has now written more than one book, but fewer than ten.
Interview
Andy Stanton spoke to ReadingZone about MR GUM AND THE SECRET HIDEOUT
November 2010
This is your eighth Mr Gum book - do they get easier or harder to write?
"Mostly they get harder because it's hard to keep fresh and funny and at the same time keep all the characters in focus because they all developed a history very quickly.
"So thinking of new tricks and jokes - jokes to play on the reader and new trickery by the characters - can be difficult.
"This book was easier to write than the last couple of books because I know it will be the last one for a while and once I got the idea for the story I just enjoyed doing it and the story just followed a natural path.
"It's going to be the last Mr Gum book for a while because I don't want to keep churning them out in order to keep the books available in the market place, which can be what you end up doing.
"I want to take a break from these books and do something different for a while and to come back to Mr Gum when it's fresh again.
I'm not sure what I'll write next. I think I will probably write for the same age group and funny books, although at some point I would like to write something a little older and longer."
Did you ever have your own secret hideout as a child?
"I did have somewhere at the bottom of the garden, but I've not thought about it for years. It wasn't very secret though. We had a kind of nest of trees and bushes, like a wall of foliage. I used to call it the cave and I would bury things ready for when I came back another time. I buried some sweets once but when I came back two weeks later they were all mouldy and damp and horrible."
How do your books start?
"I usually get six or seven ideas and start to write those ideas down. Sometimes I'll write just a chapter and sometimes I'll write a whole book before I realise that the idea is not going to work.
"I don't know what sparked the idea of the hideout, but it seemed like the perfect idea to me; a serious subject (the environment and global warming) treated in a tongue in cheek way. I like getting a big idea and treating it in a funny way."
There is a lot of offal in this book. What's the worst thing you have ever eaten?
"I had a friend whose mum was a professional caterer but any time I went around to his house and his mum cooked, it was terrible and eventually I tried to avoid going there. I remember once sitting there with a plate of beef and potato and trying to hide the meat in the potato so I wouldn't have to eat it..."
When's your favourite writing time?
"Once I get the actual idea for a book, which can take a month or two of thinking, I can write the first draft in a week or two. I write best at night time with lots of coffee and sugar and staying up late. You get some very strange Mr Gum stories that way."
What do you like most about Mr Gum?
"Mr Gum is a villain but a stupid one, and I really like really funny or really stupid villains. He's kind of like an old-fashioned tramp who should have been around in the nineteenth century. I find that old-fashioned thing very funny, his battered stove-pipe hat, he's really angry and stupid."
Do you have a favourite illustration in this book?
"It may be my favourite book so far in terms of the illustrations, which are a mixture of slapstick and beautiful images. I like the last picture the most, where the characters are sitting on a hillside and just thinking about life, and I love that drawing. David Tazzyman, the artist, signed that 'The End' and I love it."
Would you like to not write another Mr Gum book?
"Mr Gum is still close to my heart but I will only write another when the time is right and it feels right to do it. Sometimes ideas come really quickly. I can just be walking along the street and wham, the idea will hit me in the head and that will be it - another Mr Gum book."
Do you have a map of the town of Lemony Bibbet?

"I have a map of it in my head and I know where everything is in relation to everything else but I don't want to put a map in the book because that taints it in people's imagination.
"One of my favourite locations in the town is the hill where Polly and the heroes spend a lot of time just sitting on the hillside looking over the town. It's what you want to do as a kid, just sitting up on a sunny hill and relaxing. I also like Billy's butcher's shop, it's always so grotty.
"It's really an idealized town, old-fashioned, it still has individualised stores, and a meadow, but every time it's in danger of becoming too cosy I put in a rubbish reference like DVD's and then it brings it back into our times very quickly."
There are more songs in this book - is singing one of your hobbies?
"I love to sing at my events and in my head it sounds wonderful but I have seen people's reactions and they don't seem to think it's that good.
"I always know what the tune is when I write them. I have just recorded books two and three onto CD's so even more people can hear me singing...."
What's been your worst day ever?
"Where to start, which one to choose... I think one of them was the day I was on a Greek ferry going from one island to another. My friend got off at the right island but I lost the exit and the boat left while I was still on it. So I had to get off at the next island and try to find a ferry back, but everything was written in Greek. I got the boat but missed the announcement for my island so ended up back where I had started, waiting for the next boat to the island... It felt like it would just go on forever!
What was your best day ever?
"Hmmm, I remember the worst days better. It was probably the day I started writing Mr Gum. I was working for the National Health Service as a medical secretary which I had done for six years. I love the NHS but I feel like I've done my bit for it!"
What do you like to do when you're not writing?
"Stay at home and watch bad TV... I'm also learning the guitar and I love making music. I'm not sure how good it is but it calms my mind down. I just love making lots of noise on an electric guitar, reading and listening to music.
Author's Titles