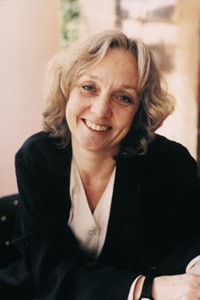 About Author
Originally from Leicester, Anne Fine read Politics and History at Warwick University before training to be a teacher. She has also worked as an Information Officer for the charity Oxfam, and has two grown-up daughters.
Anne Fine's work is characterised by humour and her extraordinary insights into the lives and minds of children. She went to school aged three, and can't remember a time when she couldn't read. As a young person, Anne moved on from Enid Blyton to Anthony Buckeridge, Richmal Crompton (the William books) and Henry Treece. Then it was P G Woodhouse and Rider Haggard. Now Anne reads George Eliot, Flaubert, Austen, Thackeray and Tolstoy, as well as biography, autobiography, psychology, crime, poetry - and the newspapers.
Anne has received many children's book prizes, including the Whitbread Children's Book of the Year (The Tulip Touch), Carnegie Medal (Goggle Eyes, Flour Babies)and the Guardian Children's Award (Madam Doubtfire). She was the Children's Laureate from 2001-2003.
Interview
BLOOD FAMILY
DOUBLEDAY
JULY 2013
Anne Fine's latest book, Blood Family, shares the theme of child welfare with her earlier novel, The Devil Walks. The two books were originally planned as a single title exploring the twists of fate that can govern children's early years and how this impacts on their later lives. However, Fine felt combining the stories would be too unwieldy and so Blood Family, a contemporary novel, was written separately from The Devil Walks, her earlier gothic novel.
In Blood Family, we meet a young boy, Eddie, whose father is abusive and whose mother has been beaten into submission. Through a range of different characters, including the professionals involved in Eddie's life, we find out what happens to Eddie as he is adopted and grows into a teenager, and how his early childhood impacts on his later years.
Fine's research for Blood Family was wide-ranging. "I know children who are adopted or who have been through placements and I have read more widely about children going through adoption and the psychology of adoption, as well as child abuse and neglect," she says. All the other themes that come into the novel, such as addiction and how a child would psychologically get out of an addiction at this age, are "things that fascinate me", she adds.
Many of the books written by Fine, like Tulip Touch and Step by Wicked Step, focus on children in difficult circumstances. She says, "I have always been interested in children's lives when they have faced difficulties. Blood Family links this thread with my own attitudes to the social services. I feel that it's so easy for them to be criticised for this and that and yet we all know several social workers and we know they are all working hard and want the best outcomes. Sometimes they are probably exasperated by the rules they have to follow. Rules are there for certain scenarios but quite often they don't work."
Eddie's story is told by a range of different characters, including Eddie and the professionals working with him, his adoptive sister and other characters who touch on his life. "It struck me that Eddie was too young to tell his story in a meaningful way so I needed the other characters to do that for me," says Fine.
"I also wanted the book to have this 'case book' feel to it, as if everyone is talking to a microphone, like the neighbour who is exasperated with social services, so I wrote it in the first person. It struck me how many professionals a young person will come into contact with - the doctor, dentist, social workers, police, teachers etc - and absolutely everyone is doing their job with good will."
The sympathy of the other characters, especially his step sister the teenage Alice, helps to keep the reader on Eddies side, despite his difficult temperament. Fine says, "Anyone who has had teenagers knows they can say some pretty awful things. Books like Nicola Morgans Blame My Brain remind us that there's some neural firing going on at that stage so you can't judge a character by what they say or do during those teenage years.
"Teenagers don't live every moment of the day at their best. Alice has a nasty moment herself, when she mirrors back to Eddie something he said about being like his dad; she threw everything back in his face that he has doubts about, and she regrets it."
One of the characters who is central to the novel is actually a television character, Mr Perkins, who provides a valuable role model to the neglected and abused Eddie. Eddie spends much of his childhood watching videoed television programmes staring Mr Perkins, a gentle, fatherly figure whose programme takes children to different settings like farms and factories. "He is central to this book, hes the bloke on telly and is the one who kept up Eddie's sense of self and self esteem through the years," says Fine. "Without him Eddie would never have come out as such a strong character."
Mr Perkins is based on a real television programme her children would watch when they lives in the US, called Mister Rogers Neighbourhood, which was created and hosted by Fred McFeely Rogers, an American Presbyterian minister and television host. "My children had their own dad who was very fatherly and yet my children adored Mister Roger. He was a tremendously important character to them and to other American children. He epitomised how to be a gentle, caring dad."
Without that positive role model, Fine says she would not have been able to write this book as the outcomes would have been too bleak. "You couldn't honestly write about a child whose mother was beaten so badly she lost her mind and who was terrorised for four years; he wouldn't have been a character that I would have wanted to write or could read about. If Eddie hadn't had some sort of support he wouldn't have been the child he was. I didn't want to write a book that would end with him dying of an overdose in a squat.
"Except for the Road of Bones, whose ending is bleak, I have always tried to offer children a glimpse of light in my work, to always show that there's somewhere to go, and that's important in this book," says Fine. "So many of our young people will go through that phase where they try this or that but they can still pull themselves out of it. Research increasingly shows that something like drug and alcohol abuse is a window in people's lives; they might pick it up but will then move on."
While there are episodes in the story involving drugs and violence, Fine says, "It would never occur to me that there's anything in this book that anyone over the age of 11 would not be aware of, so I don't assume I'm introducing anything that is new to them. Eddie does take a drug in the story but it's balanced by him having such a bad trip that he never wants to take another pill. His downward spiral is also balanced by his step-sister Alice, who wants something more from her life and goes to university."
Fine adds, "I do think it's a positive book. Someone asked me, 'Are you knocking professionals?', but I think I have been very positive about them, even when stupid things have to happen because those are the rules.
"I feel moved at the end when he Eddie raises his glass to his mother and to those who have helped him; he knows he can do it, he can move on. For any child who has had a rough start in life or who is facing problems, they can see he has managed, he has done it. That's what childhood is all about."
Fine started to write Blood Family as soon as she had finished The Devil Walks. She did not plan how Eddie's story would develop, particularly a pivotal moment in the story when Eddie comes to a realisation of who is real father is. Fine says, "I have never plotted a book before, I let them find their own path and then things like this come in half way through.
"My theory is that you are writing a book but you are also finding a book. It's like setting off from a city and finding out where the roads go. Also things are inevitable. If you set up an emotional situation with certain people, then given the way the world works, this is how things pan out: the inevitability of it strikes through."
Fine chooses to edit her writing carefully as she writes. "I dont write a single draft and then go over it to correct it. I correct from the start and I don't move on to chapter two until I am happy with chapter one, and once I am happy I don't go back." Fine is currently writing her next book, a series of stories about being at boarding school.
Author's Titles