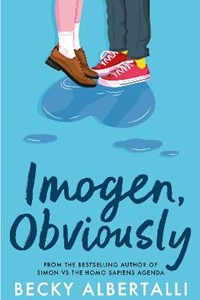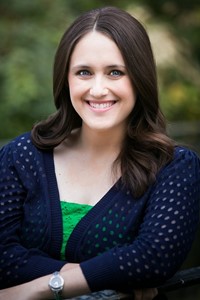 About Author
Becky Albertalli is the author of the acclaimed novels Simon vs. the Homo Sapiens Agenda (film: Love, Simon), The Upside of Unrequited, and Leah on the Offbeat. She is also the co-author of What If It's Us with Adam Silvera. A former clinical psychologist who specialised in working with children and teens, Becky lives with her family in Atlanta.
Interview
Imogen, Obviously   (HarperCollins)
May 2023
From the author of Simon Vs the Homo Sapiens Agenda comes a story about identity, mistakes and first love.   Imogen tries hard to be a straight ally in her friendship group but when she meets Tessa, she must start to question everything she believes about herself.  Bestselling author Becky Albertalli tells ReadingZone what inspired her to write Imogen, Obviously, and how much of her own story she explores within the novel.
Read a chapter from Imogen, Obviously
Review:  'A fun, fast paced read, with the final scenes sure to have teenagers dreaming about love and soulmates...'
Q&A with Becky Albertalli
1.   What brought you into writing for young people? Do any of your books stand out for you in your career to date?
Writing is actually my second career - prior to becoming an author, I was (briefly) a clinical psychologist. But I've always loved young adult literature, and I have such clear memories of my own teen years. Publishing has been an interesting ride, and I've definitely learned a lot about myself. Each of my books has offered its own lessons. I'd say Simon was my most charmed publishing experience, and Imogen is my most personal book.

2.   Can you tell us a little about your new book, Imogen, Obviously?
Absolutely! Imogen, Obviously is about a high school senior named Imogen who sees herself as the token straight ally of the friend group. But a spring break trip to visit her friend Lili at college leads to some unexpected self-discoveries, especially when Imogen meets Lili's friend Tessa.

3.   Could you have written Imogen, Obviously without writing Simon Vs the Homo Sapiens Agenda first?
I can't imagine Imogen existing without Simon - or even without my specific experience publishing Simon. So much of Imogen's story explores the ways in which broad-strokes queer discourse can complicate our own journeys toward understanding ourselves. Simon, for better or worse, generated a lot of that discourse, and I poured so much of that experience into Imogen.
4.   How much of Imogen, Obviously draws on your own experiences in exploring your sexual identity? 
This book draws heavily on my own internal experiences of questioning, though it's filtered through an entirely fictional plot. I was much older than Imogen, and my journey was more public - but the way she talks herself in circles is very much inspired by my own thought processes. My fear of overstepping and infringing on queer spaces worked in tandem with the forces of denial and compulsory heterosexuality. In retrospect, there were huge signs all along, but - like Imogen - I was a master of misinterpretation.

5.   While you are already engaged in LGBTQ discourses, were there areas you needed to research before you could write Imogen, Obviously?
I'm not sure if queer discourse was a thing I intentionally researched, but I've been marinating in these conversations for a very long time. I've absorbed so many perspectives on queer identity over the years, and not all of them resonate with me. But even then, it's important to me to approach these perspectives with empathy, care, and a good-faith attempt at understanding their underlying dynamics. And, of course, I was much more intentional about researching intersections between queerness and other marginalized identities.

6.   Why did you choose to write some of the dialogue through text messages, and to structure the novel day-by-day?
I love writing epistolary elements like text messages - I think I was pulled toward including them mostly because they were so much fun to write! But in this book, I specifically loved the idea of including them as a nod to Simon Vs, which was told partially through emails. As for the day-by-day structure, that arose organically as I was writing.

7.   How did your character, Imogen, develop, and her insecurity about her identity?
Like all of my POV characters, I had to write my way toward fully understanding Imogen's voice and personality. But I always knew she'd be a people pleaser and an overthinker - those characteristics are really at the heart of this story, and they're very much a part of mine too.

8.   Through the character Gretchen you explore the criticism that can surface within the LGBTQ community if people don't conform to certain labels. Why did you feel it was important to shine a light on this in Imogen, Obviously?
I don't think I created Gretchen with the goal of shining light on any particular issue - it's more that she represents a particular community dynamic that made my own process so confusing and complicated. Exclusion and invalidation from my own community were the most painful parts of my coming out experience - for many of us, the call has always come from inside the house. There's a lot of privilege in that - queer lateral violence tends to be far less lethal than outgroup bigotry. But it was a very real part of the equation for me, and Gretchen helped me explore that.

9.   As well as a great romance, Imogen, Obviously gives the reader a lot to think about around exploring one's identity and feeling safe in your choices. What would you like your readers to take from the novel?
I never want to be too directive about this, because I really appreciate the fact that every reader will bring their own interpretation to the story. But in general, I love the idea of making a little more space for uncertainty, fluidity, and growth.

10.   Are you hopeful that Imogen, Obviously, like Simon Vs the Homo Sapien Agenda, will make it to the big screen - or any other of your novels? Who would you love to see in the main roles in Imogen, Obviously?
I would love that! But I've learned not to get too specific with this question - so many factors go into casting, and there's a lot I don't fully understand about the process!

11.   You have said that, "If Simon was me throwing a ball into the air, Imogen is my attempt to catch it." Do you feel there is a further novel to write after these two?
I'm sure there's ground left to cover in my own understanding of my identity - but I truly don't know if I'll tackle it this overtly in the future! Right now, I'm (slowly) working on another YA contemporary novel set in the same universe as Imogen, but I think it'll take a very different angle.
Author's Titles