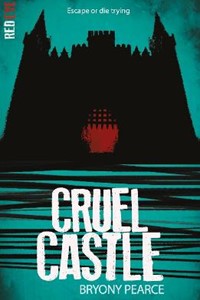 About Author
Bryony Pearce's new book Cruel Castle (from the Red Eye series) is a slick horror version of an escape room and follows on from her earlier book, Savage Island.
Bryony always dreamed of being a writer. After leaving university, she temped while waiting for a job in publishing, but then found work in market research which she enjoyed. After many rejections, her first novel Windrunner's Daughter won the Undiscovered Voices award from the Society of Children's Book Writers & Illustrators (SCWBI) and she found an agent. Her first book, Angel's Fury, was published in 2011.
Bryony lives in Gloucestershire with her husband and two daughters.
Visit bryonypearce.co.uk / @BryonyPearce
Read an extract from Cruel Castle
Interview
Cruel Castle  (Stripes Publishing)
August 2021
Cruel Castle, part of the Red Eye horror series (Stripes Publishing), introduces an escape room from hell for its characters - some of whom readers might have already met in Savage Island - so expect psychopaths, a death or two and plenty of twists. Author Bryony Pearce tells us more!
Q&A with Bryony Pearce:
1. Why do you enjoy writing horror stories - and what do you think the reader gets from reading them?
Horror stories enable my imagination to go wild. I can write about monsters (both literal and figurative), I can play with the natural and the supernatural and I can push my characters to the absolute limits, which reveals the core of personality and facilitates an incredible character arc. It also allows me to ask the reader - what would you do?
Readers, too, love horror stories, it is like riding a rollercoaster - safe thrills. They can test their limits in a safe environment, explore the concept of evil and learn how to deal with demons by facing them. They can also feel superior to the characters - knowing that they wouldn't have done the foolish thing, explored the basement, split up, or that they have solved the mystery first. Horror can also be incredibly cathartic - after the build-up, there is the release. Horror novels can be immensely satisfying reads.

2. What makes the Red Eye series so popular for readers - and writers?
Readers love horror and young readers in particular, who have yet to develop a convincing sense of their own mortality, can really see the fun in it. The Red Eye series was developed at a time when there actually wasn't that much teen horror being published. The incredibly popular Point Horror series, which had its heyday in the mid-nineties, hadn't published anything since 2005 and teens were desperate for horror that was aimed at them. It hit a gap in the market and did it with fantastic writers and original stories. It is also gender neutral - anyone can read the Red Eye series and love it.
The Red Eye series contains traditional horror stories (vampires, ghosts, demonic possession etc), but because it's written for teens it can also be irreverent, play with the tropes and themes of traditional horror, and takes risks - my own Red Eye books contain the world's first geocaching horror story, Savage Island, and the sequel, Cruel Castle, which contains a giant escape room run by psychopaths.

3. Who is your favourite horror writer? What makes a great horror story for you?
I am a huge Stephen King fan and have been since I was barely a teenager myself. Not only can his writing be beautiful and lyrical, but it has a simplicity that draws you in and hits you in the heart. He writes about normal people (or those with a little bit of power, or 'shining') who face terrifying monsters. He writes about people who survive, and keep on surviving. His whole oeuvre is connected in clever and satisfying little ways (such as the fact that the bad guy often has the initials RF, which suggests that every bad guy is the same one from The Eyes of the Dragon).
For me, a great horror story enables the reader to put themselves in the place of the character, to think what if this happened to me? It makes us care about the character. It is driven by fear. It also deals with bigger issues and makes you think.

4. Can you tell us a little about Cruel Castle, and the book it follows, Savage Island?
In Savage Island, which is narrated by Ben Harper, he, his brother Will, and their friends, Lizzie, Grady and Carmen, enter a competition called Iron Teen, which is a geocaching, orienteering and puzzle solving event on a private island in the Shetlands, sponsored by billionaire Marcus Gold. The winning team will receive £1million each. However, they soon find out that the other teams will do almost anything for the money and that the competition isn't what they think it is. Marcus Gold is a psychopath, and the island is no paradise!
Cruel Castle is set a few months after Savage Island. Survivors Ben and Lizzie are hiding out in a B&B in Wales, simultaneously terrified of being found and killed, and desperate to take their revenge on Gold. Meanwhile Grady is working for Gold and seeking a way out from under his thumb. When Grady makes a mistake, he and a few of the other graduates are sent to a castle in Scotland, for a 'team-building exercise', which will make the island look like Disneyland. He calls Ben and Lizzie, knowing that this is their chance to take Gold down, but can they survive the castle?

5. Why did you decide to revisit the characters from Savage Island?
I honestly hadn't planned to, but when Savage Island won the Wirral Book Award, the audience begged me for a sequel. When I started to think about the shape this could take, I fell in love with the idea of resurrecting these characters and with the potential that the widening of their world could have. So, thank you to those readers for giving me the idea and the impetus!
6. What was it like creating a portfolio of psychopathic characters?
So much fun! I did a lot of research into various forms of psychopathy and the difference between being psychopathic and psychotic, for example. I had a great time thinking about how these characters would interact and how, for example, characters who are used to being able to manipulate everyone around them, would start to behave in an environment when everyone is trying to manipulate them. I had to think about what being an anti-hero might look like if your character was a psychopath, what might motivate them to 'do the right thing' and how the others might react to this.
And, of course, I added a few 'norms', because otherwise it will be all predators and no prey.
7. What inspired the Escape Rooms setting for Cruel Castle?
I love escape rooms. We do them pretty regularly, or did before lockdown. I also designed one of our own for my husband's birthday. As a family activity, escape rooms are fantastic.
One of the nice things about Savage Island was the puzzles I came up with, that the reader was also able to take part in solving and so, when I was coming up with the ideas for Cruel Castle, I wanted an environment that would contain puzzles that would interest the reader. An escape room seemed to offer the obvious solution.
 
8. What kind of research did you do before creating your escape rooms for the book, and how would you cope in the Cruel Castle escape rooms?
Thanks to all the escape rooms we have done as a family, I know the 'rules' of escape rooms (which Aanay helpfully lays out for the characters) and therefore how to create them for the novel. I know about puzzles linking to puzzles, only using props / clues once, red herrings and so on. What I did have to research was ways for the rooms to hold together, puzzles that would fit the themes, answers that would fit the over-arching problem and so on. It was a lot of fun.
I'd like to think that I'd do ok in the Cruel Castle escape rooms, but of course, they are run by a psychopath with no sense of fair play, so perhaps not!

9. Which was the hardest room to get your character out of?
The chapel, I think. I had trouble coming up with an answer to the puzzle that was thematic with both the religious theme and the overarching one (no spoilers) and, of course, by that point both Lizzie and Grady are badly hurt, so finding it difficult to move with any real agility.
10. Will we be seeing more of the Golds in future books?
That's, as always, up to the publisher! You'll have to ask Stripes that one.
11. Where and when do you prefer to write and what are you writing currently?
I tend to write in my kitchen. I once had a lovely study, but my husband moved into it over lockdown and trashed it in that way that he does (by leaving so much stuff all over it that it looks like an explosion in a paper and underwear factory)!
I'm currently editing my new adult novel, Little Rumours, which is out in spring, and is about a kidnapping in a small village. I am thinking about a sequel to Raising Hell (my urban fantasy, which was out in June) and planning my next thing - I have a few ideas I'm toying with.
12. What are your favourite genres to write?
I honestly love to write all sorts, but am happiest when the novel is dark and thrilling, action packed and has an edge of black humour, with kick-ass characters (particularly female ones) and a mythic feel.
13. What do you enjoy doing when you're not at your keyboard?
If I'm not doing 'mum-chores', or reading, then I am learning the cello (I'm up to grade six now), so can often be found practicing, or playing with my husband and children. And as a family we are never happier than when we are playing board games (with wine). Our favourites, at the moment, include Gloomhaven, Kings Dilemma, Scythe, Tapestry, Betrayal at the House on the Hill, Catan and Carcassone.
14. What for you makes the world a better place?
My children. I have a girl (15) and a boy (12) and I couldn't imagine life without them. They make everything awesome.
15. If you weren't an author, what would be your job of choice?
I wanted to be an archaeologist at one point. I was obsessed with old cultures and myths (still am, really). But when it came to choosing a course at university, I couldn't not choose English literature, which closed that door.
Before I started writing, I actually did work as a market research professional. I think if I could choose (and be magically qualified for) any job though, I would be a scientist, discovering something that changes the world: a cure for cancer, the solution to world hunger or climate change. That shows that my teen self is alive and well inside me, still!

For more information me or my books, do visit my website www.bryonypearce.co.uk, or follow me on Twitter or Instagram @BryonyPearce
Thanks for reading.
Author's Titles