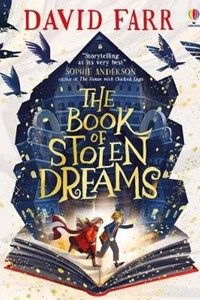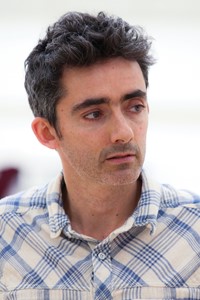 About Author
The Book of Stolen Dreams is David Farr's debut novel and is a story he has always wanted to write, and has always wanted to write for children.
David was born and raised in a small town in Surrey. His father is English and loves nature and his mother is a descendant of German-Jewish grandparents who helped their children escape Germany for England in the Second World War.
He studied English at Cambridge University where he co-founded Cambridge Talking Tongues, a small theatre company, alongside two female friends, including actor Rachel Weisz. They won a Guardian Student Drama Award at the Edinburgh Fringe Festival in 1991.  He went on to be a theatre director of Bristol Old Vic, London's Lyric Theatre, Hammersmith and Associate at the Royal Shakespeare Company. His screenwriting credits include the multi-award-winning The Night Manager, Spooks and Hanna and he is working on a modern-day adaptation of The Midwich Cuckoos for Sky, starring Keeley Hawes.
Download a chapter from The Book of Stolen Dreams
Interview
The Book of Stolen Dreams (Usborne Publishing)
October 2021
A mysterious book with an intriguing story; a ruthless dictator who will stop at nothing to continue his rule; two children who will do everything in their power to save Krasnia.... The Book of Stolen Dreams is an absorbing, tense adventure set in a timeless city, where two siblings risk everything to try to bring to an end a ruthless dictatorship. Inspired by author David Farr's family and their escape from Nazi German, the story explores leadership, imagination and the power of stories and our dreams.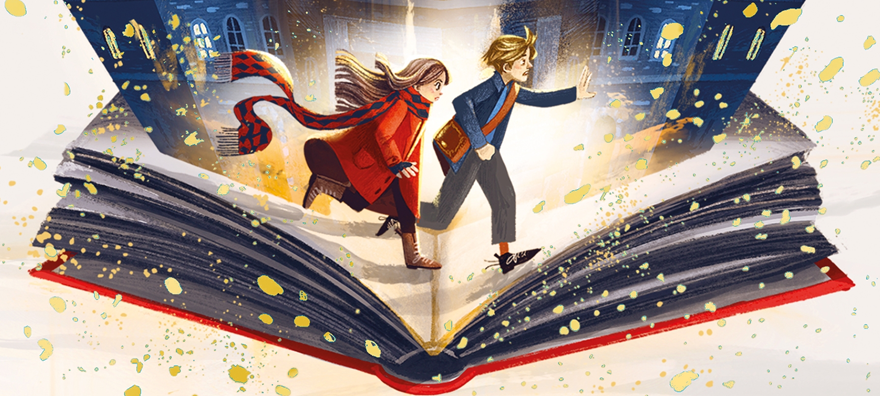 We asked author and screenwriter David Farr to tell us more The Book of Stolen Dreams:
1.  You're a screen writer and film director by trade - what has been your outstanding career moment to date?
Two spring to mind. Firstly, I directed the 50th anniversary production of Harold Pinter's The Birthday Party at The Lyric Hammersmith where it was first premiered in 1958. Pinter was in rehearsal and we got on like a house on fire. He gave a remarkable speech on stage at the premiere and sent me a letter afterwards which still has pride of place on my desk. He died only six months later. I feel I stole something special from the Gods there.
My second was sitting in a pub in Hampstead convincing John le Carré to allow me to update his 1990's novel The Night Manager to the Arab Spring and set the BBC TV series in that world. We locked horns for two hours in a pub in Hampstead. He died of course earlier this year. It's a great loss.

2.  What brought you from screenwriting and directing to writing your first book for children, The Book of Stolen Dreams?
I worked in the theatre for a long time. I've adapted many stories for theatre for a younger audience - Great Expectations for Bristol Old Vic, The Nativity for the Young Vic, Robin Hood for the RSC - but I've always wanted to write a story about a very particular brother and sister whose adventure starts with a flight away from their homeland. I just never got to begin it… until lockdown when suddenly I found the time and energy.

3.  Can you tell us a little about the novel?
Ruth and Robert Klein, who live a dreary life under the rule of cruel Charles Malstain, are plunged into adventure when their librarian father enlists their help to steal a forbidden book. With their father captured, it is up to Rachel and Robert to uncover the secrets of The Book of Stolen Dreams and track down its mysteriously missing final page in order to save him.
4.  What inspired the story?
Robert and Ruth Elkan were my great uncle and great aunt, originally young Jews in Dusseldforf . Their sister Anne-Marie was my grand-mother, though sadly she died younger and I never knew her. Ruth and Robert are both also dead now but I knew and loved them dearly when I was younger. In talking to them I learnt of their childhood in Germany in the 1930's.
Their mother (my great grandmother) Aennie Elkan was a fiercely intelligent woman, and one day in 1938 she stood up at supper and said "I have read Hitler's book and it is clear that we are in grave danger. We are all going to leave". And she did it. She found English 'sponsors' for her children so they could escape to London. Ruth went first, alone, aboard a ship to England, then Robert who I think was just 12 at the time, and finally Anne-Marie followed. Fortunately for the family, they were reunited a few years later and my great grandfather, a dentist by day and amateur singer by night, established a new practice on the Finchley Road in London. Their extended family and friends tragically did not survive.
So that was the personal inspiration for Robert and Rachel Klein and their journey away from the land of Krasnia.

5.  How did you develop Rachel and Robert's characters for The Book of Stolen Dreams?
They are based on my great uncle and great aunt Robert and Ruth Elkan as I said. Loosely speaking, Rachel is the protagonist of the book and Robert is her very able supporting character brother. Rachel is whom readers are interested in. She's not a rebel by nature, she's shy and introspective and thinks deeply. Her journey in the book is actually to discover bravery, to discover that she has a right, as a girl, to have a voice. And that her own imagination, which is something that is not valued at all by the regime, is something to be utterly cherished and is in fact absolutely necessary in order for her to solve the mystery of The Book of Stolen Dreams.
I suppose Rachel is the protagonist because I've always loved writing indomitable female characters (I wrote the film and TV series Hanna for example), I think because I have a female centred view of the world because of my mother and my sister whom I adore, and I have two daughters. At university I co-founded a small theatre company, Cambridge Talking Tongues, alongside two female friends, including actor Rachel Weisz. It was very much about their voice.

6.  Did you feel very engaged when you were writing their story, as that is suggested by the authorial voice?
Oh absolutely. It was a story I'd always had the beginnings of so it was exciting to have the opportunity to write it finally. I approach all my writing in a similar way; I have a central idea or "hunch", often inspired by a particular thing as with my great aunt and uncle in The Book of Stolen Dreams, and I'll have a few other ideas around this but then I just write and see where it takes me, feeling it as I go. For me, the daring bit of this piece writing was writing in prose.
As a screenwriter, whether it's for plays or films or TV, you're endlessly writing dialogue that will only be read by your colleagues. In novels there's only you. But in screenplays you write very much from a point of view so I used this to begin by writing from Rachel's point of view and kept at it.
Whatever I'm writing, I do 'see' visually first and then I try and describe this as best as I can, whether it's through prose or dialogue.
7.  It's lovely to see a book, and a library, at the heart of the story - but why did you decide to focus the events on books, and reading?
I love the romanticism of bookshops which is why I set lots of scenes in one. I particularly love secondhand bookshops and the idea of the journey of a book; who has read and owned that book before. Which links back to all the books that have been left behind when people flee as refugees. And books that are burnt of course.
And libraries are places of the "poor" in a loose sense. I've always been interested in the performance aesthetic of 'poor theatre', influenced by Polish and Russian theatre, centring on the skill of the actor, a bare stage and an often abstract use of language, rather than conventional sets and costumes. Public libraries link into this idea with their inclusiveness to all, even to those who can't afford books - they have a value which connects to this democratic aesthetic.

8.  Did you have any historical documents or manuscripts in mind when you created the Book of Stolen Dreams?
I love medieval Books of illumination. They are strangely magical. In actual fact very often each image - a bird, or an animal or an object - symbolises something very specific. But over time that meaning has stretched and dissolved and, in its place, comes something almost more wonderful. So, this sense of a book that has seen centuries was to me very significant.

9.  How did the world develop for Krasnia - did you have any ground rules? Which part would you like to visit, if you could?
Krasnia is land of my invention, evocative of a certain European countries. I wanted the setting of the book to have a timeless, almost vintage feel. Krasnia comes from the Russian word for 'beautiful' and Brava, the capital city of Krasnia where Ruth and Robert live, is full of beautiful old buildings and twisting, turning streets. I very slightly based it on Prague - the Czech for which is Praha. Except it's on the sea!
There are many things I'd love to revisit, one of which is a secret in the book which I can't divulge at this particular moment…

10.  Did you draw on any historical periods in its creation?
Nazi occupied Germany was an inspiration for Krasnia but I've gone a long way from there. It could be any country which has lived, or is living, under a cruel dictatorship. I hope it feels modern in some strange way.

11.  The story raises a lot of questions around leadership; are you concerned for how our world is currently being lead?
It occupies me of course. If you have a family that has survived nationalist fascism, then any recurrence of that tendency is particularly disturbing. The sudden rise of fragmentary nationalism, in Britain, Europe, Russia, America, Turkey, India - this is something that was not expected. We lovely liberals must recognise that if you are disenfranchised, this nationalism is intoxicating, it can give you the illusion of meaning. So, to combat it, one cannot just attack the people subscribing. One must offer an alternative.

12.  Do you have any more books planned for children, or are you now returning to directing and screenwriting? 
I am writing a companion novel set in the same vintage Krasnian world and again, about imagination and power. I like it because it's such a simple world for readers to escape into. Rachel will make a strong appearance in it and it's loosely about a ghost who gets lost. I'm hoping that my writing for young readers becomes part of my day-to-day work.
In terms of screenplays, I'm currently working on a modern-day adaptation of The Midwich Cuckoos for Sky, starring Keeley Hawes. It's very different. It's about an alien visitation - but all the aliens are children.

13.  What do you enjoy doing when you're not at your desk?
I'm a film and TV buff and I run a film club for friends which we carried on over zoom during lockdown. I also love jazz music. It was my great uncle Robert who introduced me to his love of Jazz when I was 13. I can still hear him humming Thelonius Monk.
Author's Titles