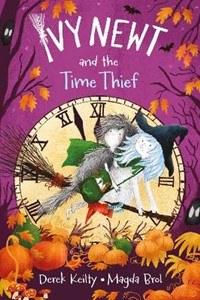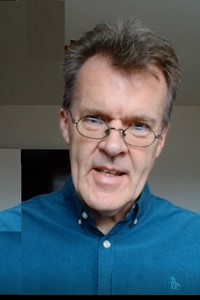 About Author
Author Derek Keilty lives just outside Belfast in Northern Ireland with his Canadian wife and twin teenage daughters. They have a retriever called Lady who keeps them busy at the weekends. Derek does loads of visits to schools, having never had the chance to meet an author when he was a child.
Interview
Ivy Newt and the Time Thief  (Scallywag Press)
October 2022
                        Chapter 1 - Ivy Newt and the Time Thief               Chapter 2 - Ivy Newt and the Storm Witch 
Ivy Newt, a young Sand Witch, and her familiar Tom have a mystery to solve - what is the strange house that appears in the bay only once every year, at Halloween?  And can they solve the thorny questions their quest brings in time to get home and celebrate Halloween?
Find out all about Ivy Newt's world and characters from author Derek Keilty - and read our Q&A to discover the best snacks for Halloween, should you ever find yourself in Miracular....
Q&A with Derek Keilty
1.   Have you always wanted to be an author?
I always wanted to be an author from as young as 8 or 9 years old when I remember scribbling stories and making them into little books, drawing the cover etc.
I became an author in 2003 after the publication of my first children's book, Back up the Beanstalk published by The Children's Press in Dublin. Obviously, a sequel to Jack and the Beanstalk only this time featuring not one giant but four- who I named, Fee, Fi, Fo and Fum!

2.   Can you tell us about your new series, Ivy Newt, and her latest adventure, Ivy Newt and the Time Thief?
Ivy Newt is a lovable, unstoppable little Sand Witch from the magical land of Miracula who gets up to all sorts of enchanting adventures with her best friend, and shape-shifting familiar Tom. In the second book, Ivy Newt and the Time Thief, Ivy and Tom have a new mystery to solve. Why does the spooky house over the bay only appear at Halloween? In a race against time, Ivy, Tom and some new friends must break a powerful spell and outwit a crazy sorcerer, all before the last stroke of midnight…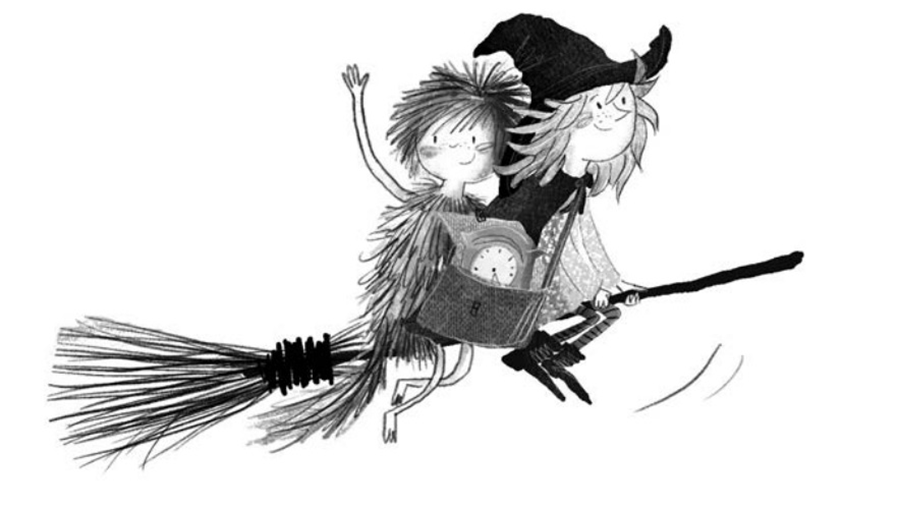 3.   What is your favourite moment in this adventure?
I love the whole race against time element in the story, with the mysterious house gradually disappearing, threatening to take all the occupants, including Ivy and Tom, with it for a whole year!!!

4.   What is the world of Ivy Newt like, and where would you visit if you could?
Miracula is a huge bat-shaped island with witchy and wizardy towns and villages populated by Sand Witches, Book Wizards, Grots Witches. All of whom have familiars: wolves, badgers, squirrels and even snakes. There are other magical folk, too like Snout-Smoulderer dragons and Dust Pixies.
I'd love to visit the caves of Grot in the east of Miracula as I recently went on an amazing tour of the Marble Arch caves here in County Fermanagh, Northern Ireland which I highly recommend.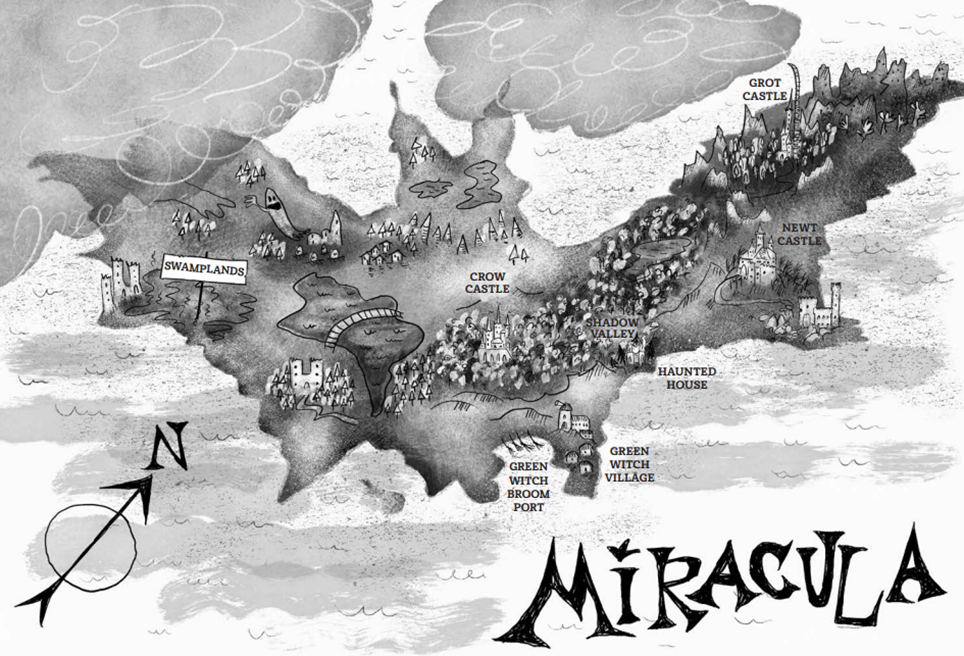 5.   How will you - and Ivy Newt - be celebrating Halloween this year?
I'm doing loads of school, bookshop and arts centre events in the run up to Halloween in N. Ireland as well as touring Birmingham and Coventry with the magical folk at Authors Aloud. So on the big day itself, I'll probably write another chapter of Ivy Newt 4 then collapse on the sofa with a slice of lemon and slime pie and a wee cup of tea

6.   So what are the best Halloween treats and tricks in Ivy Newt's world?
Ivy's dad, King Lucius would argue his tricks are the best, but it's when one of his tricks goes wrong in first book that sets Ivy and Tom off on their first perilous adventure. King and Queen both bake and cook up some yummy treats with ingredients like scream cheese and marshmaggots eew!

7.   Ivy and her friends and family all have 'familiars' - which one is your favourite?
My favourite is Tom Wolf. The idea for Tom came to me while I was walking my own wee wolf (er...bichon) Duke, so I had to give him a wee treat when it popped into my head. In fact, the whole idea for Ivy came to me on that walk and when I got home I had to quickly scribble the ideas down in my notebook.

8.   What would your own familiar be, if you had one?
Probably a dog, like Duke who is my best bud, or maybe a tiger.

9.   Magda Brol's illustrations of Ivy Newt are fabulous - who is your favourite character in her drawings?
Aw, I don't think I could pick a fav, I love them all. I'm so pleased to be working with Magda who does a fantastic job bringing the world of Miracula and all the characters to life. There's a map and character list at the front, not to mention loads of illustrations all through the books, one on almost every page. I think Magda's style really captures the magic and fun of the series and can't wait to see the artwork for Ivy 3.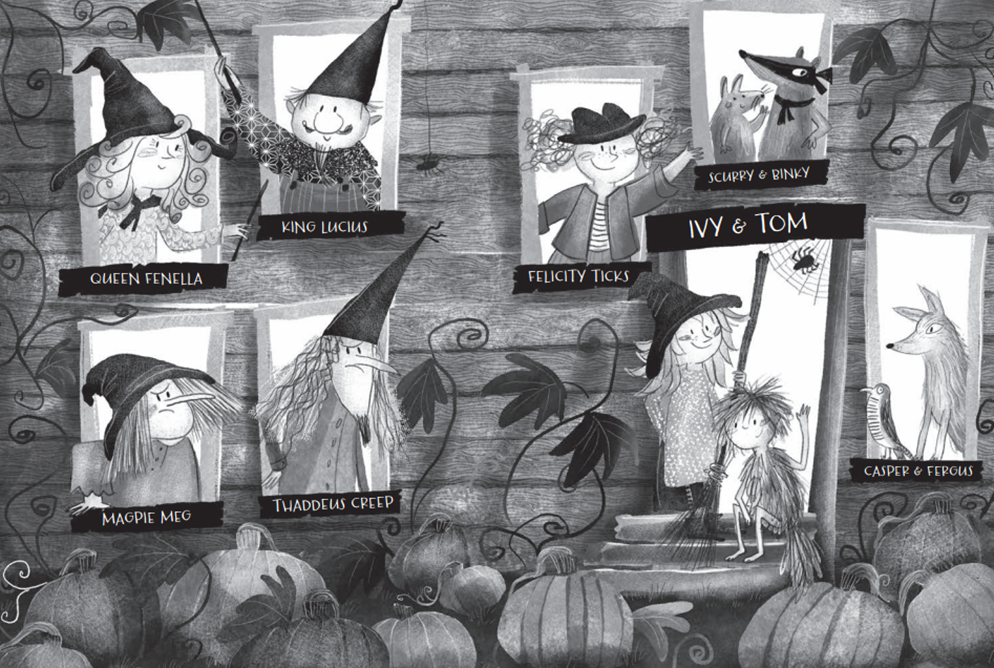 10.   Speaking of which, what does Ivy Newt get up to next - what is her next book called?
The third Ivy Newt book is called Ivy Newt and the Swamp Dragons. It's about when Gran's magic bubble bath creates pesky Ivy and Tom lookalikes, intent on some serious mischief. All too soon, they have made dangerous doubles of the swamp dragons, who launch a fiery attack on Miracula. It's up to the real Ivy and Tom to stop them before everything goes up in smoke!

And finally....There are one or two spooky episodes in Ivy Newt's adventures - but what kind of things scare you?
I'm not easily spooked by much, including creepy crawlies, though walking down the Halloween aisle in Tesco can be pretty scary...
Author's Titles