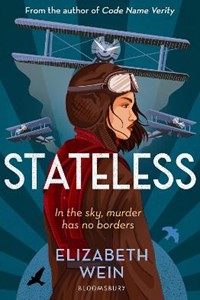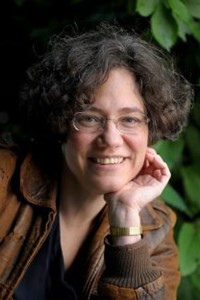 About Author
Elizabeth Wein was born in New York and grew up in England, Jamaica and Pennsylvania. She holds American and British citizenship and has lived in Perth, Scotland, since 2000. She earned her private pilot's license at the Scottish Aero Club. Flight inspires her fiction, including Code Name Verity (2012), which was short-listed for the CILIP Carnegie Award and the Scottish Children's Book Award in 2013. It became a Number 1 New York Times bestseller in 2020.  Elizabeth's new novel Stateless (2023) is a murder mystery set during the Golden Age of Flight in the 1930s.   She is married to games developer Tim Gatland and they have two grown children. 
Interview
Stateless  (Bloomsbury)
April 2023
Stateless is a gripping murder mystery, beginning with the death of a pilot mid-flight across the Channel. Set before the outbreak of WWII, Stateless follows a group of young pilots in an international 'race for peace' - and their race against time to uncover the pilot's murderer. Set during the 'golden age of flight', Wein's novel explores very modern themes of being 'stateless' and belonging, alongside themes of justice, personal endeavour and our global community. We asked Elizabeth Wein to tell us more.
Stateless Reviews:  "A soaring piece of historical fiction, a fantastically-plotted murder mystery set against an unravelling political background."
Q&A with Elizabeth Wein
1.    Can you tell us a little about yourself and your passions in life?
My father was an educational psychologist who did teacher training in both England and Jamaica, so my family travelled around. I started school in the South Manchester area, then lived in Kingston for three years, and finally moved to the USA until I was nine years old. After that I grew up in Pennsylvania, but I had the travelling bug and I itched to be abroad.
Throughout my twenties, while I was working on a PhD in Folklore at the University of Pennsylvania in Philadelphia and writing my first novel, The Winter Prince, I travelled back and forth to visit friends and sometimes work in England. In 1995 I moved to the UK permanently to be with my English husband, and in 2000 we moved to Scotland. We have lived in Scotland ever since, and raised our two children here (they're grownups now). I have held dual British and American citizenship since 2016.
Living in Scotland, I think I have become more attuned to nature, and although I am not officially a twitcher, I am truly fascinated by birds - among other things, I am convinced by the argument that they are direct descendants of dinosaurs! My "happy place" is in one of the bird hides at Loch of the Lowes, just north of where I live, where I can spy on the ospreys that return to the same nest year after year. I love our garden birds, too - the ordinary blackbird in particular, so neat and cheeky and confidential, with such beautiful song (I like all forms of thrushes and the American wood thrush is my favourite - it is a secretive bird with an incredibly mournful and melodious trilled call).
It's my own love of birds that inspired Stella's love of birds in Stateless - of course, they inspire flight as well.

2.    What draws you to writing historical fiction, and particularly stories set around the time of World War II?
1) I love doing the research! I love finding out about amazing historical figures, and I love seeing how our past dovetails with our present.
2) Historical fiction, unlike much contemporary fiction, doesn't instantly feel dated five years down the line. I want my books to be in it for the long term.
3) I don't need to worry about getting contemporary teen slang wrong. (Although I do have to worry about anachronisms.)
4) I don't have to worry about what kind of mobile phones my characters use!
My first five novels were all set in Arthurian Britain and 6th century Africa, and half of my recent novels (including Stateless) are NOT set in World War II, so…. that's a more complicated question to answer. I think there are two things going on here: one is that World War II is endlessly complex, with more stories and nationalities and personalities than I will ever be able to understand or write about, so I keep uncovering more aspects of the war that intrigue me. But I also think that the reason so many of my stories are set in the first half of the twentieth century is because that's when my wonderful grandmother, Betty Flocken, was growing up. Betty raised me, and I know a lot about her childhood and young adulthood, and I am fascinated by it. So I like setting stories during that time.

3.    What is your new book, Stateless, about, and what inspired the idea for a European flying competition for young people?
Stateless is a murder mystery set during a two-week air race across Europe in 1937. All the race competitors are from different countries, and they're all under 21 years of age. It's kind of the set-up for a perfect storm.
I wanted to write a book about the glamorous "golden age of flight", when aviation was new and exciting, and air racing happens to be one of the characteristic activities at that time. Obviously my YA air race would feature young people, and I decided to make that a defining characteristic of the competition. A long distance race would give the contestants a chance to get to know each other and to allow a mystery to develop - Europe seemed the obvious venue, since there was so much going on there in the 1930s, and I loved the idea of using the story to reflect some of the issues we are facing in Europe today.

4.    How much of your own passion for flying have you drawn on in creating your lead character, Stella North? Why did you decide to make her a woman?
Well, bottom line is, I made Stella a woman because I am a woman. But also, if I was going to have any of the characters be women, she would end up as the viewpoint character because, given the time and the setting, she would have the most unusual point of view in this scenario.
I think that my own passion for flying bubbles to the surface most in Stella's observations of the ground from above - how beautiful it is, how impossible it is to see national borders, how the world is ONE from the sky.
In my early drafts of Stateless, the opening scene where the French racer, Tony Roberts, is doing aerobatics over Stonehenge, was only referred to in passing. The book really came to life when I decided to have Stella jump into his plane and go along for the ride, so that she can witness that flight herself - and through her, so can the reader. Although I have never looped the loop over Stonehenge (or even flown over it!), that scene really encapsulates some of the amazing things I've seen from the sky - the incredible light of "the golden hour", ancient monuments like the Uffington White Horse chalk cut and Edinburgh Castle which I have seen from above, fireworks from the air on Bonfire Night - it's just a celebration of the secret and special pleasure of being in the sky.

5.    How did you draw together the group of competitors - and do you have any favourites?
It was really fun figuring out who the competitors were going to be. I was constrained by the race route, which had to be roughly in a circle around Europe with stops that weren't much more than 200 km apart. Then I had to work out which countries would be involved, and to make up a character to represent each nation. That ends up being a LOT of different characters.
So for some of the minor ones, I gave them what a friend of mine calls "handles" - actual physical attributes that remind you who each one is whenever he turns up. Swedish Torsten has spectacles, Belgian Gaby has ginger hair, Polish Stefan is a chain smoker, Swiss Theodor has acne scars, etc. With Pim, the Dutch racer, I cheated a little bit, and re-purposed a character from some of my earlier books (I often repurpose this guy because I like him so much).
That makes Pim a favorite, of course, but I also love the German competitor, Sebastian, who is always very serious yet keeps performing sleight-of-hand tricks.

6.    Where did you go to research technical and historical information about flying at the time?
I wrote this book ENTIRELY during lockdown and mostly I didn't go ANYWHERE! Almost all my research was virtual. But I did try to place the race destinations in countries that I've visited. Hamburg in particular I really enjoyed using as a scene. I spent a lot of time browsing Hamburg's tourist site and doing virtual tours.
The one thing I did get to check out, quite by accident, was the Bücker Jungmann plane that Sebastian flies (and so does Theodor). When I was visiting my family in Pennsylvania in the summer of 2021, our next door neighbour very randomly asked me if I was interested in seeing this cool old German plane that a friend of his owned. It turned out to be a Jungmann - I was so excited, because I hadn't seen ANY of the contestants' planes in real life. Although the plane was not flyable (the owner was in the process of restoring it), he did encourage me to feel how beautifully smoothly the control stick handled. "That's because it's mounted on ball bearings," he told me. "That's German engineering for you!"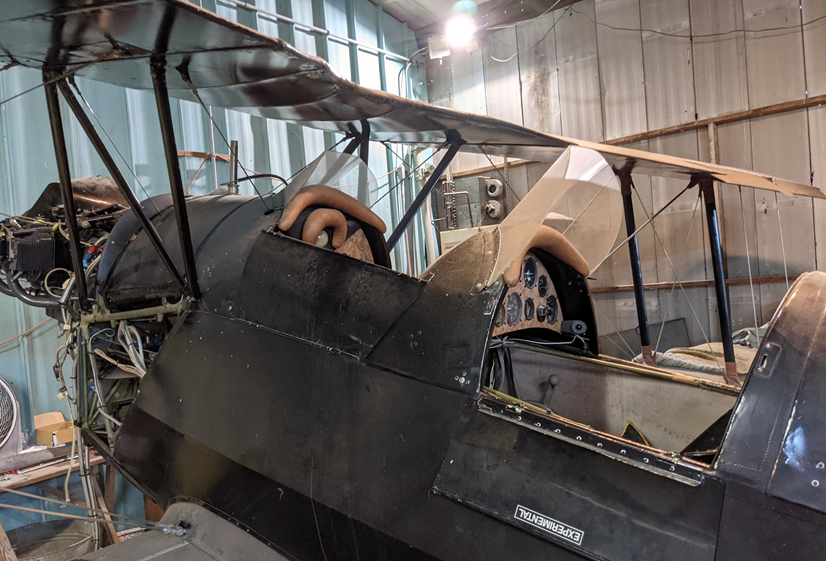 A Bücker Jungmann plane, under restoration

7.    At the heart of your novel is a very contemporary issue of being 'stateless'. Why did you want to explore this through your writing?
Part of the reason I became a British citizen is because, like Stella, I was worried I would find myself stateless one day - that I might have my UK residency revoked and be forced to move back to the USA, that the USA would not allow me back, that I wouldn't be able to travel with my dual citizen children - all very hypothetical scenarios, but I found them frightening. Stella, like me, is very comfortable in her adopted home in the UK, but as a Russian refugee she has no cushion to fall back on. I was really intrigued with how similar the situation of people in the 1930s could be with the present day.
The idea of the Schengen Area is so wonderful to me - growing up during the Cold War and Détente has made me very much aware how amazing it is that we can pass across European borders without check points. Exploring a fictional and historical Europe of the 1930s is a really interesting way to explore the Europe that we live in today.

8.    Do you feel that historical fiction can, like history itself, remind us of how to avoid mistakes of the past, as well as being used to explore very contemporary issues?
And question 7 leads very naturally to question 8! Yes, this is actually one of the important reasons that I love historical fiction - it gives us a chance to look at ourselves through 20/20 hindsight. I do think it's possible to avoid the mistakes of the past by being aware of them in the present. I hope so, anyway!

9.    Other than an incredible adventure, what would you like your readers to take from Stateless?
My message to readers is always the same - TAKE RESPONSIBILITY FOR YOUR OWN ACTIONS! But also, I'd just love readers to be a little more aware of how deeply connected we are in our global community. No one is an island.

10.     What other novels do you have planned, or are currently writing? Where is your favourite place to write, or to dream up new stories?
I don't have a novel planned at the moment but I'm tossing ideas around - probably another mystery.
I find I actually write BEST at the kitchen counter. But I have a small table in my bedroom that overlooks the front garden, where I also like to work. I dream up stories best when I'm on the go - driving, or looking out the window of a train, or on a long walk.

More about Elizabeth Wein:
1.   Like Stella, you are a pilot. If you could fly one plane that you haven't yet, what would it be?
Hmm, well, if you'd asked me this question before September 2021 I'd have said, "Oh, a Spitfire, of course".
But I wanted to do this SO BADLY that I saved up for about four years and bought myself 45 minutes at the controls of a Spitfire - on 1 September 2021 (which happens to be the anniversary of the beginning of WWII). The Spitfire I flew in had been specially converted to have two cockpits, and we went flying over the Loch Lomond and the Trossachs. Technically it was a flight lesson, so I have got "Spitfire" in my log book! (And the pilot in control commented, "Very well flown".)
Now I can boast that I have flown in a Spitfire doing a barrel roll over Ben Lomond! (Though confess I wasn't doing the flying for that).  I have also flown over Niagara Falls in the gun turret of a Lancaster bomber!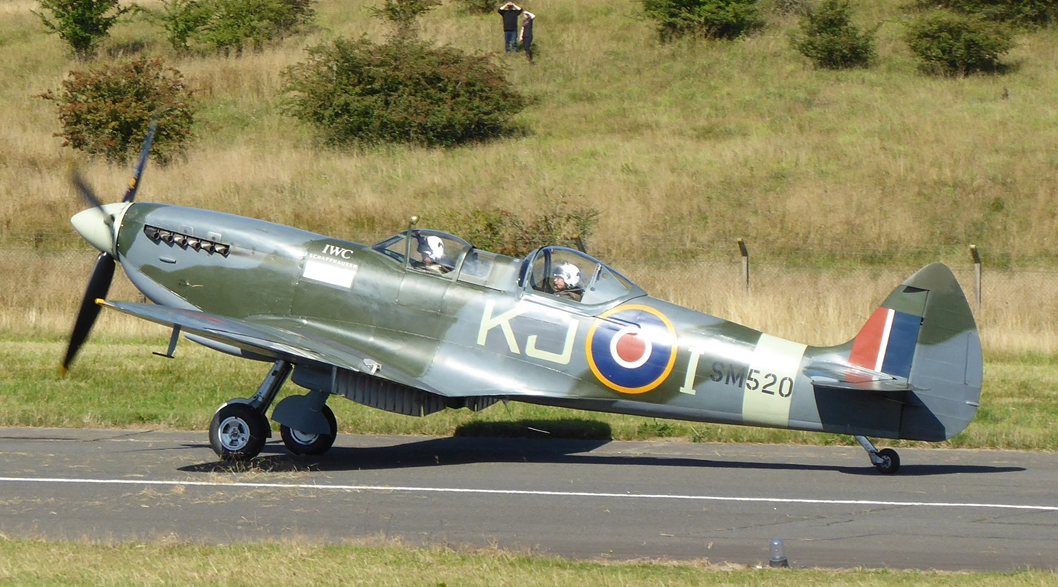 Elizabeth Wein fulfilling her dream to fly a Spitfire plane
There is one thing I would really love to be able to do, if I could (and I can't). It isn't to fly a specific plane, but to fly a glider tug as effortlessly as the young people who work at the Scottish Gliding Centre. I watch them swooping and climbing as they tow gliders aloft and it makes me so envious it is almost a physical pain - they are SO GOOD at it. Watching those glider tug pilots actually inspired the descriptions of Tony Roberts flying in Stateless.
2.   What is your dream destination for a flight you haven't yet made?
I would love to island-hop around the Caribbean.
3.   If you can't fly, what does a favourite day on the ground look like for you?
I don't get to do this very often, but my very favourite ground-based activity is punting - the kind you do in a flat-bottomed boat which you steer with a pole! My favourite place to punt is on the Cherwell in Oxford, but beggars can't be choosers, so I have had to go further afield - in the UK, I have punted in Oxford, Cambridge, Canterbury, Godalming, Stratford, and Bath, and I've also punted in Melbourne, Australia! I love a slow river, a wooden boat, a sunny day and willow trees, and a picnic basket. It is my favourite thing.
                                                                                                                                           A favourite day.... Punting in Australia
Author's Titles