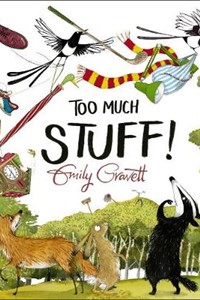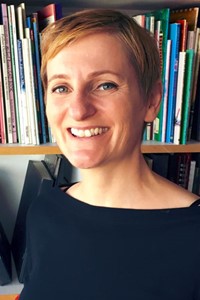 Biography
Emily Gravett was born in Brighton. After leaving school with few qualifications, she spent eight years living on the road before taking the BA illustration course at Brighton University.
She won the Macmillan Prize for Illustration with her first book, Wolves, which went on to win the Kate Greenaway Medal and the Boston Globe Horn Book Honor Award for Illustration and marked the beginning of an international career creating extraordinary and innovative books for children: Little Mouse's Big Book of Fears won the Kate Greenaway Medal for her a second time.
Her own picture books are published in more than 20 languages and she has also collaborated with some of the most creative writers working today including Julia Donaldson, A.F. Harrold, and Matt Haig.
She lives in Brighton with her daughter, partner and two rats.
Interview
QUIDDITCH THROUGH THE AGES - ILLUSTRATED EDITION
BLOOMSBURY CHILDREN'S BOOKS
OCTOBER 2020

In this stunning illustrated version of JK Rowling's QUIDDITCH THROUGH THE AGES, illustrator EMILY GRAVETT brings to life the history of the sport, from its medieval inception through to the modern day version that occupies so much of Harry Potter's time at Hogwarts.
Through tapestries, ancient manuscripts, letters, news clippings, diagrams, photography and illustrations, Emily Gravett brings to life JK Rowlings original text with enough humour, wit and sensitivity to please the most die-hard fan - and everyone else, too.
Here, EMILY GRAVETT talks about how she approached the illustrations for QUIDDITCH THROUGH THE AGES:

Q: What were your first thoughts when you were asked to illustrate JK Rowling's Quidditch through the Ages?

A: After the initial excitement and shock at being asked to illustrate something related to the Harry Potter universe I was slightly mystified as to why Bloomsbury thought of me.
I'm mostly known for my picture books and for drawing animals. I wasn't sure how I'd go about tackling a sports book, (especially a fictional sport!) I was worried about the amount of work involved. I'd seen Chris Riddell's amazing Tales of Beadle the Bard, and Olivia Lomenech Gill's Fantastic Beasts, and knew that I'd be taking on a massive commitment. It's a big book if you run out of steam halfway through...
Thankfully, Bloomsbury asked me to produce some sample illustrations before either of us committed. I realised very quickly that it was going to be a dream project, and that it was going to give me a real opportunity to experiment with a lot of different styles and techniques.
Q: Where did you start with a project like this? What were the main challenges for you?

A: It's always scary to start a new project, and even more so when you know the project represents a full year's work! Luckily the team I worked with at Bloomsbury understood these fears, and we worked out a schedule which broke the whole book down into chapters, with individual deadlines. I let Bloomsbury choose the order of work, otherwise I may well have tackled all the easier bits first, and then struggled through the rest.
Initially I was supposed to submit roughs for approval, but I just kept diving straight into the final artwork, so we gave up on that very quickly.
Q: And how long has it taken to complete?

A: It has taken a year to complete, working full time, although I also wrote and illustrated my latest picture book Too Much Stuff during that time (it was published in the same month). I was working considerably harder and faster than I usually do, but because there's so much variety in the artwork it remained fun all the way through.
Q: Can you tell us in one sentence what you were aiming for in the illustrated version?

A: I was aiming to add to the experience of the original book.
Q: Did you revisit the films / illustrated books for reference material?

A: To be honest, I didn't very much. The great thing about Quidditch through the Ages is that, because it is a Hogwarts Library Book, it (fictionally) pre-dates most of the characters in the Harry Potter books (can you tell my grasp of reality is becoming hazy?). So, there's hardly any characters or anything written about in Quidditch that needs to follow the style of the Harry Potter books or films. I double checked names, and mythical creatures, but mostly just did what I felt looked right, and tied in with the text.
Q: The book has a 'scrapbook' feel to it, was this how you wanted it to look?

A: That is exactly what I was aiming for. The book covers a lot of eras, and the subject matter is quite wide ranging. A non-fiction fiction. I wanted it to be the love child of the kind of book you'd buy in a museum, and an illustrated textbook.
I began by deciding on a base style that would run throughout the book, which is the slightly old coloured paper and small black and white vignettes. The base style kept the whole book looking cohesive and left me free to add the artefacts written about in the text or that I thought would enhance the experience.
I didn't have an overall plan of what would go into the book. I just went through the original small copy of Quidditch that Bloomsbury gave me and jotted notes, underlined areas of interest and added bookmarks in places of interest. When I reached that chapter in my schedule I'd compile a list of possible illustrations and then work my way through it.
Q: The finished book includes a number of images of old photographs, letters, seals, books and manuscripts; how did you create these?

A: I scoured junk shops and eBay for old magazines, photographs, advertising material, notebooks, old cloth patches etc. Anything I thought might be useful. I filled a massive box with old bits and pieces and when I needed to create something I rummaged through until I found something that might work.
I then scanned it into my computer and tinkered with it in Photoshop. Things got cobbled together, painted over, felted, and made from clay. I made my own broomstick using the same wood specified in the text, and even developed a method of 'sewing' in photoshop.
Q: As its title suggests, Quidditch Through the Ages goes back a long way - where did you go for inspiration for your historical images?

A: I started off on my dad's bookshelves. He has a lot of historical art books. Then, of course, I looked things up on the internet. I tried not to get too bogged down in keeping styles strictly in the right eras. I thought it was more important that the illustrations should be varied and interesting. There's only so many rough woodcuts anyone wants to see, and it is after all a fictional world.
Q: Your Snidget-hunting version of the Bayeux tapestry is a particular highlight - can you tell us a bit about how that came to be, and how yours was created?

A: Thank you. That one definitely came high on the 'most challenging' list. I spent a long time looking at the original to make sure I understood the colours and style, and then I scanned in an old piece of linen as the base, some small sections of second hand tapestry for texture, and then 'sewed' the whole thing in photoshop.
It took about two weeks to complete, which felt a long time, and gave me repetitive strain injury, but it was still a lot faster than the real one!
Q: What about the other images through the books - what media do you prefer to use?

A: For the little black and white vignettes, and the chapter headers I used a brush and black ink, then cut into them in photoshop so they looked printed rather than drawn.
For the rest of the illustrations, it was a case of whatever works, and whatever I had to hand. I felted a leprechaun in Chapter 7 and made a ceramic plate in Chapter 8. The whole book felt like I was working on a rather fabulous forgery, which was brilliant fun for me as I suspect that in a different era, I would have been quite good at that.
Q: There is a lot of humour in your illustrations - were there parts of the text that made you laugh, or did you want the illustrations to bring additional touches of humour?

A: The whole book made me laugh as I read it. It's full of witty anecdotes and references. It was a complete gift to an illustrator as it is very visual, but of course I also wanted to add some of my own humour.
One of the things I added which still tickles me is the page numbers. I put them into Golden Snitches, and they're not always where you'd expect a page number to be, which turns the reader into a Seeker, who needs to hunt the Snitch. I also cast my dad as the fictional author Kennilworthy Whisp.
Q: Which spreads proved to be more of a challenge?

A: I found the hand lettering challenging in some places. I struggled through hand lettering Gertie Keddle's diary in English - trying to learn how the strokes in each letter should be formed (and as a left-handed person finding it really hard to keep it legible), only to be told it needed to be written in Anglo Saxon.
Q: What for you are the highlights of the finished book? Are there any spreads you're particularly proud of?

A: Usually when I finish working on a book, I look back and see all the flaws, and think what I would do differently. I don't know if its because of the great design team that took all of my random bits and pieces and collated them so beautifully, but I feel really proud of the whole thing.
I suppose if I had to pick, I am especially proud of both the Bayeux (non) tapestry, and the (not) Bruegel painting of the 1473 World Cup in Chapter 8. I'm sure Bruegel would be appalled at my technique, but I hope would've seen the funny side.
Q: Where do you work, and how does your working day go?

A: I work from home (like a lot of people currently) and live between Brighton and Wales. My days begin with a dog walk (my commute) and then I'm mostly at my desk drawing or my computer fiddling with stuff in Photoshop.

Q: Have you been working on other projects as well?

A: Whilst working on Quidditch I was also writing and illustrating a picture book for Two Hoots called Too Much Stuff in which I'm revisiting the same forest from my book Tidy! This time with a story about two magpies who are building a nest . . . It publishes on the same day this month as the paperback of my book Meerkat Christmas, which came out in hardback last year. Usually, I'd be all over the place promoting them all, so it feels very strange with the Covid situation to be at home.
I'm currently illustrating a book by Michael Morpurgo called A Song of Gladness, which he originally wrote for Katherine Rundell's very fine Book of Hopes, but is being turned into a full colour picture book for Two Hoots Books.
Q: What are your favourite escapes from your studio?

A: It feels like life has shrunk considerably over the last few months, but I am in a good position as I already work from home, enjoy small things (unfortunately one of those small things is biscuits), and dislike having to get on trains.
When it gets too claustrophobic, I escape by walking my dog Dilys, or take I out my frustrations by digging dock roots out of the garden. It's a never ending and thankless task as they grow back faster than I can dig, but it's very satisfying when a particularly big one comes out in one piece.
We are lucky that we spread our time over two locations, both of which are very different and very beautiful. Watching the seasons change is making me very happy right now. I also enjoy going to a pottery open studio, which has recently reopened with the requisite precautions in place. I make wonky, heavy mugs which I then give to friends and family whether they want them or not.
Author's Titles