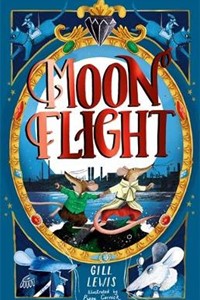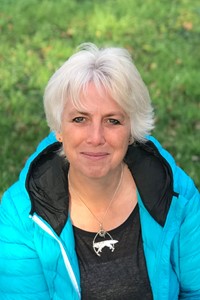 About Author
After realising her childhood dream of becoming a vet, Gill worked in the UK and overseas, everywhere from Africa to the Arctic.
Lewis's previous books for children - Sky Hawk, White Dolphin, Moon Bear and Scarlet Ibis - all published to critical acclaim and have been translated into many languages. Lewis has been shortlisted and longlisted for many awards including the Red House Children's Book Award, the Waterstones Children's Book Prize and the CILIP Carnegie Medal.
Lewis lives in Somerset with her family and their collection of pets including guinea pigs, hamsters, gerbils, dogs and a rescued Shetland pony. She writes from a tree house in her garden, surrounded by squirrels.
Interview
Moonflight  (David Fickling Books)
March 2023
Look out for ship rats, a cursed diamond and a special quest in Moonflight, an epic fantasy adventure set in the heart of London's Docklands by author Gill Lewis. We asked her to tell us more about the world of Moonflight, and what inspired her first fantasy adventure for children.
Read a Chapter from Moonflight
Q&A with Gill Lewis
1.   What made you a children's writer? And why do you enjoy putting animals at the heart of your stories?
I've always loved stories - listening to them or writing them or drawing comic strips. But because I struggled with reading, I stopped writing stories when I went to secondary school. It was taking my own children to the library and re-discovering the magic of books and stories that made me want to write again. I've always been fascinated by animals, and love putting animals at the centre of my stories, sometimes to show very real animals in real places that need protecting and sometimes to use anthropomorphized animals as an allegory of our human nature.

2.   Can you tell us about your new book, Moon Flight, and what happens?
Moonflight is the story of a young rat named Tilbury Twitch-Whiskers who lives at Tilbury Docks. The Dockland Rats live in the docks along the Thames all the way from Walton on Thames to Tilbury Docks by the sea. Being a seventh born rat, of a seventh born litter, there is bad luck upon little Tilbury and he become a nervous little rat, scared of his own shadow. But a bigger shadow looms over the Dockland Rats in the form of a cursed black diamond that was stolen two hundred years ago.
There is a prophecy that tells of one brave warrior rat to unlock the Cursed Night from its gilded cage, return it to its rightful owners and lift the terrible curse. Moonflight will take Tilbury away from his home, across the seven seas to far off lands, where danger awaits. But who are the rightful owners? And is Tilbury brave enough? And how can he find the truth in a world of so many different stories?


3.   Is this your first fully-fledged fantasy novel? Why did you want to write it, and what makes a great fantasy story for you?
Moonflight is my first published fantasy novel. I began to write the story in the first lockdown when we were confined to our houses and could only venture out for half an hour each day. I wanted to go on an adventure and if adventuring couldn't be undertaken in the outside world, then I wanted to turn inwards and go on an adventure in the imagination. Every twist and turn of the story took me deeper into the world of the Dockland Rats.
For me, a great fantasy novel has to have intriguing characters. I love character-driven stories. But the fantasy world needs to be rich and layered with descriptions that make me feel I have ventured into that world. I need to hear it, see it, feel it and taste it. The ultimate fantasy novel leaves you wanting to travel within that world again.

4.   How did you go about creating this world? Where is it based on?
The world is based in the Docklands along the River Thames. There are docks with names that hark back to colonial times: East India Docks, Tobacco Docks etc and it made me think about the goods traded and stolen from other countries. I also thought about how rats have grown alongside humans with the ever-expanding city of London throughout the centuries, and also rats that once left on those old sail ships too. So I wanted to create a parallel modern world where the rats wear clothes, speak to each other and still steal and trade in the city of London.
To create the world, I simply let myself become Tilbury and see his world, venturing along dark dripping sewers and seaweed lined wharfs. Writing the first draft was as surprising and new for me as it was for Tilbury. At each new door or turn in an alleyway, I stopped for a moment and thought - what if? And when you ask many questions of a story, it's surprising what answers you will find.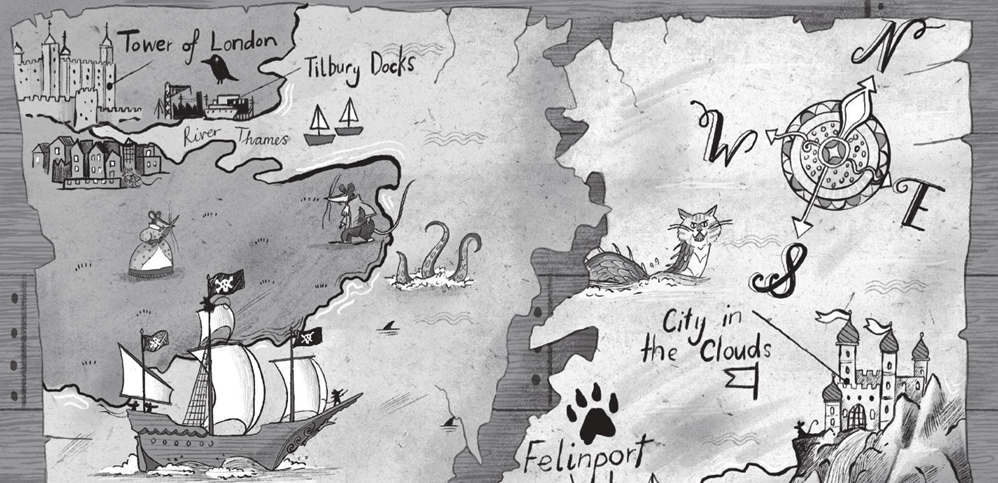 5.   What were your 'rules' for the rats who inhabit this world?
In essence, the rats are very similar to humans but with a sort of steampunk edge in the clothes they wear and the inventions they make. The human and rat world are parallel but never cross over.  I drew inspiration from our human world; The Elders who live in the attic rooms of the Tower of London were based on members of the House of Lords. Some of the devious, back-stabbing characters were based upon corrupt politicians.
I wanted to create rich ceremonies and belief systems, one being the ceremony of the Darkening, when every year-old rat is given a chance to see if they can open the gilded cage and release the diamond. I needed this pivotal point in a rat's life to be an important moment of change in the story for Tilbury.

6.   How did you develop your main characters, timid Tilbury and his sister, Nimble-Quick? Why do they work so well together?
Tilbury and his sister are sort of based upon my own children's sibling relationships. I wanted to develop their closeness, how they use their different qualities to help each other and yet show the very different personalities they have. Tilbury is timid and nervous, but he has a curious mind that wants to understand how the world works. He's kind and empathetic and feels safest with his family. Nimble-quick is sharp minded and brave, unafraid of conflict and seeks adventure. She's fiercely loyal and feels she must protect her brother. I loved developing their relationship and seeing how far they would push each other, and how they use their unique qualities together to survive.

7.   Tilbury's quest is to return a precious diamond to its rightful owner. What gave you the idea for this quest?
The true story of the Koh-i-Noor diamond was part of the the inspiration for this story. The Koh-i-Noor (Mountain of Light) is a diamond with a long and bloody history and has passed hands through many people and many countries. Most recently it was acquired by deception and force by Queen Victoria from the then ten-year-old maharajah Duleep Singh. This diamond is said to have a curse upon it, that no male royal member will wear it.
I believe a curse is really the result of stories that hide the truth of the diamond. Many people now lay claim to this diamond, but it made me think who are the rightful owners of such diamonds and gemstones? And more importantly, why do we build such powerful stories around these sparkly rocks we find in the ground? Why do we risk our lives for them and give them such value? So I created a black diamond called the Cursed Night, a diamond so powerful it will turn friend to foe and bring death and destruction to the Dockland Rats. I created other rat groups with a claim to this diamond, and it is for Tilbury to find the truth among others' stories.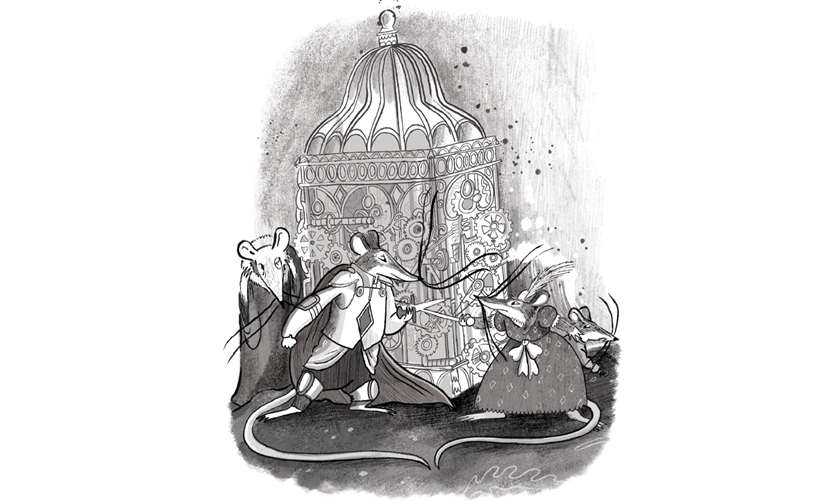 8. Why did you decide to introduce special mechanisms into the story, from the cage holding the diamond to the rats' desire to fly?
I think this part of the story was inspired by the stories of inventions from the beginning of the Industrial Age. I wanted the black diamond, the Cursed Night, to be inaccessible and the only way I could do this was to place it in a cage. I loved the idea of intricate puzzle locks created by a master designer, the Great Bartholomew, a rat who lived some 200 years before Tilbury. Only a rat of his equal intelligence and ingenuity could re-open the lock.
I also wanted to create some time tension and placed the cage below the wharf such that it is only revealed at the lowest of low tides. Tilbury is a rat with a curious mind who has all he needs in the chandlery basement of Tilbury Docks to invent his creations. But his curious mind wants to make Bartholomew's legendary Silk Wing, a flying machine to take rats into the skies. This was inspired by the stories of the invention of powered flight.

9.   Pippa Curnick's illustrations are fabulous - what do you think of the characters? Do you have any favourite images?
Pippa's illustrations are story-perfect. It is as if she has seen inside my head. I love the Ship Rats and how evil Yersinia appears. The spreads are gorgeous and I think my favourite is at the beginning of Part 2 when Tilbury sets sail from Tilbury Docks.

10.   Will we hear more about Tilbury and Nimble-Quick? Do you have more stories planned? 
I have some ideas for future stories in the rat world, especially for Nimble-Quick, but I also have other ideas swarming inside my head too. I'm not currently writing but my fingers are getting very itchy to find time to go on more writing adventures.


More about Gill Lewis....
i.  Your books are full of animals; do you have a house full of pets and do they inspire your stories?
I have two dogs, five ducks and a Shetland pony. However, it is often wild animals that inspire my stories. During my work as a vet I saw and heard so many fascinating stories about our human relationship with animals and the wilder world that now inspire many of my stories.
ii.   If you could bring one of your animal characters into real life, which would it be?
I think it would be Pup in A Street Dog Named Pup and to give him a safe home.

iii.   If any of your books could be made into a film, which one would you want to see on screen?
I would love Moonflight to be made into an animated movie. I think some of the flying scenes could be epic. I love ratty films like Ratatouille and I think Moonflight would work well for creating the expressions of characters on ratty faces.

Author's Titles