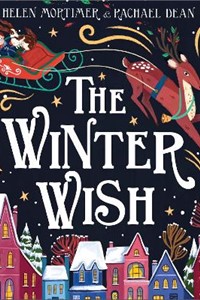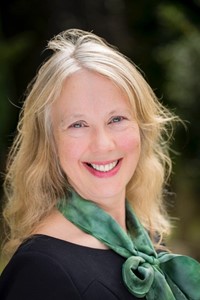 About Author
Helen Mortimer works as a freelance children's books editor and author. After many years working for major publishing companies, Helen now writes children's picture books, exploring themes that are close to her heart.
Rachael Dean is a children's book illustrator living on the coast near Liverpool. Her work is traditionally and digitally painted, and often portrays rich imagery and engaging characters. Rachael has illustrated middle grade fiction as well as picture books.
Interview
The Winter Wish  (HarperCollins Children's Books)
November 2022
This dazzling picture book brings the magic of Christmas alive in a story where one boy's wish will find its way into your heart... A story about family, community and the magic of wishes, especially at Christmas time. We asked author Helen Mortimer and illustrator Rachael Dean to tell us more about their new picture book, The Winter Wish.
                                                                                                                                                                Illustration copyright © Rachael Dean 2022
Q&A with author Helen Mortimer
1.   What brought you into writing picture books? Do you do other kinds of work, too?
I "grew up" working in publishing, starting my first job in the industry after graduation. I've always worked for publishers that create books for children - either for children as pupils or for children at home. And my work has always been within the editorial function. After more than 25 years working in-house, I decided to go freelance and so still spend most of time as an editor. But importantly being freelance has given me the opportunity and the "headspace" to write, too.

2.   What kinds of books do you enjoy writing and how long does it take you to complete a picture book text?
I have had the opportunity to write different kinds of books from simple word books with an overarching narrative to picture books such as The Winter Wish. It's hard to say how long a text takes to complete as there needs to be "fallow" time between the idea in your head, the idea as it appears in a first draft and the idea as it crystallizes into a final draft. If I can use a Christmassy analogy, it's a bit like making a Christmas pudding. The individual stages (buying the ingredients, mixing them, steaming the puddings, leaving them to mature and steaming them again when you're ready to eat them) all take time but it's the time between the stages that's crucial!

3.   Can you tell us about your new book, The Winter Wish?
It tells the story of a resourceful little boy called William. He sees his parents' bookshop struggling as Christmas approaches. With a firmly held desire to take action and put his trust in the magic of his imagination . . . William becomes the agent for something wonderful to happen.

4.   What inspired the story?
This particular story started to form in my mind a few Christmases ago when my village encouraged people to sign up to create 'winter windows' in their houses. Twenty-four houses were selected to take part and a trail map was created so that the village became a sort of living advent calendar as each window was revealed from December 1st onwards. That idea stayed with me.

5.   Why did you decide to feature a magical reindeer in this story?
My walks around Blenheim Palace, which is close to where I live, gave me the idea of a reindeer called Bracken. There are often shy muntjac and roe deer grazing the bracken early in the morning and I knew I wanted to combine my reindeer character with a window in some way. A bookshop seemed the perfect place to do that, especially as the story is also about the power of words and the imagination.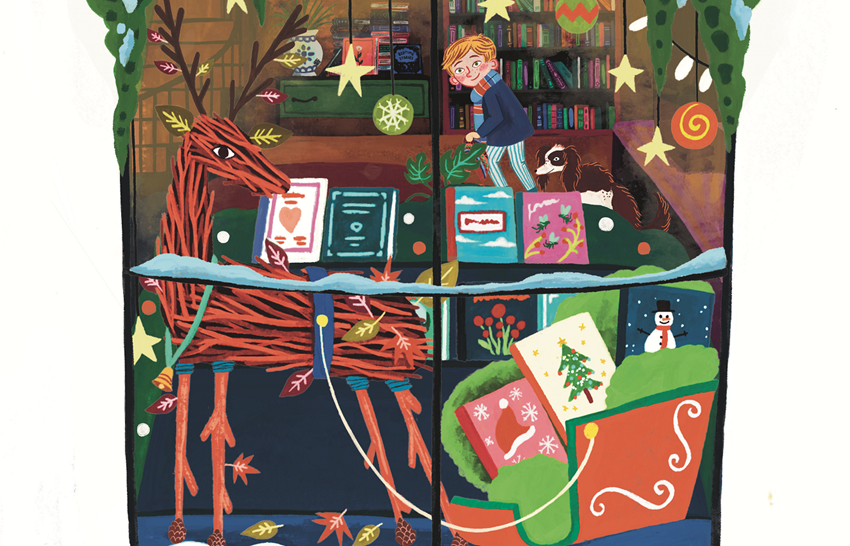 Illustration copyright © Rachael Dean 2022
6.   Is The Winter Wish a love story to bookshops? Are you a frequent visitor to bookstores?
I think you're right, it is a kind of love story to the magic of spending time in a bookshop. If you imagine the scope and incredible range of ideas, stories, knowledge, revelations and passions contained within each book on the shelves - they are pretty powerful places! And, yes, they are places where I love to spend time when I can.

7.   In the story we discover that "Words can be magic" - do you also hope to pass on a love of words through this story? What are your "magic words"?
I think that all picture books wrap children in the wonder of language. They may not understand all the words they hear but the meaning of the story will always shine through, illuminated in equal measure by the illustrations and the way the words are delivered by whoever is reading to them.
Picture books play such a crucial role in allowing children to comprehend words before they are able to read them for themselves.
I am not sure if I can pinpoint any of my own magic words (as they're forever changing) but what I would say is that I am still discovering new ones and that is wonderful in itself!

8.   What do you think of Rachael's illustrations of the street and this special store? Does any spread stand out for you?
I think Rachael's illustrations are full of vibrancy and warmth. They draw you in as if you're watching a film. I think she has captured the loving relationship between William and his parents and of course the devotion of Rufford (the dog) to William. Not only are her illustrations imbued with drama and atmosphere, they are also full of gorgeous incidental details that invite young children to take part in a kind of treasure hunt on every spread.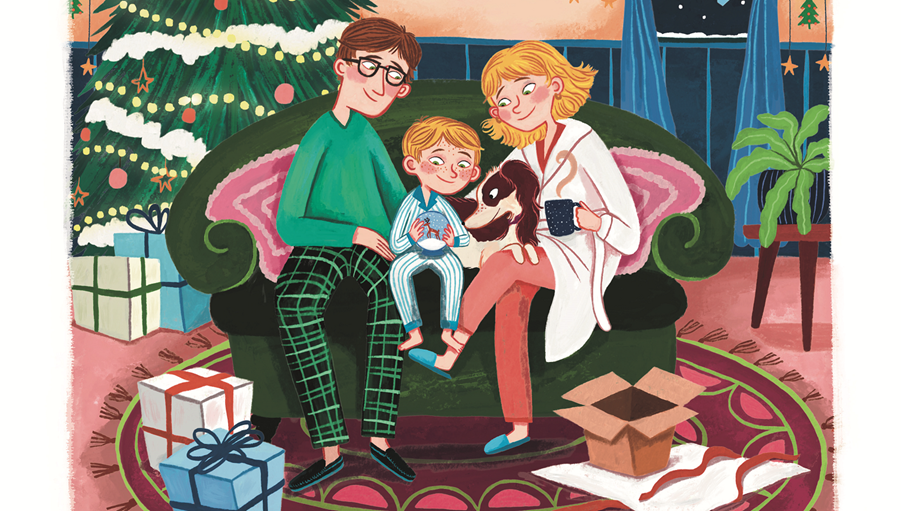 Illustration copyright © Rachael Dean 2022
9.   This is a wonderfully Christmassy story - what are you looking forward to most this Christmas?
I love Christmas lights - and the way they transform dark houses and streets during the winter months. I also love bringing greenery indoors - and I always collect armfuls of holly and ivy to use as natural decoration.

10.   If you were granted a winter wish, like the boy in the story, what would it be?
I think wishes are delicate things that might not survive if they're disclosed! But I can reveal my hope that everyone who shares this story will have wishes of their own that they'll do everything in their power to realize.
Q&A with illustrator Rachael Dean
1.   What brought you into illustrating children's books? Do you do other kinds of illustration work?
I've always wanted to be a children's book illustrator from a very young age. Children's books were such a huge part of my childhood and I felt inspired to work towards that as a dream job one day. I'm so lucky to have finally got there! Although I'm currently mainly focusing on children's book work, I'm definitely open to trying different areas within illustration, too.

2.   Why did you want to illustrate The Winter Wish - what stood out for you about the story?
I believe that the story is so timely right now. I think a lot of people will be able to relate to the situation William and his family are in but will also adore the heart-warming message of hope and determination. And of course, I immediately envisioned the rich, detailed pages of the houses, forest and bookshop and my hands were itching to draw them!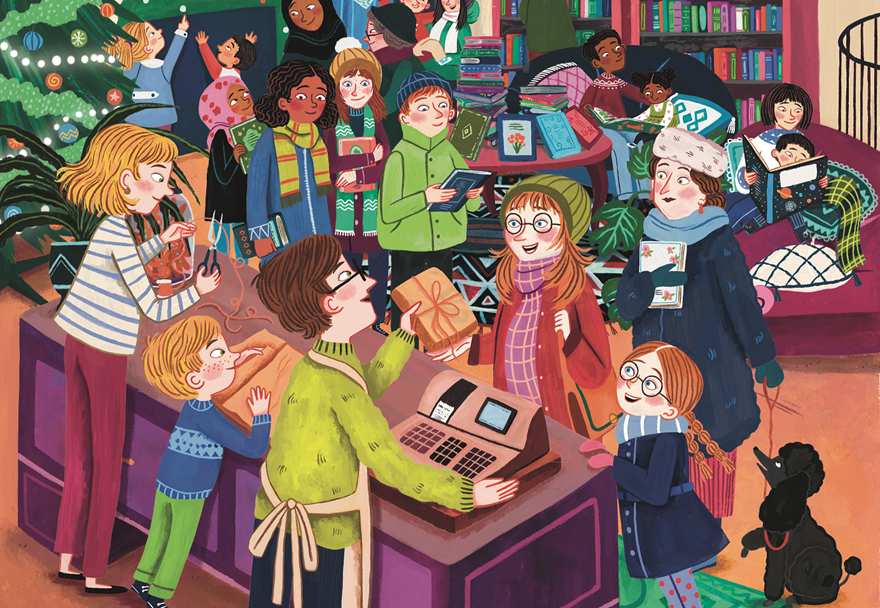 Illustration copyright © Rachael Dean 2022
3.   How did you decide on your style of illustration for this book, and the colour palette you wanted to use?
With the story revolving around Christmas, I knew I wanted to bring bold, magical, and atmospheric themes to the book. I often use bright blues, greens, reds, and pinks in my other work so I thought these would be the perfect Christmas colours for this book.

4.   What were the challenges in illustrating this book?
I think the detail I decided to put into some of the scenes was quite challenging. I love including lots of detail within my work, but I can be quite obsessive with getting tiny features just right. I often create a lot of work for myself!

5.   And which was your favourite spread to illustrate?
My favourite spread is the one where Bracken is pulling the sleigh over the snowy fields. I love illustrating nature scenes with lots of patterned trees and star-scattered skies.

6.   How do you create your images - by hand or digitally?
Both! I often paint a scene traditionally with gouache, and then I'll scan the piece into a digital program and work into it to 'clean' it up or add extra details.

7.   Do you do lots of doodling before you decide what your characters will look like?
I tend to sketch a page of studies for each character, portraying their movement and personality. Or I'll create a profile page for each character with a written list of their traits and physical details at the side. I constantly refer back to these pages throughout the whole project.

8.   Where do you tend to work?
I have a spare room in my house that I've converted into a studio space with a big desk. I spend my days listening to music, podcasts and drinking lots of tea whilst working.

9.   This is a wonderfully Christmassy story - what are you looking forward to most this Christmas?
Seeing my family! My two lovely sisters live far away, so it's always my favourite time of year when we all come back together again for fun, games and catch ups.

10.   If you were granted a winter wish, like the boy in the story, what would it be?
That everyone could be given the chance to have a really wholesome and special Christmas this year.
Author's Titles