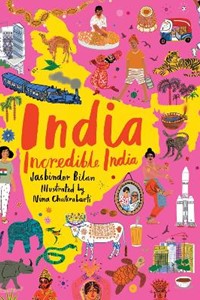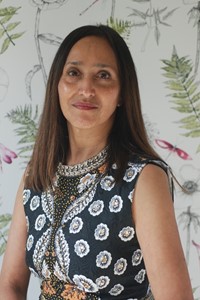 About Author
Jasbinder Bilan's debut novel Asha and the Spirit Bird won the prestigious Costa Children's Book Award and The Times Chickenhouse Fiction Prize. Jasbinder studied for an MA in Creative Writing at Bath Spa University and now lives near Bath, in England, with her husband, two sons and their dog named Enzo. She works as a teacher and in her free time (when she's not out walking Enzo) loves writing stories for children.
Nina Chakrabarti studied illustration at Central Saint Martin's College and the Royal College of Art, London. She uses line drawing to explore her love of the decorative arts, inspired by her past in Kolkata, India, where she grew up, and the exuberance of London, where she lived for many years. She is the author of the bestselling My Wonderful World of Fashion which has been translated into ten languages.
Interview
India, Incredible India (Walker Books)
October 2022
Read an extract from India, Incredible India
India, Incredible India by Jasbinder Bilan is a beautiful jewel of a book, illustrated throughout by Nina Chakrabarti.  Through its pages, we visit each state in India, guided by the objects that a child finds in her nanijee, or grandmother's, special box, and discover something special about each region.  We asked author Jasbinder Bilan what inspired the book, and illustrator Nina Chakrabarti why the project was so special to her, too. 
Jasbinder Bilan introduces India, Incredible India

1.    Can you please tell us a little about your new book, India, Incredible India?
India, Incredible India is a journey around the whole of the huge country of India. In each of the states there are surprising, amazing and incredible facts waiting to be discovered.

2.    Why did you want to write this book, and why is it so close to your heart? 
I really enjoyed writing this book. I was born close to the foothills of the Himalaya and one of the reasons why it's so special is because of a story my dad used to tell us. It was how, one day, we would hire a jeep and drive cross-country until we reached India. Once we got there the adventure would continue as my dad planned to show us everything he loved about the country he grew up in.
Even though we never got to take that journey, in writing this book I'd like to think I made his dream come true. It's the sort of book I would have loved to find in a library as a little girl and I hope all readers love it as much as I loved writing it.

3.    In the book, Thara's nanijee, or grandmother, tells stories about places in India that are linked to different objects that Thara finds in a box. Why did you want to tell the story this way?
I was very close to my grandmother, my majee, and I wanted to show how special grandparents are. I also think everyone will love diving into the wooden trunk to find out the story behind each of the objects. It's like there's a big surprise on each page that transports you to a different state in India.

4.    How did you decide which regions in India to cover, and which objects to represent them?
I wanted to show readers what a diverse and surprising country India is, so every state is represented in the book. I also wanted to include fun objects, things that Nanijee found on her travels as well as things she bought.
Each object highlights specific aspects of the state that pushes boundaries and our expectations as a reader. For example, when Nanijee visits the Gir Forest in the Gujarat, she collects a tooth that belongs to a baby lion. We then find out about the native lions of India - Asiatic Lions that are related to the lions that fought the gladiators in the Roman arenas!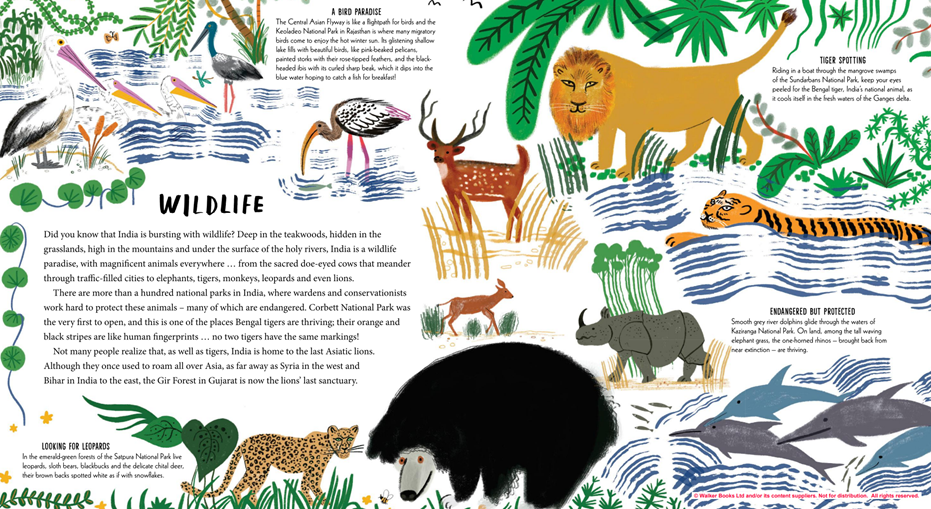 5.    How did you research all these places for the book - did you manage to visit them?
I did a lot of research for this book and I also visited some of the places. I took my first trip back to India when I was an adult and kept diaries. I used these diaries as inspiration for the entries. I also went to my mum's village, Moranwali - village of the peacocks, in Punjab. I was really happy to be able to finish the journey there.

6.   Did any of these places stand out for you when you were writing about them?
Majuli Island in Assam really stood out to me as a place of incredible beauty but also as a place in danger. I was so impressed by the story of a man called Jadav Payeng who began a re-forestation mission to stop the island from flooding during the monsoons. He worked so hard to plant trees that he was named 'Forest Man of India'.  The project has done so well that wildlife, including endangered tigers, are thriving in the area and the first cute cubs were born in 2012!

7.    Are you planning any new visits to places you haven't seen, as a result of writing this book?
Yes definitely! I would love to go to West Bengal and ride on the Queen of the Hills - this is a beautiful train that goes through the mountains and at one point it travels through the bazaar so you can do some shopping without leaving the train! If I could travel into the past I'd go to the ancient Indus Valley in Gujarat, where things like dominos, dice and buttons were invented.

8.    Did you get any surprises about India, its history or traditions, when you were doing the research?
One of the things that surprised and impressed me is that India has had a space programme since 1962 and astronomy has always played a big part in its history. Five observatories were built between 1724 and 1738. These days the space race is led by two women, Ritu Karidhal and Muthayya Vanitha, who had both dreamed of being space scientists since they were little girls.

9.    What about when you saw the finished book - did you enjoy Nina Chakrabarti's illustrations?
I was absolutely over the moon when I saw finished copies for the first time. Nina's illustrations are simply stunning. She has made my words burst with technicolour! I couldn't have hoped for a better result. It's such a gorgeous book and one that I hope readers will take to their hearts and enjoy over and over.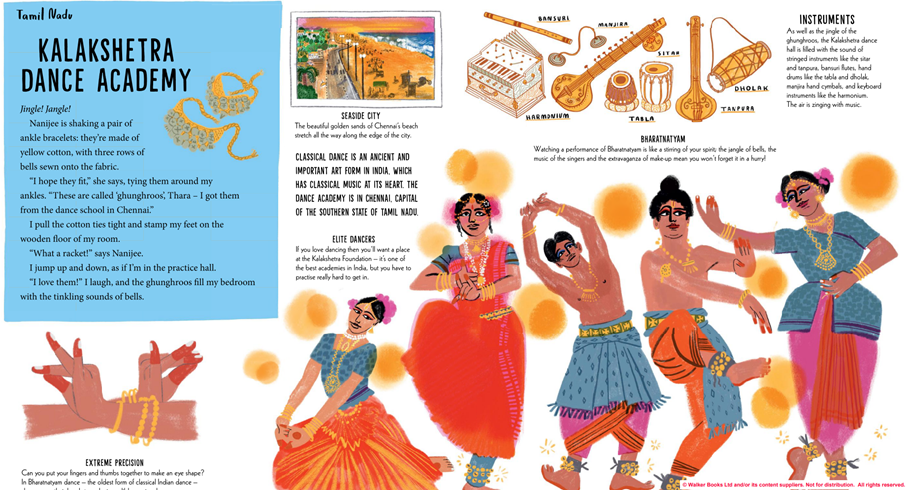 10.    Other than discovering a huge amount about India, what would you like your readers to take from the book?
I want readers to go on a journey of discovery but I also want them to be surprised and impressed by India. I have included things that I would have loved to uncover as a child and these little gems are scattered throughout the book. It's also an opportunity to share and celebrate where we are all from. The world is incredible and we are all connected. India has so much to offer and I'd love children to be proud of who they are and the journeys that have brought them all together.
Nina Chakrabarti talks about illustrating India, Incredible India 

1.    How did you become an illustrator, and why did you want to illustrate this book?
I loved drawing as a child. I went to art college to study graphic design and joined the illustration department. I found I liked working to briefs and enjoyed collaborating with clients.
I have been wanting to illustrate a book on India for some time. I have a personal connection to India, having grown up there. When I got the commission, I made plans to travel to India so I could visit the key places mentioned in the book but the arrival of Covid put a stop to that. Still, it was a marvellous project to have during the pandemic - it gave me the chance to travel from the comfort of my home studio.

2.    How did you research the images, as the spreads are so connected with specific places?
The editor, Louise Jackson, was brilliant at designing the layouts and gave me lots of picture references. Sometimes I'd use her images, other times I'd use my own. I scoured second hand bookshops, eBay and local charity shops for books on India. Google is wonderful and useful but there's nothing like pictures in old books to get me inspired.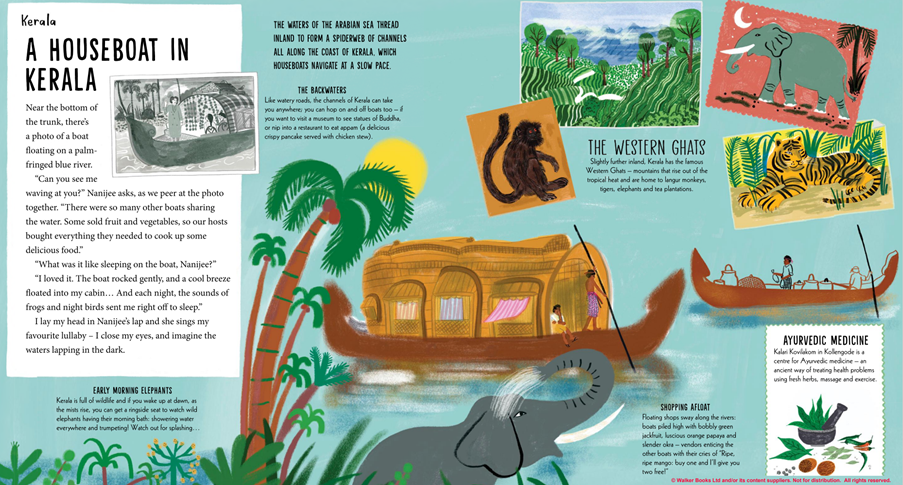 3.    How did you go about creating your illustrations for India, Incredible India?
I start all illustrations with rough pencil drawings, then draw over them in colour. For India, Incredible India I worked primarily on my iPad using a programme called Procreate. Using the iPad meant I could deliver illustrations very quickly, much faster than if I'd been using paper, pen and inks.

4.    What were the biggest challenges in this project?
Time! Every illustrator always wants more time. We are never satisfied.

5.    Did any of the finished spreads stand out for you?
I loved the market spread(Bubhaneswar). Drawing it reminded me of Gariahat Market, a huge bazaar in Calcutta/Kolkata where I grew up. Indian markets are a sensory experience - the noise, the smells, the colours of the spices and sari shops. I love them.

6.   Are there any places in India you would like to visit now, having read the book?
I would like to visit the Rock Garden in Chandigarh. I got close in my last trip, and had planned to go on there, but I was exhausted (as one often gets when travelling round India!) and decided to stay on in Delhi. I would like to return to Jaipur and see the Andaman Islands.  I hope the book will make its readers interested in this huge and fascinating country.

India, Incredible India by Jasbinder Bilan and Nina Chakrabarti is published by Walker Books and is available to buy now.
Author's Titles