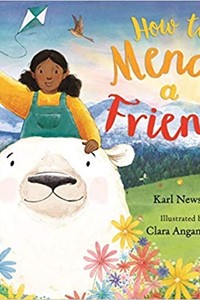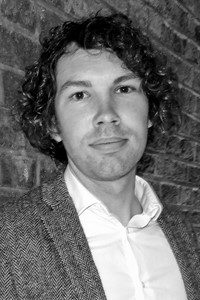 About Author
Karl Newson creates picture books and his new book, How to Mend a Friend, describes all the different kinds of friends we might need at different times in our lives, and also explores the kind of friend we might be. Karl has been writing picture books since his children were small and his stories have been shortlisted for numerous children's books awards and are translated in over 20 languages around the world. He is also an illustrator of other people's stories and a writer of nonsense poetry. Karl lives in London with his partner and a forest of pot plants.

Clara Anganuzzi would draw on every surface she could find whilst growing up in the Seychelles. She has always had a fond love for animals and creating characters with subtle, gentle humour. Using a mixture of traditional techniques, ranging from monoprinting to pencil marks, Clara enjoys creating narrative images and a sense of place in limited colour palettes. After studying BA illustration at Falmouth University, she went on to complete a MA Children's Illustration course at Anglia Ruskin, which helped her gain personal voice, inspiration and motivation.
Interview
How to Mend a Friend  (Studio Press)
June 2021
Sometimes we all feel a bit sad, and that's where we need our friends - to help us feel better by giving us a hug or telling a story, or even just leaving us to be alone. A good friend will know exactly what we need and here, Karl Newson tells us what inspired his story about friendship, How to Mend a Friend.
Q&A with Karl Newson
What's the best thing about being a picture book creator?
Making things up! I've always been creative but to have a job that is mostly just me making things up is a dream come true. I love that an idea can come from nothing and end up being a book. It really is the best thing!
Can you tell us what How to Mend a Friend is about, and what inspired it? Was it a difficult text to write?
How to Mend a Friend was written in mid 2019 while I was receiving chemotherapy and radiotherapy treatment for cancer. It was a strange time for me and quite a lot of it has since been put away in a box in a drawer in my brain, just out of my memories reach - which makes it even stranger in a way!
I wrote this story as a way of expressing my thanks to my friends and family who all reached out to me in different ways to extend a hug and to keep me going. I spent a few months isolated from the world during the treatment to keep me safe from any other colds or bugs, so I didn't really see anyone except my partner for weeks at a time, but the whole time I felt surrounded by love and friendship through the cards and gifts I received. Those cards and gifts were my rocket fuel that helped me get through the rocky periods and bring me back home, and each one was different: there were biscuits, cakes, flowers, letters, cards, postcards, illustrations, drawings, poems, homemade treasures and more and more and more.
I noticed how everyone was different in what they sent and it got me thinking about how they each worked wonders for me, and that essentially it was the people who made the difference, not just the cards and gifts. It wasn't difficult to write at the time because I was so powered-up with good vibes, but it has become more difficult since then to get into that zone - if that makes sense - because it got me through a time where I wasn't really there and it made a new me in the end. This book has definitely got my heart in it.
What sort of friend would you describe yourselves as? 
I'm a hugger, a cake giver, flower buyer, tv buddy, listener, and 'there, even if I am afar' kind of friend... I think! I guess that's a question for my friends to answer.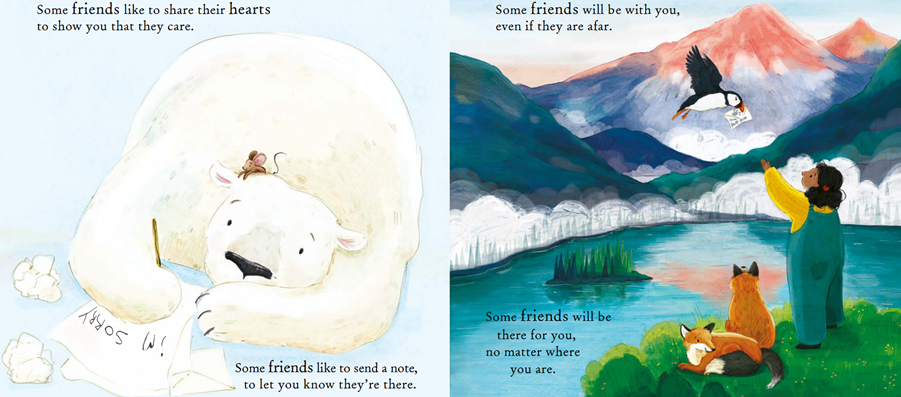 And what do you need from your friends to make you happy?
I think most of my friends would say 'biscuits'! Heehee! But really, just them being there made me happy and strong.
What is your favourite spread in the book and why?
I have so many favourite moments in this book! But if I had to choose just one I'd go for the opening spread - the big polar bear hug. A close second is the campfire illustration with the wolves, where the one wolf is leaving the scene. It gets me every time.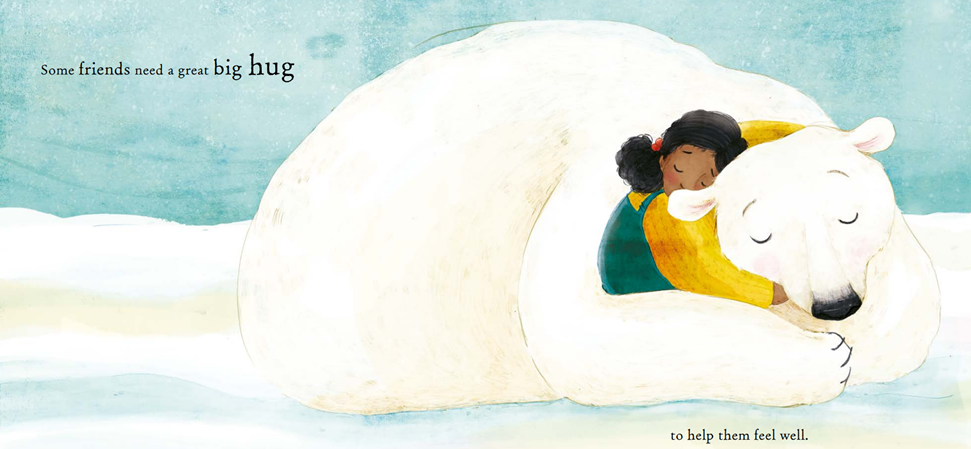 What would you like children to take from your picture book?
It's quite a deep book in terms of feelings and the variety of different ways we all feel and deal with the same things, but put simply, I'd say that despite this variety, just being 'you' is as perfect as can be in these situations. And that's all that matters.

What other picture books are you working on currently? Have any of your picture books stood out for you during your writing career?
I'm lucky enough to be working on several new picture books. I'm not yet allowed to talk about them, but I can say what they're loosely about: Cake! Moving home. Pets. Strangers. Mini beasts. Love. Plus a second book with Clara Anganuzzi that I'm very excited about!
How to Mend a Friend stands out because of when and why I wrote it. I love all my books equally, though, and I'm very grateful for them all existing :)
What are your favourite things to do when you're not working?
I listen to lots of music. Mostly Beatles! And I try to take a walk each day to escape my desk and all the screens, and hopefully find some new ideas in the woods that I can take home with me.
What are you most looking forward to doing once we can all get around 'normally' again?
Meeting friends in bookshops and spending the day catching up. I can't wait!
Author's Titles