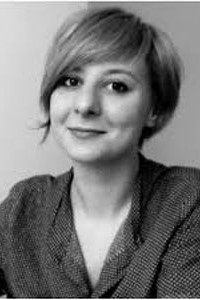 Biography
Children's books illustrator Kate Hindley lives and works in Birmingham (near the chocolate factory). She studied illustration at Falmouth College of Art, graduating in 2008, and went on to work for two years as a children's print designer at a studio in Northampton, whilst working freelance on children's books and greetings cards.
Kate's first picture book THE GREAT SNORTLE HUNT, written by Claire Freedman, was longlisted for the 2013 Kate Greenaway Medal.
Her latest publications include illustrations for The Naughtiest Girl (Hodder Children's Books), The Wishing-Chair (Egmont) and the Best Friends' Bakery (Orion Children's Books) series, as well as illustrating some of Alexander McCall Smith's children's stories.
Interview
FREDDIE MOLE, LION TAMER
BLOOMSBURY CHILDREN'S BOOKS
APRIL 2016

In this spectacular circus story by bestselling author Alexander McCall Smith, an ordinary boy called Freddie Mole finds himself a job in a circus in a bid to save his family from penury - but what happens when he has to face the fierce lions?
This beautifully-presented book, for readers aged seven plus, includes lively black and white illustrations by the hugely talented Kate Hindley. We spoke to her about the challenges and rewards of illustrating books for younger readers.

Q: How did you begin illustrating children's books?
A: I studied illustration at Falmouth College of Art which meant spending three years by the seaside. Now I'm back living in Birmingham, which is where I'm from. I work as a children's illustrator these days although I've done a number of other jobs including being a dinner lady and creating patterns for children's wear.
The first children's book I illustrated was The Great Snortle Hunt in 2010/11 so I've not been doing it for very long. In between illustrating other people's books I would also like to write my own stories to illustrate.

Q: How different is it illustrating young fiction like Freddie Mole, Lion Tamer, from illustrating picture books?
A: I enjoy illustrating both for different reasons. I think the difference between illustrating picture books and fiction is that picture books are more of a partnership between the author and the illustrator; as the illustrator, you can embellish the story to an extent while with fiction, your illustrations are there to support the text and you make the most of the 'bigger' moments in the story.

Q: What did you enjoy about working on Alexander McCall Smith's books?
A: As an illustrator it's nice to read such a wide range of children's literature and I'm a real fan of Alexander McCall Smith's work. I really like how he paces his stories, there is no waiting around, the reader is always being taken forward. He is very economical with his words but he gets so much across and I think his subject matter is always strong. That is the same for his adult books like The Lady Detective Agency series, which I'm a fan of.
As well as Freddie Mole, Lion Tamer I have been working on some other children's stories by Alexander McCall Smith including an bind-up of his earlier stories called Explosive Adventures, and Marvellous Mix-Ups which is publishing in September (Bloomsbury).

Q: Did illustrating a circus in Freddie Mole, Lion Tamer present any particular challenges?
A: I loved that the book is about a circus, which I've always wanted to illustrate. In this circus, there are a lot of animals although as the author tells us in the story, we tend not to see animals in the circus anymore.
I've never actually been to a circus myself, but that didn't make it any harder to illustrate the book because the image of the old big top circus is so iconic, there were lots of images available when I researched it.
But I did find the size of the page presented challenges and one of these was the number of things that often needed to be fitted onto the page, for example one illustration has the tent in the background with Freddie's parents and the circus master on the page as well.
Because I normally illustrate picture books, I'm used to working on a bigger page. When I'm illustrating fiction I could work on a larger page and then shrink it down but doing so would lose the sharpness of the images.

Q: Freddie Mole is an ordinary boy but looks quite distinctive in your illustrations - how did you decide what he would look like?
A: Freddie Mole was quite straight forward to visualise and draw, possibly because there's not a lot of description of him. I was trying to think of ways to differentiate Freddie from other characters I've illustrated so I went to town with his hair; it's a very distinctive shape. Many of the children in young fiction are polite and friendly-looking so Freddie has big eyes to help with that.
Some of the other characters are described in more detail in the book so I followed that guidance for their appearance, like the circus master. Even his voice in the story brings strong images to mind of what he might look like.

Q: What about the 'fierce lions' that Freddie has to tame?
A: I've not drawn lions before but I found you have to think about how fierce you want your lions to look and you have to put the teeth in quite carefully!
In young fiction, unlike picture books, children enjoy seeing something that looks quite mean so I could play around with how fierce the lions would look, especially as we discover they are actually wearing false teeth.
I draw a lot of animal characters for picture books and I enjoy drawing the animals for fiction, too. They are good fun and it adds variety to the page. Often the humans need to look quite 'average' so it's nice to put in a hairy lion! They were definitely the funniest part to draw while the humans on trapezes were the hardest!

Q: How do you know which parts of the book to illustrate?
A: When I'm illustrating a fiction book, I will get a document from the publisher with the text highlighting the passages that they think are important to illustrate. Then I create roughs of each of the drawings and those are shown to the author and the publisher liaises if there are any changes needed. It's always useful to have a fresh pair of eyes looking over your material.
I use quite fine liner pens for fiction illustrations and sometimes a brush and ink but as I wanted more control for these images, I kept to pens.
There tends to be quite tight deadlines for illustrating fiction books, whereas you get longer deadlines for picture books. I did 24 drawings for Freddie Mole, Lion Tamer and only had a few weeks to do them.
The cover image tends to take a lot longer to create as there's more at stake with that so there is a lot of to-ing and fro-ing with the cover as publishers also run these by retailers to get their opinion. I was pleased with the final look of this cover and how bright it is.

Q: What do you think of the trend to illustrate more children's fiction books?
A: It's lovely to see more books for children being illustrated. A series of books by Philip Reeve and Sarah McIntyre is so highly illustrated that the books are almost comics, and Alex T Smith's Claude books are great.
It's a really nice bridge for children going from picture books to reading fiction. I was one of those children who lost interest in reading as soon as I was told to read books that didn't have any pictures in them. We have art galleries, so why shouldn't we have pictures in books?

Q: What else are you working on at the moment?
A: I generally work on a number of different books at any one time. At the moment I'm just finishing the illustrations for Alexander McCall Smith's Marvellous Mix-ups (Bloomsbury), publishing in September, which includes stories like Teacher Trouble and Spaghetti Tangle.
I've been drawing lots of spaghetti and found it's quite hard to make it look like spaghetti and not hair. In Teacher Trouble, a tall pupil is mistaken for a teacher but she still needs to look quite young even if everyone thinks she's a teacher.

Q: Where do you do your work?
A: I work from home where I have a room set up with all my drawing things. I also do school visits where I like to do drawing workshops based on the book I've just illustrated.

HOW TO WASH A WOOLLY MAMMOTH
SIMON & SCHUSTER CHILDREN'S BOOKS
JULY 2013
How to Wash a Woolly Mammoth is a warm and entertaining story that is a girl's step-by-step guide to washing her own woolly mammoth. It is illustrated by Kate Hindley and written by Michelle Robinson.
Kate Hindley spoke to ReadingZone about illustrating the picture book.

Q: Did you ever expect to be drawing a mammoth for a picture book?
A: I hadn't! But that is one of the funnest parts of my job - you never know what you might get asked to draw next. He was a great character to design, and partly based on my dog Badger (who is a fraction of the size but just as hairy!)

Q: What was it about the text that appealed to the illustrator in you?
A: I really liked the simple instructional text. There is hardly any description of the characters or speech, so it gave me lots of freedom to go to town on these in the illustrations.
I'm also quite a big fan of the design in old instruction manuals, and the look of the Haynes guides. Originally I had drawn up a few ideas inspired by these, but unfortunately they didn't look very appealing for children so we had to tone it down a bit. Maybe its something I can keep thinking about and develop for a future book!

Q: Is it harder or easier to tackle a picture book with a limited text?
A: Michelle was really open with her brief and hardly gave me any notes, so it gave me lots of freedom as to where to go with the illustrations. When I first got the text there was lots of brainstorming and doodling. It was great to be given the opportunity to put your own mark on someone else's story.

Q: Were the spreads that you had to work hard on to visualise?
A: I found water pretty tricky to draw (which was a bit of a problem as it features quite a lot..) It involved a lot of scanning in shapes I had painted in water colours, and then trying to edit and layer them up so that they looked flat enough that they fitted in with the style of the characters. There was much trial and error, and all those bubbles have been pretty much every colour you can think of before we produced the final artworks.

Q: You've developed a lovely relationship between the girl and the mammoth through the images, did you always feel that would be a strong part of the story?
A: I think because the text is so fantastically simple, it is quite nice to introduce another more personal aspect to the story through the character illustrations (which will hopefully make people want to read the story over!) Developing characters is one of my favourite things to do, so it was great to be given such an open brief so that I could design the illustrations with this in mind.

Q: Is humour important to you, for example the image of the mammoth drinking from a straw (rather than through his trunk) etc?
A: The great thing about children's books is that they usually take something quite ordinary, like bath time, and then add something really absurd to the mix - like a mammoth! It's very hard not to have fun and be a bit daft with a story like this. What a great excuse to be silly!

Q: At what point do you run things by the publisher or author to check they are happy with your interpretation of spreads, especially the very undirected ones like, Make a Splash?
A: The team at Simon and Schuster are fantastic and I work very closely with them so that we can make a book that we are all happy with.
My designer Nia is brilliant and I'm always eager to hear her opinion and any advice that she has. We probably talk a few times a week about how we feel the project is going, and usually brainstorm together about how spreads should look.
It is through her I hear what Michelle and Lara (our editor) think, and even the rest of the team at S+S. I always think its best to get a broad range of opinions, and then worry what to do from there.

Q: Were there any spreads that you found quite difficult to create or interpret? Do you have a favourite spread?
A: The final double page spread was a bit tricky to draft out in order to fit both characters in the bath (you may notice a little artistic license...)
I think my favourite part was working on the title pages. I had lots of bottles and soaps I had doodled in my sketchbooks especially designed for mammoth grooming and hygiene. They were great fun to make up, even though they didn't necessarily fit into the text. I was really pleased when we found a place we could use them.

This is what the author, MICHELLE ROBINSON, told us about writing How to Wash a Woolly Mammoth:

Q: Why did you choose a mammoth for this story? Do you have dogs, for example, that might have inspired the story?
A: We were on holiday in Nova Scotia when I saw a life-sized model mastodon on a ridge by the highway. It barged its way into my brain and - poink! - a woolly mammoth story popped out. I don't have any dogs to bathe; washing my kids is hard enough.

Q: Why did you introduce a 'step by step' approach for the story?
A: There's an ancient viral email about how to give a cat a pill. It's a universally funny joke with a simple structure and a brilliant punchline - I won't ruin it for you, go Google it. Perfect inspiration for a picture book.

Q: Did you write in any notes for the illustrator eg when the mammoth runs away from the scary mask etc?
A: I wrote: [Child levers mammoth into the bath with a splash, perhaps using a wheelbarrow]. Kate added her trademark comic genius by adding lots of different methods of mammoth persuasion. I'm glad she felt so inspired, it's a particularly strong spread and it cracks kids up every time.

Q: I love the hair style spread, what inspired that?
A: Me as a kid. My kids. Everyone's kids. Moulding your bubbly hair into silly shapes takes the sting out of shampooing, right? Again, Kate was Chief Stylist; all I wrote was: [Mammoth happily showing off lots of daft hairstyles - punk, Elvis, etc.].

Q: Why did you decide to send your woolly mammoth up a tree?
A: Why not? That's where he wanted to go. Have you ever tried standing in the way of a ten ton prehistoric mammal?

Q: How disciplined do you need to be in keeping the text so succinct?
A: Very. At my best, I'm ruthless. Grr.

Q: Did you have a clear idea of how the finished illustrations might work with the text?
A: I'd hate to be given a brief that said 'write exactly this', so unless it's essential to the story I never say 'Draw exactly this'. I put in an idea or two, usually with language like 'Maybe...' and 'Perhaps...', so the editor and illustrator know it's just a suggestion.
When you get to work with brilliant people, you want them to have the freedom to enjoy themselves and do their very best work. That way books get stronger. Collaboration is key.

Q: What did you think of the illustrations, any surprises? Do you have a favourite spread?
A: They are ridiculously good. Don't you think? I would happily hang them all on my wall. Kate Hindley is not only a brilliant artist but a wizard when it comes to the art of the picture book. My son's favourite spread is the one with the heavy duty crane. I have a soft spot for 'When all else fails, there is always cake'. That's my mantra.
Author's Titles