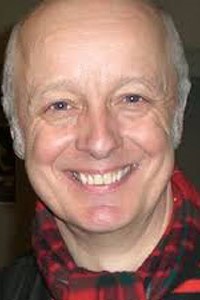 Biography
Kjartan Poskitt, best known as the author of the Murderous Maths books, was born and now lives in Yorkshire.
Kjartan had always wanted to be a performer and while he was studying at Durham university he started writing plays and songs, and then wrote for television programmes. In 1990 he wrote some puzzle books and was approached by the publisher Scholastic to write the Murderous Maths books. These were followed by Urgum the Axeman novels, and then the Agatha Parrot books.
As well as writing books, Kjartan presents a lot of shows about Maths, invents games and puzzles and takes part in shows for radio and television.
Interview
AGATHA PARROT AND THE THIRTEENTH CHICKEN
JELLY PIE
JULY 2013
Agatha Parrot doesn't go looking for trouble, but it does seem to find her and in this story, Agatha and her friends have managed to lose one of the 13 little chicks that they were looking after - but they don't know which one of them actually had it in the first place!
Kjartan Poskitt, who writes down Agatha's stories, tells us more.

Q: Your name sounds familiar - don't you normally write about Maths?
A: Yes, that's true, I write the Murderous Maths books, but I also write up Agatha's adventures. She often knocks on my door on the way home from school to tell me what she's been up to as we live on the same road. I give her a cup of tea and a biscuit and she talks - and talks....

Q: Which do you prefer, writing stories or solving tricky Maths problems?
A: Well, I like Maths because it's always right or wrong, you can't make it up, but I also love writing stories, especially funny ones, which is why I like listening to Agatha's adventures. Her escapades are amazing - you wouldn't believe what children get up to in school!

Q: What has she done that has surprised you the most?
A: I remember the time she told me about a Floating Head (that's what the story was called in the end), where the teacher tried to chop off her friend Martha's head with an axe, and then Martha's head exploded! You don't need to worry, Martha is fine and so is her head - but it took a bit of working out to find out what had really happened....

Q: Has Agatha ever told you about something that you couldn't write up?
A: Ah, now, there was the time when her dad went swimming on the beach and his trunks came off and floated away -

Q: Okay, yes, well let's move on to the new book, about a thirteenth chick?

A: Yes, the new book is about a thirteenth chick.

Q: And?
A: And it disappears! Well it could have been blown out of a trombone into the garden next door, or it might have got stuck behind the new wallpaper that Agatha's dad has been putting up.... That's what the story is about - where is the thirteenth chick? They have no idea. It is a massive and calamitous event!

Q: So where is the thirteenth chick?
A: Ah, now, you'll have to read the book to find out. Agatha and her friends have to work it all out, and then I have to work it all out when Agatha tells me.

Q: Agatha has some quite odd friends, doesn't she?
A: Yes, that's partly why her adventures are such fun to write up. Ivy is probably the maddest one, she has no sense of danger so if there is something dangerous to be done, they call on Ivy. There's also Ellie, but she is the opposite, she is terrified of everything! And then there's Martha, who is big and jolly. She can also sort out boys!

Q: What is Agatha like?
A: Agatha talks and talks and talks. You can hear this when you read her stories - she is always going off on tangents and I have to remind her what she was talking about in the first place. She can spend an hour just telling me who she passed in the corridor!
It can get a bit irritating, to be honest, but as my days are often quite boring I don't mind listening for a bit. And Agatha loves to have an audience. She's also very kind and likes fair play so I think she also spends a fair bit of time seeing off the school bully.

Q: Does Agatha look like her picture in the book?
A: Yes! She was drawn by David Tazzyman, who does the Mr Gum books, and it looks just like her, I was amazed as he's never actually met her, so I just described her a bit and there she was, in the picture, amazing!

Q: What else has Agatha been up to recently?
A: Well, I'm just writing up her latest adventure, which you won't believe. She told me that she was lying in bed one night and couldn't sleep, and she heard the school clock chiming and chiming and she was keeping count, and it struck thirteen times, which is very odd.
A rumour started that the school might be haunted and one night they even saw a green face in one of the windows! The girls got to spend the night in the school, to see if they could see the ghost. Very scary. I'm going to call it, Agatha Parrot and the Odd Street Ghost.
Author's Titles