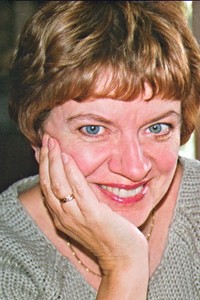 About Author
Mary Hoffman is a prolific and prize-winning author who has written more than 80 books for children. Amazing Grace, her first book for Frances Lincoln, remains one of her most popular titles. It has sold over 1.5 million copies and was commended for the Kate Greenaway Medal and selected for the National Curriculum Reading List in 1996 and 1997.
Mary's subsequent Grace titles for Frances Lincoln titles include the picture-book Grace & Family and the story-books Starring Grace and Encore Grace. Her other picture-books have included The Colour of Home, An Angel Just Like Me, Women of Camelot, Parables, Miracles, Animals of the Bible and Three Wise Women.
Mary also writes the bestselling series, 'The Big Book of...' whose titles have included The Big Book of Families, The Big Book of Friends, The Big Book of Feelings, The Great Big Body Book and The Big Green Book.

Mary lives with her husband in Oxfordshire and has three grown-up daughters.
Author link
Interview
THE GREAT BIG GREEN BOOK
FRANCES LINCOLN CHILDREN'S BOOKS
JUNE 2018

THE GREAT BIG BOOK series by MARY HOFFMAN, with its distinctive illustrations by ROS ASQUITH, has become a staple of classrooms and library shelves. The books explore children's everyday lives - families and friendships, our feelings and bodies, and the environment, with lively illustrations that are proudly inclusive.
THE GREAT BIG BOOK OF FAMILIES, the first in the series, was one of the earliest illustrated books to show families in all their variations and was followed by THE GREAT BIG BOOK OF FEELINGS, THE GREAT BIG BODY BOOK and THE GREAT BIG BOOK OF FRIENDS. Now THE GREAT BIG GREEN BOOK - exploring questions about the environment and how children can help support it - is also available in paperback.
We asked author MARY HOFFMAN to tell us how the series began, and what she wants the books to achieve:

Q: How would you sum up what you are trying to achieve in the Great Big Book series?
A: I would describe the Great Big Book series as 'big ideas for small people'. They are aimed at children from about four to seven years old and we are trying to explore big ideas - that all families are different, the problems with the environment - but with a light touch.

Q: How did the first book in the series, The Great Big Book of Families, develop?
A: At that time I had written a lot of books for the publisher Janetta Otter-Barry at Frances Lincoln Books, including Amazing Grace and its sequels, and she was open to new ideas on the representation of families. I had felt for a long time that picture books were not reflecting the multiple realities of being a family in the UK and I wanted to write a book that could show every kind of family you could think of.
I wanted it to be a non-fiction book and to be called The Big Book of Families - and I wanted Ros Asquith to illustrate it. I was very aware of Ros's education cartoons in The Guardian and I knew she could tackle serious subjects with a light touch. I had seen how she could take an important and big idea and make it humorous in a good way.
Fortunately she said 'yes' because without Ros, I don't think I would have written the book; I knew it was going to be so much of a collaboration between the author and illustrator. I didn't want to have to explain to the illustrator why it was important to have a child in a wheelchair or a family with two dads, and I knew if Ros was illustrating it that these kinds of details wouldn't be seen as 'add-ons'.
There is so much in the pictures and text that you can dip into with children or cover over several weeks in the classroom. In The Great Big Book of Families, for example, we show that some people live in big houses, some in small flats, and some can't find anywhere to live. It is an introduction to inequality and homelessness, but it is lightly done and a lot of that is down to Ros and her fun illustrations.

Q: Publishers are now looking more closely at the representation of multicultural families and characters in children's books. How is the industry doing, compared with how it was when The Great Big Book of Families was first published in 2011?
A: There is certainly a lot more talk in the publishing industry about diversity and there is an attitudinal change, but I'm not sure about how much progress has actually been made. There is still a lack of diversity in publishing itself and only a tiny number of people from ethnic minorities who are writing and illustrating for children. I think there is more diversity at the young adult end of things with writers like Patrice Lawrence and Alex Wheatle, but there hasn't been so much change at the younger end, picture books.
Having said that, the Great Big Book series isn't focused on this, apart from The Great Big Book of Families. Since then we have covered a range of subjects from our bodies to the environment, but what we also have in the background is children in wheelchairs, people signing and a range of couples; we just want to bust some of the myths about representation in children's books.

Q: The spreads in the books are very detailed. How do you decide what to cover?
A: We have lots of discussions about which subjects we should cover and possibilities for content. The Great Big Book of Feelings followed on naturally from The Great Big Book of Families; the lovely people at Letterbox Library asked if we could cover that because they were looking for books on the subject.
We also look for subjects that offer lots for children to discuss in the spreads. With The Great Big Book of Friends, for example, I visited four schools and asked the children to give me some suggestions about 'what is a friend?', so many of the examples in the book come from things they told me about their friendships; a friend is someone who asks you to their party, or who lives next door. They were also keen to tell me all about their imaginary friends, and we discussed if a friend can be a favourite toy or family and pets.
I also wanted to look at what happens if we lose a friend; children have very little say about things in their lives and if the parents decide to move, they will invariably lose touch with their friends. So we wanted to look at sad things as well as the good things in friendships, and to tell children that it's okay not to have lots of friends - or even to have no friends at all
One of the important messages we want to give in these books is that, whatever situation a child is in, things will be alright. Even at this young age, some children go through quite difficult things and the positive message we want to give them is that, whatever your situation, you are not the only one in the world in that position, and it will be alright.

Q: What inspired your latest book, The Big Green Book, and its environmental message?
A: There are some things in the world that are not okay and we wanted to look at how children could find ways to start making things better. Look at the impact that The Blue Planet has had on our awareness of plastics; we have to make the next generation aware, without frightening them.
Many of the initiatives within families come from children asking their parents, 'Let's not have plastic bottles; or 'let's recycle more'. So in the environment, the lead can be taken by the least powerful person in the house. Through the questions the children ask in the books, we also remind them that grown-ups don't always get things right; so a boy asks, 'Why do grown-ups leave the lights on'?

Q: Do any of the books stand out for you as a favourite?
A: Probably The Great Big Book of Friends because it made me think about my own friendships, so I included a reminder that 'if you see grown-ups being silly together, it probably means they have been great friends for a long time'.
I once had a great friendship with an 80 year old woman who I lived with as her companion. She had lots of friends of all ages and was a great friend to me, and she taught me that lesson, that we must keep making friends and that there is always the potential to make a new friend.
Of course in writing these books I have made very good friends with Ros Asquith, the illustrator, and that never would have happened otherwise.

Q: Are there plans for more books in the Great Big Book series?
A: I never thought that what started as The Great Big Book of Families would develop into a series but it has been wonderful to see that happen. Next year we will have The Great Big Book of Life, which takes you from the cradle to the grave, and there will be The Great Big Brain Book, which is a partner to The Great Big Body Book.
The Great Big Book of Friends (ISBN 9781786030542) and the paperback of The Great Big Green Book (ISBN 9781786030955), published by Lincoln Children's Books, are now available.
Photography by Isabel Adomakoh Young
Author's Titles