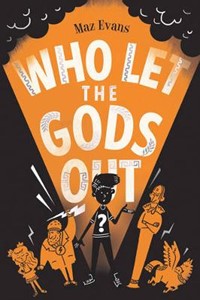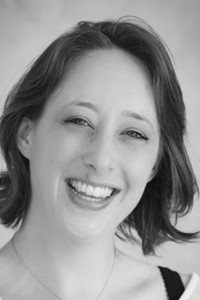 About Author
Maz's writing career began in journalism as a TV critic and feature writer. She has written for many national titles and is a regular pundit on The Jeremy Vine Show. After working as a creative writing lecturer, she founded Story Stew, an anarchic creative writing programme that has visited primary schools and literary festivals around the UK, including Hay and Imagine. Maz lives in Dorset with her husband and four children.
Interview
WHO LET THE GODS OUT
CHICKEN HOUSE BOOKS
FEBRUARY 2017

WHO LET THE GODS OUT, which is shortliste for the Waterstones Children's Book Prize, is the debut novel by author and storyteller Maz Evans, who also runs creative writing workshops in schools.
The novel, which has been described as 'Percy Jackson meets David Walliams', is - as that description suggests - very funny and laden with adventure. But as well as bringing us the Greek gods in modern attire, Maz Evans deals with more serious subjects, particularly the effects of dementia and the role of child carers in today's society.
In WHO LET THE GODS OUT, Elliot is struggling at home and at school as his mother slowly succumbs to dementia and the bills mount; they are at risk of losing the family farm. Then Virgo plummets into the cow shed, freshly arrived from Elysium with a vial of ambrosia to give to a secret prisoner of the gods. When Elliot accidentally releases the prisoner - who turns out to be the Daemon of Death - the whole of mankind is under threat. It's up to Elliot, and Virgo, to try to put things right.
We asked author MAZ EVANS to tell us more about WHO LET THE GODS OUT.

Q: As Who Let the Gods Out is your debut, can you tell us a little about how you came into writing?
A: If you broke me in half, you would find pencil led running through my body. Although this is my first book, everything I have done in my career has involved writing. I started in journalism as a TV critic - so I've made a career out of watching television - and I've interviewed a lot of film people.
I went on to do a masters in television script writing and got some of my shows into theatre, and I've writing for some television shows like Holby City. I started working on Who Let the Gods Out when I had children. I wrote the first draft eight years ago but when my screen writing agent turned it down, I put it away.
Then I started going into schools with my Creative Stew workshop to help children with creative writing and they would often ask me what I had written - so I self published Who Let the Gods Out and sold 2,500 copies of it very easily. That was when my agent got back to me and we found a new publisher for the book.
I like to share that story with children because it reminds me to never give up!

Q: Why did you want to bring the Greek gods into your story - albeit in a more modern guise?
A: When I was eight, at school, I won a prize and was given a book of Greek and Norse mythology, and I was hooked! I went on to learn Latin and I studied the Classics at UCL and so when I came to write my own books, and you're told to write about what you love, it had to be the Greek gods.
I thought that if the gods were meant to be immortal, then they would still be around so what are they doing? I thought that they probably retired about 2,000 years ago because the world no longer needed them and they had had enough of looking after the world.
After 2,000 years of retirement, I thought they might not be in the best shape either but in this story, they will need to get back in shape pretty quickly if they are going to help save the world!

Q: Do you have a favourite among the Ancient gods?
A: I have a different favourite each day, but I loved writing Zeus, he's great fun to write, a kind of blundering father figure. Hermes has also had a very interesting journey and through book two he evolves into this gym bunny guy, very vain, but he's also a lot calmer than the other gods and can take a step back and see what's really going on.
The gods have been reinvented so many times in literature and through history that we are used to seeing them adapt with each period in which they find themselves, and each writer has done that in a different way.

Q: Are there any of the gods' tools that you feel would be useful to have in our times?
A: I really like the idea of Aphrodite's wishing pearl, it's quite tempting to have that, but it only works once a day for seven minutes and how it grants your wishes is a bit of a double edged sword... Perhaps I'd prefer Hermes's bottomless bag - that could hold your phone, lippy, five weeks of homework and pens and all those books I have to carry around with me...

Q: Why have you put the constellations in charge in Elysium?
A: It's a huge community, the immortals, and if the gods have retired, they needed someone to look after everything. I liked the idea of this inept council of constellations who were too busy fighting each other to be any good at getting things done. I also found out that the constellations haven't been personified very much in literature.

Q: There's a lot of laughter along the way - do you think that children's books need to offer humour?
A: In study after study into children's reading habits, 'funny' always comes out right at the top when children are asked what they like to read. That's what they're looking for. Also, to a child, the world isn't one thing, it is full of strange things and is rather rediculous. When Virgo comes to Earth, she reflects that because she looks at the absurdity of the mess that most adults make of life.
We live in very strange times and humour is the torch that lights the way out of the darkness. In the UK we have a great comedic history and I think you can have the humour and then something important and devastating happening. These things can sit very comfortably alongside each other.

Q: Do you have a favourite moment in the book that still makes you laugh?
A: Ah yes, that'll be the scene with the Ninja Queen, which has barely changed since I first wrote the scene eight years ago. I read that a lot during events at festivals and schools and children love it. I think the Queen is an extraordinarily strong presence in the country; I wouldn't be surprised if there was some truth in what I've written!
There is also a character called Patricia Porshley-Plum, who hatches plot after plot to take the farm away from Elliot and his mum, and it's terrifying how easily her awfulness came to me. She wasn't in the original draft and I was in the supermarket one day and she just suddenly arrived in my head. There will be more of her to come in book two.

Q: Did you enjoy writing your other villains, too, like Thanatos, the Death Daemon?
A: They say that your story is only as strong as your villains and I love villains who are very compelling. Thanatos has a lot of the best lines and he has that kind of slowness about him, so you're not sure when he's going to start raging. His twin brother, Hypnos, was another late addition to the book and in mythology he's a wild character who couldn't me more different from Thanatos. He's a turn coat, he betrayed his brother, so you can never be sure whose side he is on.

Q: How many books have you planned in the series and what will be the main thread of the stories?
A: In the second book we go on a quest with Elliot and we get to meet the classical heroes like Theseus and Jason - so we'll be going on an Odyssey!
Elliot also learns more about his family history, which is a bit of a bombshell, and we get to find out how Virgo, who has been stripped of her immortality, copes with being a 'sub-optimal' human.
There are going to be four books in the series but in amongst all the characters and mythology and zodiac constellations, at the heart of the stories, is a boy who wants his mum back. Elliot is a lost boy who is in a tough situation that is not going to get better. He doesn't know what is wrong with his mum and as she continues to decline, he becomes more and more desperate. The question for Elliot is, does he save the world, or does he save his mum?

Q: Through Elliot and his mother, you explore the issue of carers and also how Elliot copes with his mum's dementia. How did you research these areas?
A: My grandparents both succumbed to dementia and, aged 19, I moved in with them for a while to help out my grandmother. My grandfather could still move around and drive a car, but he wouldn't know how to get home.
My heart bled for him but it was so irritating being asked the same thing over and over from the moment he woke up to when he went to bed. It's a heart breaking condition.
I did a lot of research into young carers, we have a quarter of a million young Elliots in this country. I am now an ambassador for Spurgeons, a charity supporting young carers. There are children who are as young as five looking after an adult; there is a hidden army of young carers and I'm hoping, through my writing and events, to help shine a spotlight on them.
Author's Titles