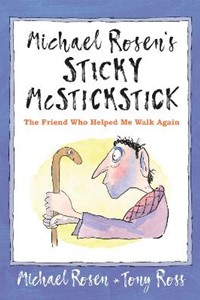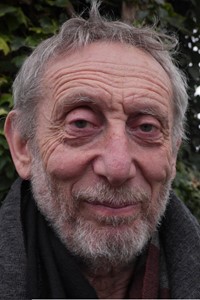 About Author
Michael Rosen, one of the most popular authors for children, has written a new picture book, Sticky McStickStick, a personal account of illness and recovery. His bestselling titles published by Walker Books include We're Going on a Bear Hunt, A Great Big Cuddle and Michael Rosen's Sad Book.
A popular radio broadcaster, distinguished critic and academic, and multi-award-winning poet, Michael was appointed the Children's Laureate from 2007 to 2009, and is now Professor of Children's Literature at Goldsmiths, University of London. He lives in London.
Interview
Sticky McStickStick (Walker Books)
November 2021
Michael Rosen's new picture book, Sticky McStickStick, charts his illness with Covid and his recovery, with a special focus on the 'friend' - Sticky McStickStick - who helped him to walk again. This is a story that children who have experienced illness themselves will recognise, and for those who haven't, it gives a special insight into the courage and strength that any recover will demand.
Here, much-loved author Michael Rosen reads from Sticky McStickStick, and we have a Q&A to follow.
Q&A with Michael Rosen
1. Many children will have experienced an illness, or an older relative going through an illness such as Covid. How do you feel that having a serious illness has changed you, and not just physically?
I am more fragile. I am more precarious. I feel weaker, more unbalanced. Mentally, this means that I have to learn how to own that frailty. I have to learn how to be that new person. People with disability made clear that yes they are disabled but that doesn't mean that is all of them or that they defined by that. I'm learning that. I am that post-Covid person but I shouldn't let that be all of me. I am lots of other things too.

2. When reflecting on your recovery, what stood out for you from your experience in hospital?
The loving care. It is quite overwhelming how people worked so hard to keep me alive, get me better, train me to stand up, walk and become independent again. That's the hard work of scores of people using their training, their intelligence, their experience and their feelings to get me well.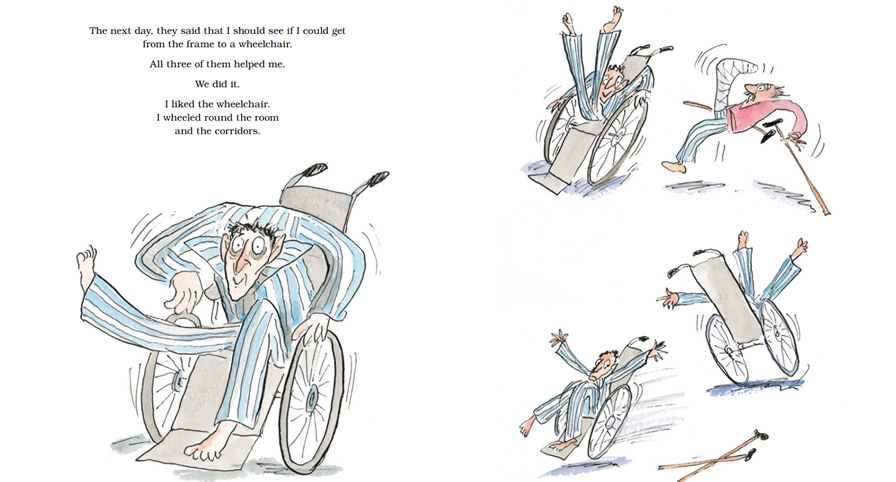 3. What was the hardest part of recovery for you?
Perhaps it was thinking that my eye would get better. The ophthalmologist has done wonders to get the pressures down but my sight is very lopsided. I thought it would get better but it hasn't. That makes me fed up sometimes.

4. Children aren't often exposed to stories about illness, especially when younger. Why did you decide to write about your experience in a picture book?
My first decision is to write about things that I am affected by or am bothered by. My second decision is to ask myself if I can or should share it with children. I think this is accessible to most children and also offers them a keyhole view of people they see around them or meet: grandparents, great-grandparents, people in the street. We tend to hide away what goes on in places like Rehab hospitals but it really is a kind of magic. There is so much wonderful work going on there, it's a great shame people don't get to see what that daily work is like.

5. And why the focus on Sticky McStickStick?
Oh, that's my slightly absurd way of looking at things. I like personifying things. It's a form of old pagan magic, animating inanimate things. It's a way of seeing the world from a different angle. Writing is often about making the familiar unfamiliar. Personification is one of doing that. It gives us a new way of looking at the ordinary so that we don't take it for granted.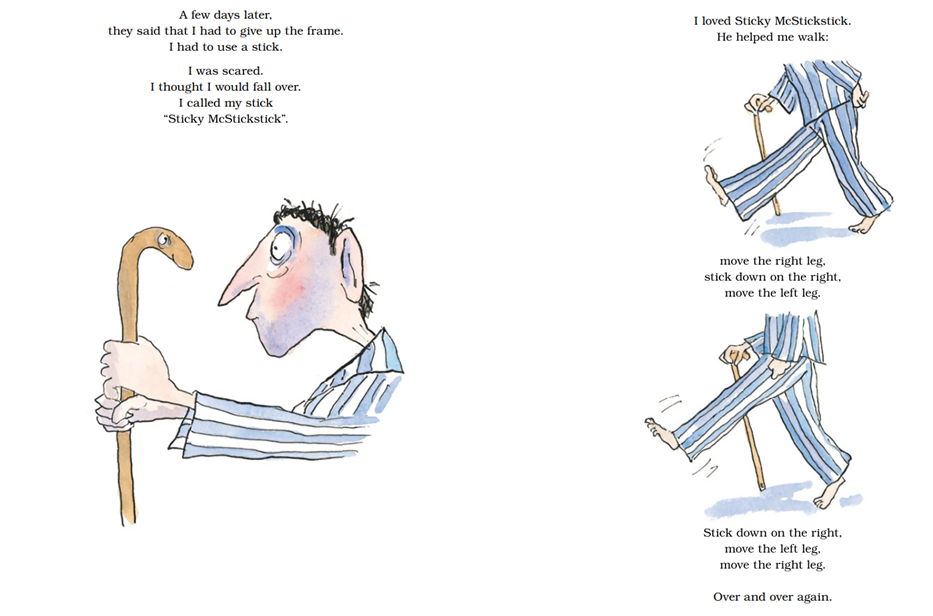 6. What would you like children to take from Sticky McStickStick?
That we all try hard to get better. It's not always easy. That hard things can be funny or fun. That we can all write and draw stories about ourselves. We can write about being weak or incapable. It's no shame in being weak or incapable. Recovery is hard work for the mind as well as the body.

7. What did you think of Tony Ross's illustrations - any favourites?
They are wonderful. I love the way he has drawn me, desperate, afraid, naive, silly, excited. I love the way the stick looks at me too! Favourite? Perhaps the one where the therapists and nurse are holding me so that I can stand up. That was a very strange time for me.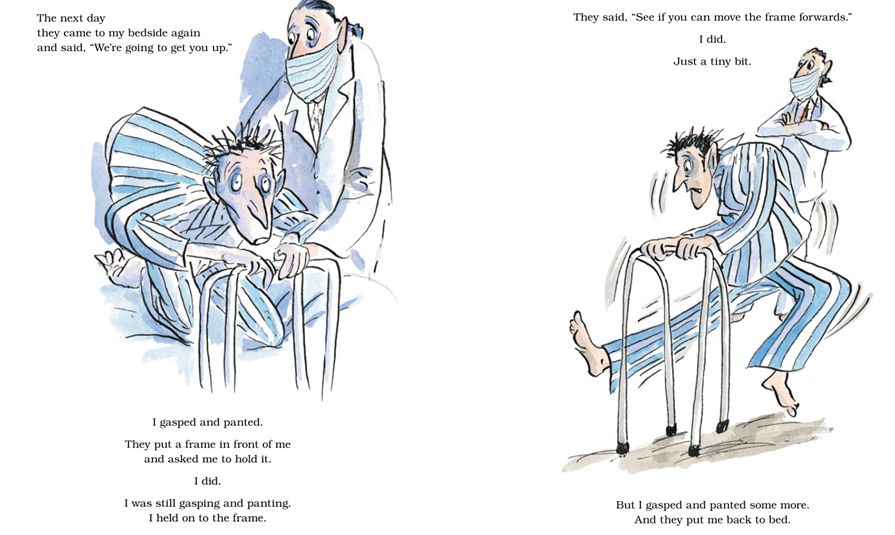 8. Do you plan to do more writing around illness and recovery?
Not writing about that just yet for children. I am writing about that for adults. It'll be a book that for the moment is called 'Getting Better'!
My next book is about two Jewish cousins writing to each other during WW2. One is in London, the other is in Poland. It's based on my father and his cousin. I've also written a book about "Neighbour's Cat" - a cat who barges into our house and expects be fed and stroked.

10. What are you enjoying doing most again as the world emerges from Covid?
Doing live shows. I did two shows at the Shaw Theatre in London and I was so glad that I could do them without falling over. And so nice to hear the children laughing and joining in. In the Rehab Hospital I said to the therapist that I didn't think I'd be able to do that sort of thing ever again. She said that I would. And last week I did! I was wrong. She was right!

Sticky McStickstick is published by Walker Books (£12.99, Hardback)
Author's Titles