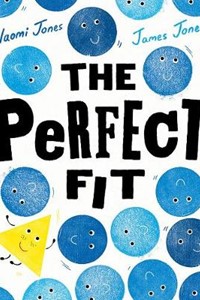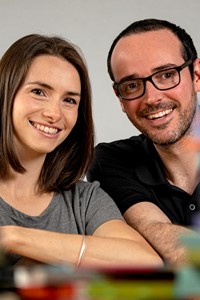 About Author
Naomi has loved stories for as long as she can remember and has always wanted to write books. She worked in Rights in Children's Publishing for over eight years and is now a freelance editor, and is also the children's books reviewer for the popular blog Mini Travellers. Naomi loves to travel and once spent a month living with Navajo Indians in America. She also enjoys reading, playing netball and practicing yoga.

Originally from Anglesey in North Wales, James is an award-winning art director and designer who has created iconic covers for a wide range of books, from Booker Prize-winners to autobiographies by Keith Richards and Sir Bradley Wiggins. He works freelance designing book covers for publishers all over the world. A keen sportsman, James loves wild swimming, running in half marathons and playing football.

Naomi and James live in Cornwall, with their two boys, a springer-spaniel and their black and white cat. They are currently at work on their next collaborations.

Twitter: @JamesPaulJones @NaomiJones_1

Instagram: @NaomiandJamesJones
Interview
The Perfect Fit, Published by OUP Children's Books
March 2021



THE PERFECT FIT is a gorgeous picture book about Triangle who is trying to find friends who are just the same, until Triangle comes to realise that different shapes and sizes can be as much fun as 'the perfect fit'.
Here, Naomi Jones tells us how The Perfect Fit was created:


1. What has been your route to creating a children's book?

I've always wanted to write books for children and have countless notebooks filled with stories and ideas. I worked in Children's Publishing in London for eight years and that gave me a brilliant understanding of how publishing worked.

When my boys were small, I started writing more picture books. They were perfect for writing in short bursts when I had snatches of free time and my children provided endless inspiration!

When I had some stories I was ready to share with the world, James created some illustrations for them and together we approached some literary agents. Luckily we got taken on by our wonderful agent Anwen Hoosen. She approached a few Publishers for us and as soon as we spoke to Oxford University Press and they talked to us about Triangle and her story, we knew The Perfect Fit had found its perfect home.


2. How did you find yourselves working together on this book?

James and I bounce ideas off each other all the time, but then we tend to go away and work on them separately before showing each other again. After I first wrote The Perfect Fit, I was so excited to see James bring the characters to life in pictures, but he wouldn't show me until he had finished the first page and was completely happy with it!

We both brainstormed for the games and things the different shapes build together when they're playing and although I wrote the main text, it was actually James who came up with the funny things the shapes say!


3. What sparked the idea for using shapes to explore the idea of fitting in and difference?

James gave me a post it note a few years ago with a few shape characters sketched on it and suggested I might make up a story about them. At the time our eldest son was just starting nursery aged 3 and struggling to fit in.

I was talking to my son lots about not having to be the same as everyone else and both of the ideas just came together!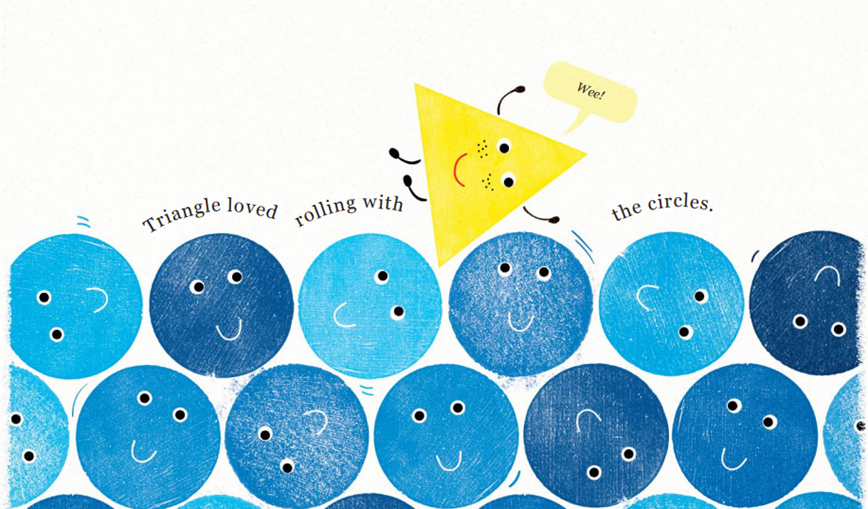 4. The other shapes are actually very welcoming - why did you decide that Triangle would be the one that felt uncomfortable?

When our son was struggling at nursery, James and I kept telling him that it's important to be yourself and not try to be the same as everyone else. After all, life would be so boring if we were all exactly the same!

By making the other shapes friendly, it allowed the focus of the story to be about Triangle and the journey she goes on as she learns that life is richer when we don't all fit in.


5. What would you like young readers to take from the story?

That life would be boring if we were the same as everyone else and that it's fun to have friends who aren't always exactly the same as you.


6. How did you go about creating the images?

James sketched out each spread first and then used a mixture of scanned textures, digital techniques and hand drawing to create the artwork.


7. We love the pages of all the shapes together - which spread is your highlight?

My favourite is the spread that shows the towers falling over as I love the way James showed this in the artwork.

James's favourite spread is the final page where the shapes all tessellate and come together at the end.


8. Are you working on other picture books together?

Yes! We're working on lots more books together including another shape book which is really fun. Writing and illustrating books is literally our dream job and we love that we get to do it together.


9. Have you explored other picture books - any favourites?

We've read lots and lots of picture books to our boys, both classics from when we were kids and much newer ones too. I have so may favourites!

Some of the ones I really enjoy reading to our children are Grrrrr! by Rob Biddulph, Don't Worry Little Crab by Chris Haughton and The Snail and The Whale by Julia Donaldson and Axel Scheffler.

James's favourites are The Very Hungry Caterpillar by Eric Carle, The Fate of Fausto by Oliver Jeffers and the Mr Men series by Roger Hargreaves.


10. What are you most likely to be found doing when you're not writing / illustrating?

We've only just moved house, so at the moment we're still unpacking boxes! I love reading and baking with my boys. We both love walking our very springy springer spaniel by the sea, too.


11. How have you been keeping yourselves entertained during lockdown?

Like most working parents, we've been busy during lockdown juggling work with keeping our boys (aged 4 and 6), home-schooled and entertained! We've just moved house down to Cornwall though so have loved going for family dog walks on our new local beaches.
Author's Titles