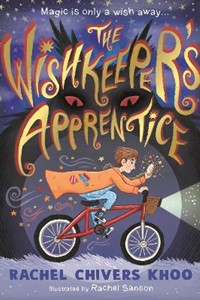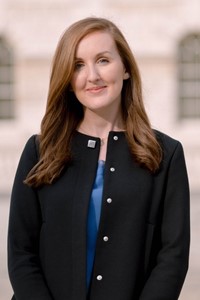 About Author
Rachel Chivers Khoo was born in Belfast and spent most of her childhood sheltering in her local library from the endless Northern Irish rain. She studied English literature at Oxford before working in book publishing. Rachel now lives in London and writes stories in her tiny loft study. The Wishkeeper's Apprentice is her debut novel. You can say hello to Rachel online (Twitter: @Rach_Khoo; Instagram: @RachelChiversKhoo).
Rachel Sanson is originally from a tiny town in the North of England, and she graduated from the University of Lincoln with a degree in illustration after three years in a little studio perched on the top of a very steep hill. She has illustrated a number of books for children.
Interview
The Wishkeeper's Apprentice  (Walker Books)
March 2023
Imagine if, every time you made a wish into a wishing well, there was a real chance that a 'wishkeeper' would help to make your wish come true... When Felix discovers his town's own 'wishkeeper', it sets off an unexpected adventure involving cinnamon buns, wishes, and an evil wishsnatcher.... We asked author Rachel Chivers Khoo to tell us more!
Q&A with Rachel Chivers Khoo
1.   How did you become a children's writer? 
I worked in book publishing for years and loved my job, but my childhood dream was always to become an author. I wrote The Wishkeeper's Apprentice while I was on maternity leave. I was over the moon when Walker Books told me they wanted to publish it.
I have two little boys now, so I spend lots of time pushing a double buggy around various muddy parks and playgrounds. It's quite a juggle to find time to write and edit, but I wouldn't change it for the world. It really is a dream come true.

2.   What inspired The Wishkeeper's Apprentice?
The idea of wishkeepers has been in my imagination for a long time. It all began when I asked myself the question: 'Where do wishes go?' One day, while I was out for a walk, Rupus Beewinkle popped into my head: a little man with a whiskered face and pockets full of pennies collected from wishing fountains.

3.   What happens in the story?
The child protagonist, Felix, is very lonely at the start of the story. His best friend has moved out of town, and his older sister doesn't want to spend time with him anymore. Felix makes a very important wish in a penny fountain. Then he meets Rupus Beewinkle, the wishkeeper of Whittlestone. Rupus is in desperate need of help - his wishes are being attacked by a wishsnatcher. Felix agrees to be Rupus's apprentice and the story goes from there.

4.   What was your top wish as a child and did it ever come true?
My biggest wish has always been to become a children's author. Now that wish has come true, I need to think of some more wishes! Possibly involving a puppy or a lifetime's supply of cinnamon buns…
I think perseverance, support and encouragement go a long way to helping a wish come true. There's a lot of luck involved too. Of course, lots of wishes don't come true for one reason or another. But hope-filled stories can help us not to lose heart. I hope my story will encourage readers to wish boldly, and not to give up on their wishes.

5.   Can you tell us about your main characters in the story, Felix and Rupus. Are either of them based on people you know?
Felix is used to being on the side-lines and doesn't really see himself as the heroic type. I relate to him a lot. Ultimately Felix discovers that his worth isn't based on how other people treat him, and that being brave isn't the same as being fearless.
Rupus is a very emotionally expressive character. His mood can switch from being cheerful to despairing in a matter of seconds. Rupus needs constant encouragement from Felix and regular snacks to perk him up. A bit like my 3-year-old son!

6.   Is the setting, Whittlestone and the railway bridge, based on a real place?
Whittlestone is fictional, but the railway bridge is based on a bridge just around the corner from where I live. I often found that my son would fall asleep in his pram as we passed under the shadow the railway bridge. It became a safe, snug place in my mind and then one day I realised it would be the perfect place for a hidden doorway to a wishkeeper's home.

7.   If you could make any of Whittlestone's wishes come true for your home town, which ones would you want?
I'm lucky to live in a brilliant neighbourhood full of independent businesses. Just like Whittlestone, we have a bakery, a farmers' market, and there's not one but four amazing bookshops within a short walk. I wouldn't know what else to wish for - maybe a beautiful theatre like the one that Rupus Beewinkle saves? That would be amazing.

8.   Why do you enjoy writing about magic and wishes?
I loved the freedom of creating the world of wishkeeping from scratch. Rupus Beewinkle isn't a magic genie or a fairy godmother who can grant wishes with the click of a finger. Wishkeeping requires diligence and perseverance. It's hard work, but Rupus is really invested and he's prepared to do anything to protect the wishes.

9.   What did you think of Rachel Sanson's illustrations - are her drawings of the characters how you imagined them?
I still remember the moment when Walker sent me Rachel's first sketch of Rupus Beewinkle. It was magical! She's captured Rupus and Felix perfectly. I also love the illustrations of Felix's rather moody and stand-offish older sister, Rebecca, who softens a lot as the story goes on. The wishsnatcher is wonderfully scary without being too terrifying for younger readers. Rachel got that balance just right!

10.  Will we see more of Felix and Rupert, or do you have other stories planned? 
The Wishkeeper's Apprentice is a standalone book, so there's currently no sequel planned. Excitingly, I'm writing my second book, The Magician Next Door, which will be published in 2024. It's the story of a girl called Callie who has recently moved from London to Northern Ireland with her dad. Callie is desperately homesick and has had a long uneventful summer in her new home, which is located at the foot of the Mourne Mountains. Then one night a flying house crashes Callie's back garden… and the magician inside, Winnifred Potts, needs Callie's help.


Your three wishes....
1. If you could wish your perfect writer's shed into being, what would it look like?
The book I'm working on now (The Magician Next Door) has a magical house full of enchanted objects: self-warming teacups, a sofa that gives you a hug, a stove that cooks your favourite meals. If I could have a little version of the house as a writing shed, that would be perfect. Maybe a desk that could give me a nudge if I got lost in a daydream? Or a pen that could write some creative prompts for me when I was stuck? That would be handy!
2. Where would you want it to be?
It would be fantastic to be in a flying bouse, like the house in The Magician Next Door. The house could take me somewhere new each day and I'd never get bored of the view from my desk.
3. What would your magical supply of writer's snacks be?
I love hot drinks and cakes, almost as much as Rupus Beewinkle! A strong coffee and a cinnamon bun is the perfect writing fuel.
Author's Titles