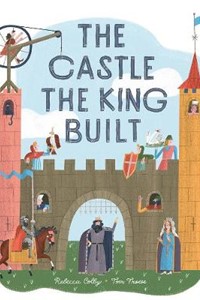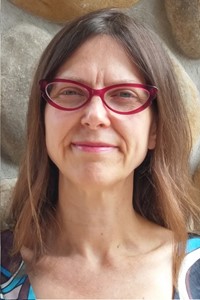 About Author
REBECCA COLBY started 'writing' before she learned the alphabet, creating songs from her imagination and memorising the lyrics. Then at age 12, she won an essay contest and received a plane trip as her prize. This fuelled her dreams of becoming an author.  When not writing, Rebecca loves to dance, walk and avoid housework. She lives in North Yorkshire with her two daughters, three snails and multiple bunnies - dust bunnies, that is.


TOM FROESE is an award winning illustrator and teacher. He is passionate about making work that makes people happy.  As a commercial artist, Tom has worked for brands and businesses all over the world, including Yahoo!, Airbnb, and GQ France, but he also illustrates children's books.  Originally from the Toronto area, Tom graduated from the Nova Scotia College of Art & Design in 2009. He now lives near Vancouver with his wife and daughters, and works from his home studio in the village of Yarrow.
Author link
https://www.rebeccacolbybooks.com/
Interview
The Castle the King Built (Nosy Crow Books)
January 2021

Introducing children to the different jobs that existed in a medieval castle, this gorgeous picture book can be used with Castle topics, and its wonderfully rhythmic text makes it a lovely read-aloud. Author Rebecca Colby and illustrator Tom Froese tell us more about The Castle the King Built (Nosy Crow Books)


1. What brought you into writing children's picture books?

Rebecca: It was the birth of my first child. I'd won essay and poetry contests in my own youth, and I'd always aspired to write a book. While I attempted more than once to write a novel for adults, I never got very far. Then, when my daughter was born, I rediscovered children's books. Like many people before me, I picked up a picture book and thought, "I could write one of these. It'll be easy." It wasn't easy at all. But I became so hooked on picture books that I kept writing them until I finally sold my first book-a full seven years later.

Tom: It's been a long-time dream to illustrate for kids' books! As a freelance illustrator, I get all kinds of projects, like editorial and advertising based assignments. I'd always hoped that there would come an opportunity to cross over into picture books, which to me felt more personally significant as a commercial art form. Having thought about it, experimented with the format on my own, and put my intention out into the universe, I suppose it was just a matter of time before something came along!


2. Can you tell us a bit about The Castle the King Built?

Rebecca: It's a unique take on the classic rhyme This is the House that Jack Built and introduces children to the various people that lived and worked in medieval castles. It features masons, blacksmiths, minstrels, merchants, grooms, knights and bakers, amongst others.

Tom: The Castle the King Built is an illustrated picture book about all the people involved in building a medieval castle. In its writing, the structure is similar to This is the House That Jack Built. It's a fun, fiction-y feeling take on a nonfiction subject, with lots of artistic license taken in the illustrations!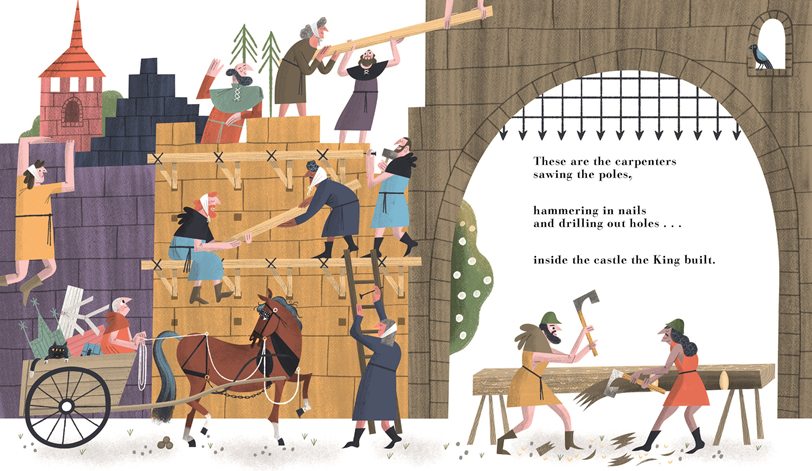 3. How did this project, published by Nosy Crow with the National Trust, begin?

Rebecca:  I love castles! Having grown up in the United States, I didn't have the opportunity to visit castles as a child. But when I moved to England, I found castles everywhere. I've even slept overnight in castles. They hold a huge fascination for me and I've often wondered what it would be like to live in a working castle. It was my fascination and my ponderings that inspired this book.


4. What inspired you to link the rhythm of the text to the nursery rhyme, The House That Jack Built rhyme?

Rebecca:  One of the things I enjoy doing when writing poetry is taking a traditional rhyme and rewriting it. I have a history of doing this with some of my previous books. The House that Jack Built was a rhyme that I had not used before and lent itself perfectly to the subject at hand.


5. Where did you go to research the text and images?

Rebecca : My research usually starts at my local library or through purchases at a book shop. I read over a dozen books on castles for both adults and children, pinpointing books that specifically provided information about castle workers. Then, I supplemented this information with further research on the Internet from reputable sources.

As to the process after that, putting a rhyming book together can be like putting a jigsaw puzzle together. I gather all the pieces-in this instance the research and the key words I wish to use -and then I start playing around with words and rhymes to find the best way to phrase what I wish to get across.

Tom: Gathering reference images for this book was one of the first steps toward illustration, and one of the biggest challenges (given that there are few examples of castles being built from scratch today, and also given there are no truly authentic living examples of the medieval characters found in the book).

Some of the images were supplied by the publisher and National Trust, and then the rest were gathered in extensive online image searches and sourced from stacks of library books around the subject. Surprisingly, a great place to find imagery and inspiration turned out to be YouTube, where there are a number of quality documentary shows about medieval castles.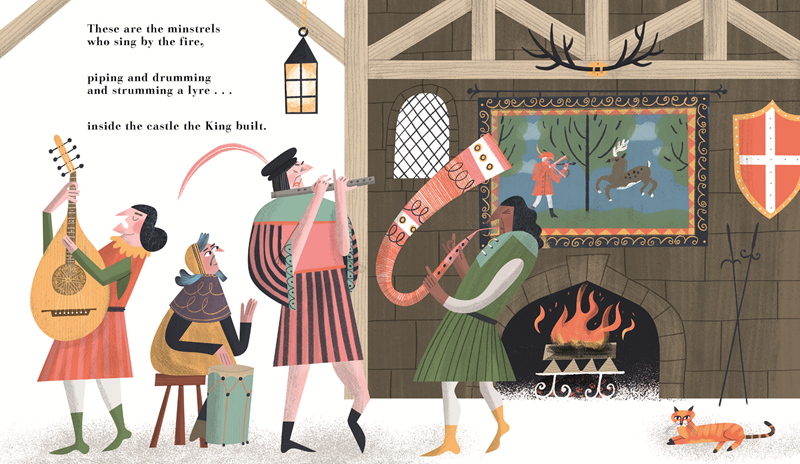 6. Did you base this castle on a specific property?

Tom:  It is based on a convoluted composite of various sources. I tried my best to depict a castle that reflected the range of time that we might call the glory days of the British castle. I also tried my best to depict a castle style that was adequately British without being any one structure in particular.

Interestingly, some of my ideas were inspired by two castles being built using medieval tools and methods: Guedelon Castle in France, and Ozark Medieval Fortress in, of all places, Arkansas, USA!


7. You describe a range of different jobs in the picture book - How did you choose them, and which ones do you think children are least likely to recognise?

Rebecca:   The jobs chose themselves. My aim was to focus on workers who built the castle, as well as those who kept it running. Children will probably recognise all of the jobs but may, perhaps, be less familiar with the builders - masons, blacksmiths and carpenters - than they would be, say, with knights and minstrels, despite each job being equally as important as any other.


8. If you'd lived in a medieval castle, what job are you likely to have ended up doing and how do you think you'd have coped with castle life?

Rebecca: As I'll answer in the next question, being female, I wouldn't have had many options. My ideal role would have been as a minstrel and telling stories - just like I do know.

Tom: Being a minstrel would've been really fun! It seems like even castle life (versus peasant life) in ye olde times was pretty rough compared to modern standards, but I suppose I wouldn't have anything to compare it to. I would've done just fine, I'm sure!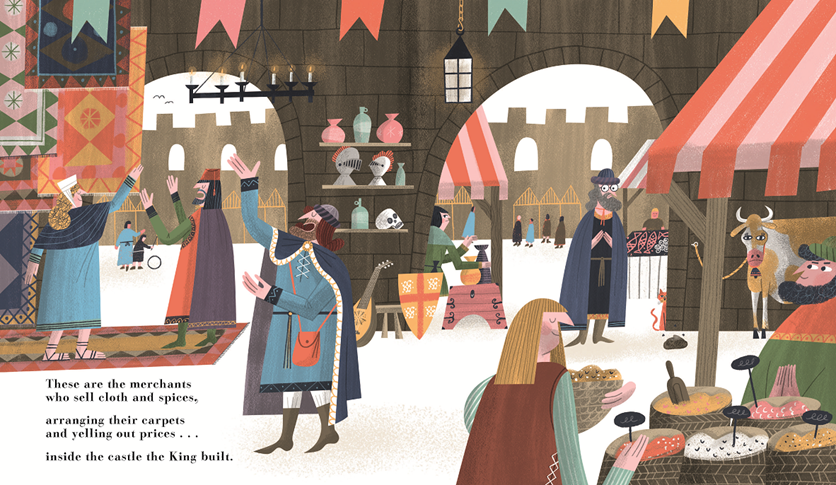 9. Why are there so few women in this castle?

Rebecca: Good question. It's not because I didn't want to include more women, but merely because men were the main workers at castles. Women's roles included working primarily as servants, nurses and laundry maids.

The original book was titled The Castle the Queen Built. This was in in order to redress the gender imbalance in the book, but, for historical accuracy, the title was changed to The Castle the King Built. As we all know, British history had many Kings but few women inherited the throne and became monarchs, in their own right.

Tom: You'll find this note on the very last page of the book: "Unlike today, it was almost all men living inside the castle during medieval times. The King's wife and daughters would have lived there with their servants and companions, but apart from that, the only women in the castle were female servants, nurses or perhaps laundry maids".


10. What National Trust sites do you remember visiting most clearly from your own childhoods?

Rebecca: Born in the US, I didn't move to Britain until I was an adult. The National Trust sites I've visited since settling here that have been most memorable to me are:

Fountains Abbey (the ruins of a Cistercian monastery that dates to 1132, near Ripon, North Yorkshire)

Brimham Rocks (a collection of natural rock formations in the Yorkshire Dales)

Hadrian's Wall and Housesteads Fort (a Roman fort and a six mile ruined section of the 84 mile wall that ran from present day Newcastle to the Solway Firth, on the west side of Carlisle)

And Hill Top Farm (the home of Beatrix Potter in The Lake District).
Author's Titles