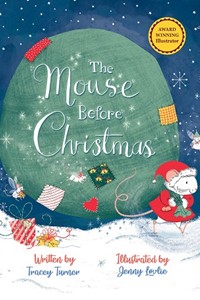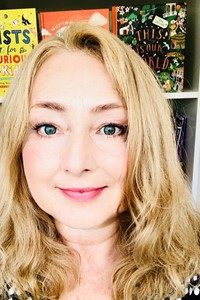 About Author
Tracey Turner is a writer and editor and her new book, The Mouse Before Christmas (Sunbird Books), has just been published. Tracey lives with her partner Tom, their son Toby, and a large and energetic dog called Wellington. She loves going for walks in the countryside, especially in the holiday season. Her favourite Christmas cheese is Cheddar, which is made not far from where she lives in Bath!
Interview
The Mouse Before Christmas (Sunbird Books)
November 2021
The Mouse Before Christmas is a gorgeous retelling of the famous poem, The Night Before Christmas. In this picture book, we discover what would happen if Father Christmas was - a mouse! What would he use for reindeers, and what kinds of presents would small mice expect to find in their stockings...?
We asked Tracey Turner to tell us more about The Mouse Before Christmas, and she also shares the story with us in this special video.
Download a spread from The Mouse Before Christmas
"'Twas the night before Christmas when all through the house, not a creature was stirring - except for one mouse.' With Santa as a mouse, a sleigh pulled by beetles, and gifts of toys, crackers, and cheese, this is a clever adaptation of Clement Clark Moore's Christmas poem written over 200 years ago."    Read the reviews
Q&A with Tracey Turner
1.  Can you tell us about your picture book, The Mouse Before Christmas?
The book is based on the poem 'A Visit from Saint Nicholas' by Clement Clarke Moore, often known as 'The Night Before Christmas', which is about Father Christmas delivering his presents to a house while everyone's asleep, except for one person, who sees him. This poem is about the mice who live in the house - instead of a human Santa, they are visited by a mouse version.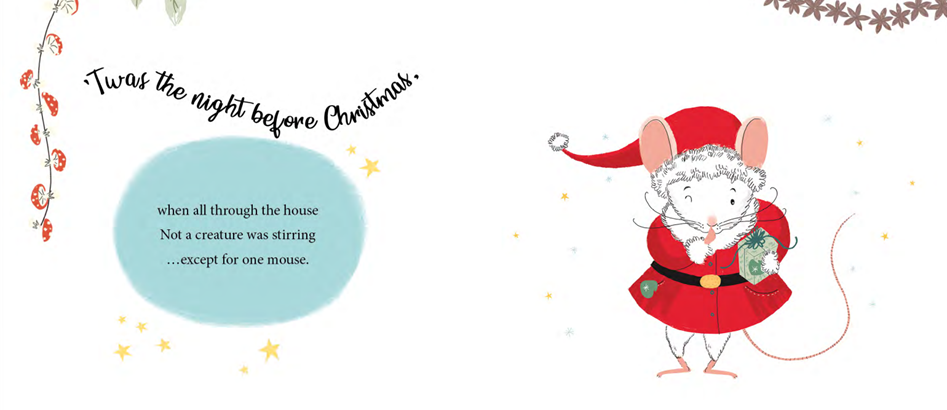 2.  What inspired it - do you remember hearing The Night Before Christmas as a child?
Yes! My grandmother read it to me, and I read it to my son when he was small. I worked at a publishing company who were making a book of the original poem with illustrations by Jenny Løvlie, and Jenny included some gorgeous mice in her illustrations. Some of them were little fairy mice, and that gave us the idea of changing the poem and making it about mice instead of people!

3.  What is your favourite line in the original poem?
'The children were nestled all snug in their beds
While visions of sugar-plums danced in their heads'
When I was a child I liked the idea of the children dreaming of 'sugar-plums', which in my imagination were much more exciting than they actually are - I think they're just boiled sweets.
I also liked the description of Santa with his pipe and rosy cheeks etc. By the way, in the original poem, Father Christmas/Santa is really small, but that element didn't make it into the Christmas tradition we have now (though lots of other things from the poem did).

4.  And which is your favourite line from your own version? Did you enjoy writing your version?
Yes, it was a lot of fun to do! I think I like the beetle-y names (Wiggy and Twiggy etc).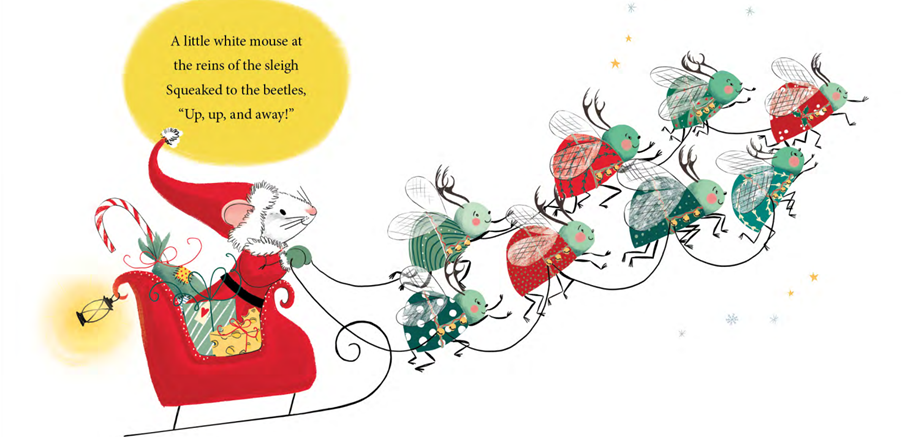 5.  Why did you decide to give Mouse beetle 'reindeers'?
I thought they should be insects to be the right size for mice, and I absolutely love beetles. (They are fascinating creatures, and there are more beetles than any other type of animal!) It might be an unusual choice!

6.  What other changes have you made to the poem to accommodate your mouse's world?
Our mouse Santa squeezes through a crack in the wall and into the mousehole, instead of down the chimney, and leaves presents including cheese and crackers. The little mice sleep in a matchbox, a child's shoe and a small scoop, instead of in beds (and there are lots of other gorgeous details in the artwork).

7.  Do you feel that the illustrations match your own images of a Mouse's Christmas? 
Jenny's illustrations were the starting point, so yes, definitely. I love mouse Santa waving (on the title page and inside too). It's hard to pick a favourite spread, but perhaps the sleeping mice.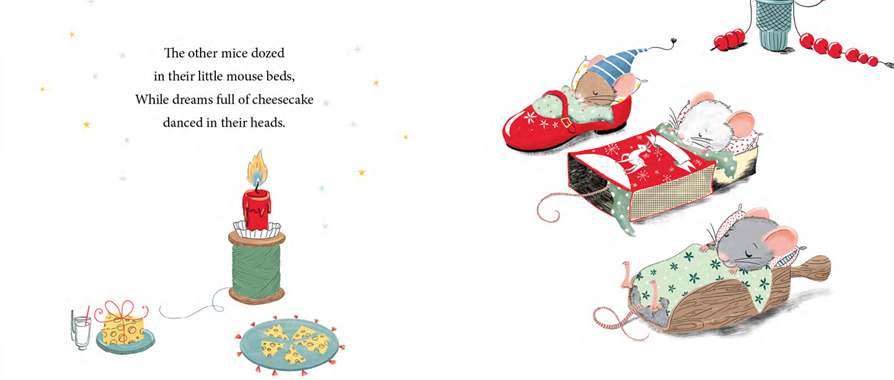 8.  What do you love about Christmas and what are you most looking forward to this year?
I always like Christmas time and go a bit overboard with decorating the house with holly, ivy, pine cones, etc. It's lovely to see friends and family. Last year we were expecting six people to come for Christmas Day, but of course plans had to change - so this year, that's what I'm looking forward to the most, seeing my mum, sister and brother, and other family on Christmas Day. I do like to spin things out as much as possible and there will be lots of catching up with friends, too.
The Mouse Before Christmas paperback (RRP £7.99 ) is available from your local bookseller or from these stockists:
Author's Titles