A Dinosaur at the Bus Stop: Poems to Have Fun With!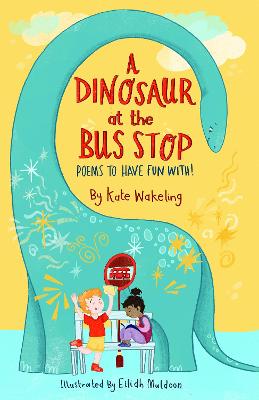 By Author / Illustrator
Kate Wakeling, Eilidh Muldoon
Genre
Poetry
Age range(s)
5+
Publisher
Otter-Barry Books Ltd
ISBN
9781913074203
Format
Paperback / softback
Published
18-05-2023
Synopsis
Choose your favourite sound, bob like a robin, soak up the stillness of the forest, jump like a startled kangaroo or go to a monster jamboree. But keep an eye out for a dinosaur at the bus stop!
Funny, gentle, thoughtful, magical - this is an outstanding collection for younger readers, from an award-winning poet whose beautifully crafted, musical poetry will be loved by younger children.
Reviews
Wendy
A Dinosaur at the Bus Stop: Poems to Have Fun With is a lovely little book of engaging poems, ideal for six, seven and eight-year-olds. Each poem is short, clear and accompanied by wonderful black and white line drawings. There is a range of subjects but the main thing about these poems is that they rhyme! Older children will find them too simple and childish but when you're starting out with poetry, it helps the reading aloud if the words bounce along and end with a rhyme. A great 'dip in and out of' book - and one every infant teacher should have handy.
Suggested Reading Age 7+
Other titles