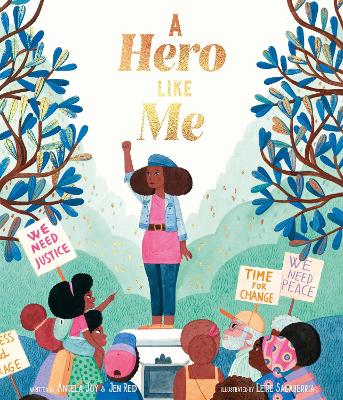 By Author / Illustrator
Jen Reid, Angela Joy, Leire Salaberria
Genre
Representation & Inclusion
Age range(s)
7+
Publisher
Quarto Publishing PLC
ISBN
9780711270411
Format
Paperback / softback
Published
08-06-2023
Synopsis
Empower children to stand up for what is right with this picture book inspired by the real-life events around the statue of a slave trader, its toppling and heroic replacement.   'They call him 'HERO', but he's no HERO - not to me.'

A Hero Like Me is inspired by the events of 7 June 2020, when a statue of seventeenth-century slave trader Edward Colston was pulled down and thrown into Bristol Harbour during an anti-racism protest. Co-author Jen Reid was one of the protesters that day, and despite being afraid of heights, she spontaneously climbed onto the empty plinth and raised her fist high above her head - a moment that was captured on camera and shared around the world.  On the morning of 15 July, a statue of Jen by Marc Quinn was added to the empty plinth. It was called A Surge of Power and it gained national attention for the 24 hours it was in place, and beyond.

This inspiring picture book tells the story of these events through the eyes of a little girl who, every day, on her way to school, sees a towering statue. A statue of a man who sold freedom for cotton and tea. The world around her says this man is a hero. But she knows he's not a hero - not a real one.

Heroes are hard to find. She looks for them around corners, under rocks, and on TV, but there are none that she can see. And so, the little girl marches and shouts for them instead. And that statue - he doesn't belong. He doesn't stand for Kindness. He doesn't stand for Peace.  Maybe he shouldn't stand at all.

A Hero Like Me empowers children to have courage to stand up for what is right and be their own hero. It shows every child that they have a voice in their community and a say in who is on their streets. That they too have power, just like Jen.
Reviews
Maria
A Hero like Me takes its inspiration from the protest events which occurred in Bristol following the death of George Floyd in America in 2020. George Floyd, a black man, was killed by police officers. This event led to protests around the world. The Bristol march was organised to pass near the statue of Edward Colston, an 18th century merchant. To some, Colston was a hero; to others, he was not. Colston profited from the sale of enslaved African people. Over the years, many people had asked for the statue to be removed but it remained in place. During the march, Colston's statue was wrapped in rope, pulled down and pushed over the harbour wall. Witnessing this, was Jen Reid. Jen had worked to stand up for justice throughout her life. As the statue fell, she climbed upon the empty plinth and raised her fist 'For George Floyd and the safety and dignity of Black people everywhere'.
Retelling this event in a similar way, through the eyes of a young child, this beautifully illustrated and touching story allows children the opportunity to understand and empathise with current, real life events. It is important that the background of the book, its content and context is explained to the children beforehand. This is a great text to use to encourage questioning, and understanding of the world around us.
40 pages / Reviewed by Maria Faithorn, teacher
Suggested Reading Age 7+
Other titles