A Poem for Every Night of the Year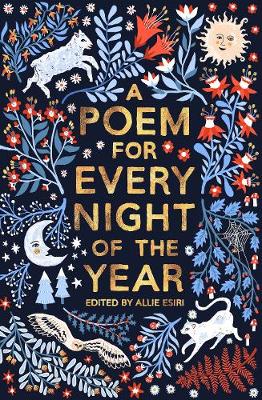 By Author / Illustrator
Allie Esiri, Allie Esiri, Papio Press
Genre
Adventure
Age range(s)
9+
Publisher
Pan Macmillan
ISBN
9781509813131
Format
Hardback
Published
08-09-2016
Synopsis
A Poem For Every Night of the Year is a magnificent collection of 366 poems compiled by Allie Esiri, one to share for every night of the year.

The poems - together with introductory paragraphs - have a link to the date on which they appear. Shakespeare celebrates midsummer night, Maya Angelou International Women's Day and Lewis Carroll April Fool's day.

Perfect for reading aloud and sharing with all the family, it contains a full spectrum of poetry from familiar favourites to exciting contemporary voices. Alfred, Lord Tennyson, W. B. Yeats, A. A. Milne and Christina Rossetti sit alongside Roger McGough, Carol Ann Duffy and Benjamin Zephaniah.

This soul-enhancing book is the perfect gift that will last the whole year, with a little bit of magic to read every evening.
Reviews
Alison
Allie Esiri has set herself an ambitious task in undertaking to provide a poem for every night of the year. The introduction promises 'a sequence of beautiful poems to share at bed time, a journey through culture and history and the seasons'. Esiri's choices - there are 366 of them as it's a Leap Year - do indeed take the reader on an amazing journey through time, culture and religion. Classic poets jostle with contemporary poets for a place in the book and teachers will welcome the inclusion of so many poetry stars, past and present. Robert Louis Stevenson sits alongside Langston Hughes; Lewis Caroll with Carol Ann Duffy; AA Milne with David Harmer. The monthly choices are appropriately seasonal: Robert Frost's haunting and elliptical narrative 'Stopping by Woods on a Snowy Evening' (p.6) greets us on January 4th; the child in RLS's 'Bed in Summer' laments the unfairness of going to bed 'When all the sky is clear and blue' on August 21st (p.321). Where possible, the poems are tied to specific events: Adrian Mitchell's 'Song in Space' (p.139) is chosen to commemorate Yuri Gagarin's historic journey into space on April 12th, 1961. Esiri has set herself the additional challenge of writing a short introduction to each poem. For many of the poems (such as 'Song in Space'), this is essential as it shows the rationale for the choice of poem. However, there are times when the commentaries feel forced and, just occasionally, are rather simplistic. Before reading 'There was an Old Lady who Swallowed a Fly' (p.44) we are told that 'The repetition in this poem makes it great fun to read out loud'. Do we need to be told that Spike Milligan's 'Today I saw a little worm' (p.49) is 'very short but very funny'? Could not some poems be left to stand alone? The introduction to RLS's 'A Good Play' simply reiterates the content of the poem; of more interest surely would have been something about RLS's early, sickly life and the importance of imagination and play in this context. I am unsure as to how far the book is one that children, rather than teachers, will want to browse through. Despite its richly decorated cover illustration, it is a weighty tome, more suited to adult hands, than children's. I hope that teachers will not be deterred by the night-time pitch: having a store of poems to dip into each month should be a welcome addition to a class's poetry repertoire. 544 pages / Reviewed by Alison Kelly, consultant.
Suggested Reading Age 11+
Other titles