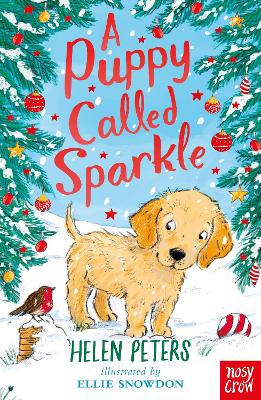 By Author / Illustrator
Helen Peters, Ellie Snowdon
Genre
Animals
Age range(s)
7+
Publisher
Nosy Crow Ltd
ISBN
9781788009775
Format
Paperback / softback
Published
04-11-2021
Synopsis
The twelfth in a fantastic series of animal stories for younger readers by Waterstones Children's Book Prize-shortlisted author Helen Peters, with beautiful black-and-white illustrations by Ellie Snowdon.
Jasmine's dad is a farmer, and her mum is a large-animal vet, so Jasmine spends a lot of time caring for animals and keeping them out of trouble. Unfortunately, this often means she gets into hot water herself... Jasmine falls in love at first sight with the little Golden Retriever puppy she rescues, but she knows she won't be able to keep Sparkle forever. Jasmine soon sees that the playful, friendly puppy is quick and eager to learn, and has an incredible sense of smell. When a new girl starts at Jasmine's school, bringing her medical assistance dog with her, Jasmine starts to wonder. Could Sparkle have a future saving people's lives?
Brilliant storytelling that will make you laugh and cry, this is Dick King-Smith for a new generation. Perfect for readers aged seven and up.  Check out Jasmine's other adventures: A Piglet Called Truffle, A Duckling Called Button, A Sheepdog Called Sky and many more!
Find out more from author Helen Peters
Reviews
Carol
This story took me by surprise and I am glad it did. I was expecting a sweet story about Sparkle and her new family. What I discovered was a cleverly written story introducing children to what is involved in looking after a puppy, how to choose a puppy to buy, and to be wary of puppy farms, in child friendly terms. It also includes the roles of assistants dogs in society.
This heart-warming adventure with Sparkle is a great seasonal read and would make a lovely stocking filler or addition to a child's Christmas Eve box.
144 pages / Reviewed by Carol Wright, school librarian
Suggested Reading Age 7+
Jane
The cute golden retriever pup on the cover will undoubtedly catch the attention of Key Stage Ones (especially, but not exclusively, girls). However, 'cute' means business for puppy farmers (read 'criminals') whose scruples are nowhere near as clean as Jasmine's.
Young Jas has been brought up by a true farmer and a vet in a home where she, brother Manu, and numerous pets are loved and wisely schooled. She can spot signs of illness and knows how to train a dog from scratch (lots of good tips here). And what she doesn't know, she's ready to learn and pass on to her classmates: that puppy farms are illegal and cruel, and that some dogs can be trained to help people, like her friend Lily, who have Type 1 Diabetes or other medical conditions. So, whatever rough start Sparkle has - including the kidnap Jasmine finds so distressing - she is sure to have a more positive future ahead of her. Teachers, friends, indeed the whole village, are set on making hers a very happy first Christmas after all.
Personally, I loved the way the author interweaves fact and fiction, making this much more than 'yet another cute animal story' and one that any primary aged child might enjoy.
144 pages / Reviewed by Jane Rew, school librarian
Suggested Reading Age 7+
Other titles