A Robot Squashed My Teacher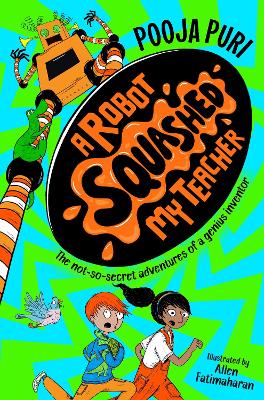 By Author / Illustrator
Pooja Puri, illus Allen Fatimaharan
Genre
Funny Stories
Age range(s)
7+
Publisher
Pan Macmillan
ISBN
9781529070699
Format
Paperback / softback
Published
14-04-2022
Synopsis
A Robot Squashed My Teacher is the laugh-out-loud, wacky adventure by Pooja Puri brilliantly illustrated by Allen Fatimaharan, the sequel to the Marcus Rashford Book Club Selected book A Dinosaur Ate My Sister. 'Before you start reading, there are a few things you should know:
1. I, Esha Verma, am a genius inventor extraordinaire.
2. I like lists.
3. I did not mean to turn my teacher into a pigeon. Some things just can't be helped.'
Esha Verma, her snotty apprentice Broccoli and his secretly cunning pet tortoise have a dream. They are going to win the legendary Brain Trophy - the ultimate inventing prize. This year's entry: The RoarEasy - a gadget that lets the user speak to animals.  But when Esha's arch-nemesis, fellow inventor Ernie, lands her in detention, the RoarEasy malfunctions and suddenly Monsieur Crepeau is TRANSFORMED INTO A PIGEON.
Luckily for Esha, she knows exactly what she needs to repair her invention and where to find it: locked away in the mysterious Central Research Laboratories. She, Broccoli, Archibald and Monsieur Crepeau will have to go undercover and break into the labs before the competition to return Monsieur Crepeau to his human form. And with Ernie following them, determined to foil their plans as they face giant robots, killer plants, shrinking machines, robo-spiders, clouds that make you float and terrifying twisters, they're going to need all the help they can get to get out of this wacky pickle.
See also: A Dinosaur Ate My Sister
Reviews
Samantha
A Robot Squashed My Teacher is the highly anticipated sequel to the Marcus Rashford Book Club Selection, A Dinosaur Ate My Sister by Pooja Puri, illustrated brilliantly throughout by Allen Fatimaharan. This laugh-out-loud series is ideal for those children who still find reading a 'bit of a chore', with its notebook style format, short amusing chapters and fast pace adventure. It's also perfect for teachers and parents who are looking for a story line with links to science and technology.
In A Robot Squashed My Teacher, Esha and Broccoli are once again trying to win the Brain Trophy. This time, they've come up with an even more brilliant invention - the RoarEasy, a device intended to enable humans and animals talk to each other. Unfortunately, things get complicated when the RoarEasy malfunctions and turns their teacher, Monsieur Crepeau, into a pigeon...  Trailed by Esha's arch-nemesis and one of their competition rivals, Ernie, Esha, Broccoli and Archibald will need to break into the Central Research Laboratories to find a way to repair their invention if they have any chance of returning Monsieur back into a human.
Once again Pooja Puri has ticked all the boxes in writing a great fun, adventure story, which will no doubt appeal to any Key Stage 2 reader. I highly recommend this as an ideal post SAT's 'relax and enjoy' opportunity.
320 pages / Reviewed by Samantha Phillips, teacher
Suggested Reading Age 7+
Other titles