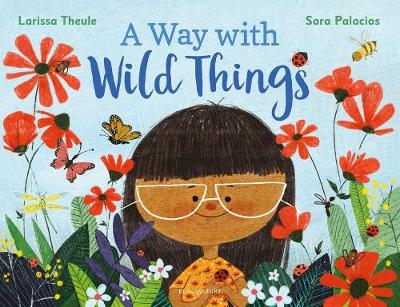 By Author / Illustrator
Larissa Theule, Sara Palacios
Genre
Personal Growth
Age range(s)
5+
Publisher
Bloomsbury Publishing PLC
ISBN
9781526628565
Format
Paperback / softback
Published
18-03-2021
Synopsis
Meet Poppy - if you can find her! Poppy loves bugs, and can usually be found carrying on conversations with ladybirds or sitting outside among the brightly coloured wildflowers ... but good luck spotting her indoors and around people! She's a master of camouflage, always finding a way to blend into her surroundings. But when a very special bug lands on her grandma's birthday cake, Poppy can't resist popping out to see it. Soon the rest of the guests notice the beautiful dragonfly, and Poppy too. Maybe it's OK to stand out sometimes, just like the vibrant wildflowers and shimmering insects Poppy loves. This poetic and evocative story celebrates the shy and introverted kids among us, as well as the other small creatures to be found if we look closely enough.
Reviews
Joanna
A lovely story aimed at reaching out to shy and not very confident young people and children who often just want to blend into the background. A way with Wild Things is a beautiful, natural story about a little girl who loves to spend her time away from people with nature all around her. Aptly named, 'Poppy Fields' loves to spend her day outside talking to bugs, insects and observing nature's wonders. When Poppy is forced to be inside to see relatives or when she has to be around people, Poppy ensures - through her clothing - that she blends in unnoticed into the background. However, by the end of the story, led by a dragonfly and her grandmother, Poppy learns that it is ok to be herself and that people will accept her for who she is - a wildflower. Poppy learns she no longer needs to blend into the background and she can celebrate just being herself.
The beautiful, detailed illustrations of this picture book are captivating. The natural colour pallet fits so perfectly with the theme and the detail of the wildlife means you will spot something new each time you read it. My daughter (aged 5) loved counting all the flowers, spotting the different types of insects and especially spotting the 'hiding' Poppy' who is very carefully blending into the background. The sumptuous narrative will really appeal to a young reader who will sympathise with Poppy.
I absolutely love the message of acceptance at the end of the story and how Poppy learns to overcome her shyness and find acceptance. Poppy herself is absolutely adorable - big glasses, slightly messy hair and a big cheeky face. There is a 'Poppy' in every classroom and I know this book will reach out to all the Poppy's out there.
Picture book / Reviewed by Joanne Hewish, teacher
Suggested Reading Age 3+
Other titles