A Whale of a Time: A Funny Poem for Every Day of the Year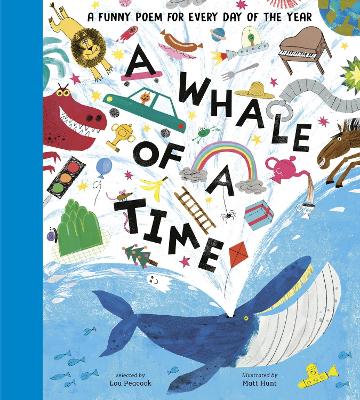 By Author / Illustrator
Lou Peacock, Matt Hunt
Genre
Poetry
Age range(s)
7+
Publisher
Nosy Crow Ltd
ISBN
9781839942013
Format
Hardback
Published
14-09-2023
Synopsis
A brilliantly illustrated collection of 366 hilarious poems to keep you laughing all year round!  From rib-ticklingly funny to wryly witty, each poem in this uplifting collection is guaranteed to put a smile on your face and is perfect for reading aloud to share even more side-splitting hilarity with family and friends. Whether it's a poem about socks or spaniels, eggs or elephants, this bright and brilliant collection will bring you cheer and laughter every day.
The spectacular range of poems for children includes work by John Agard, Maya Angelou, Hilaire Belloc, Brian Bilston, Lucille Clifton, Wendy Cope, Roald Dahl, Edward Lear, Spike Milligan, Ogden Nash, Grace Nichols, Jack Prelutsky, Michael Rosen, Christina Rossetti, Benjamin Zephaniah and many more.
A wonderful gift for all ages, this beautifully produced anthology includes luxurious cloth binding and ribbon marker.
Reviews
Sue
The latest in Nosy Crow's beautiful cloth bound poetry anthologies, A Whale of a Time offers a humorous poem for each day of the year. Sharing works from all over the world, the collection uses regional spellings to remain faithful to the original voice of each poet. Arranged month by month, each section has its own contents page, making it easy to locate not only the poem for the day, but any work in that section, encouraging readers to return to favourites again and again.
There are so many treasures here, each bringing laughter and brightening the day. Today's offering by Celia Warren made me smile as it reminded me of so many bedtimes - of my own son, of nieces and nephews, of friends' little ones - and is sure to be a nighttime favourite, causing giggles as children recognise their own tactics!
As well as being amusing, there are poems which suit different times of the year. The 5th of November has a funny firework poem, the end of October features spooky poems and there is a Christmassy feel around the end of December. Pancakes and love appear in February and fools in April.
Each page is an absolute joy! The illustrations complement the poems brilliantly! 'Daddy Fell into the Pond' - a great personal favourite - written by Alfred Noyes (better known for 'The Highwayman'!) is accompanied by the perfect picture, capturing all its charm!
Elsewhere smiling cats, laughing children and happy hares add to the exuberance and appeal of the collection.
352 pages / Reviewed by Sue Wilsher, teacher
Suggested Reading Age 7+
Amanda
Lou Peacock has worked her magic to compile the most amazing collection of 366 poems, A Whale of a Time, boasting work from Brian Bilston, Maya Angelou, Spike Milligan and many more. Some will that you will love, poems that will bring you joy and laughter, some that will transform you and poems that you will want to share.
On every turn of the page you discover a new 'story' as the group of poems have be placed together as they share similar content, mood, tone or feeling. Matt Hunt has skilfully illustrated each page, bringing his own unique and brilliant ideas to each poem and subject. It is a real challenge to find the image that I love the most. They are just amazing, from the image for 'The First Book' of a child climbing in a book, opening to reveal beams of light, to Horace the non monsterish monster! No matter what type of poem you enjoy or which subject you enjoy reading about, you are bound to have 'a whale of a time' reading this book!
Research shows that there is a lack of poetry shared with children on a regular basis. Whether you are a parent looking for something extra each bedtime, a class teacher wanting relevant poems to share with pupils or a child who loves amazing poems and wonderful illustrations, I know that this will become a favourite - as it will in our libraries.
For all those pupils who like to choose the largest / heaviest book, this might be it, and for those who are drawn to high quality hilarity, you cannot do better than this either. A book not to miss.
352 pages / Reviewed by Amanda Shipton, teacher
Suggested Reading Age 5+
Other titles