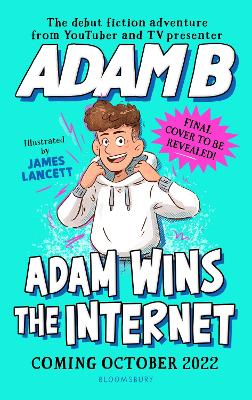 By Author / Illustrator
Adam B, illus James Lancett
Genre
Personal Growth
Age range(s)
9+
Publisher
Bloomsbury Publishing PLC
ISBN
9781526655653
Format
Hardback
Published
13-10-2022
Synopsis
The spectacular debut children's book from TV presenter and YouTube star Adam B!    Everybody dreams of becoming a superstar YouTube sensation, but for Adam - a penniless, cameraless nobody, with only one friend - it isn't just a dream, it's a complete and utter, NEVER-GOING-TO-HAPPEN-IN-A-MILLION-YEARS, absolute impossibility!   That is, until he stumbles across the mysterious Popularis Incrementum website. As if by magic, Adam is thrown into a world of FAME, FORTUNE and hotels with really, really, really FANCY TVs!  But Adam's luck may be running out.  When he accepts a mission to reach one million subscribers in one year, it becomes clear that he has bitten off way more than he can chew, and his life becomes one epic fail after another.  Fortunately for Adam, he still has a trick or two up his sleeve... 
Featuring bold black-and-white illustrations from James Lancett throughout, this brilliant, bright hardback will make the perfect Christmas gift for budding young YouTubers everywhere! Fans of David Baddiel, Greg James and Chris Smith and Noel Fitzpatrick's Vetman will be spellbound.
Reviews
Lisa
Adam Wins the Internet is a really relevant 'hopes and aspirations' book for children in 2022. The days of wishing to become a popstar are over and so many children in the classroom these days dream of becoming the next You Tube sensation. However, this comes with a good dose of reality as Adam struggles to keep up with the demands. Of course, he overcomes obstacles and finds a way to make it work.
There are some really comical moments in the book that will make children laugh out loud but also emotional at some points. The cover is really eye-catching and I can see lots of children being drawn to this on my bookshelf. I would recommend this to children around ages 8-12 as I think they will be able to empathise most with the characters and the troubles they face. They will also be most familiar with TV presenter and YouTube personality Adam B himself. I am not usually a huge fan of 'celebrity author' books but this one certainly has a place on my bookshelf.
368 pages / Reviewed by Lisa Watkins, teacher
Suggested Reading Age 9+
Other titles