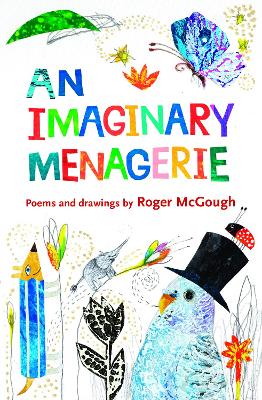 By Author / Illustrator
Roger McGough
Genre
Poetry
Age range(s)
7+
Publisher
Otter-Barry Books Ltd
ISBN
9781913074357
Format
Paperback / softback
Published
07-07-2022
Synopsis
Ever see
an anaconda
drive through town
on a brand new Honda?
Don't ask him
for a ride.
You might end up
inside.
From the Allivator to the Zonk, here are seventy-two gloriously witty poems that young readers will love and return to again and again.   Real and imaginary animals, from newts with flutes to boisterous baboons in hot-air balloons, crowd Roger McGough's celebrated collection, now in a new edition for a new generation. Rich in invention, wordplay, and humour, with Roger's own delightful, quirky illustrations.
Reviews
Wendy
Veteran poet Roger McGough has written and illustrated this quick little collection of poems which will appeal to fluent junior readers (ages 9+). The poems feature real and imagined creatures for every letter from A to Z and are humorous - such as the hairy canary who's been eating steroids - through to the thought-provoking, such as hunter's favourite target, The Moose. The line drawings add interest and context to the poems but be aware the word play and vocabulary is sophisticated and will require some unpicking if used in the classroom. An excellent addition to the upper key stage 2 poetry range but unlikely to be a welcome birthday gift!
96 Pages / Reviewed by Wendy Kelly 
Suggested Reading Age 9+
Other titles