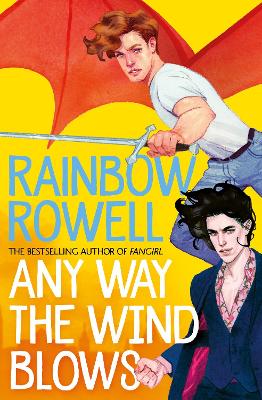 By Author / Illustrator
Rainbow Rowell
Genre
LBGTQ+
Age range(s)
14+
Publisher
Pan Macmillan
ISBN
9781529039900
Format
Hardback
Published
06-07-2021
Synopsis
In Carry On, Simon Snow and his friends realized that everything they thought they understood about the world might be wrong. And in Wayward Son, they wondered whether everything they understood about themselves might be wrong.

In Any Way the Wind Blows, Simon and Baz and Penelope and Agatha have to decide how to move forward.  
For Simon, that means deciding whether he still wants to be part of the World of Mages - and if he doesn't, what does that mean for his relationship with Baz? Meanwhile Baz is bouncing between two family crises and not finding any time to talk to anyone about his newfound vampire knowledge. Penelope would love to help, but she's smuggled an American Normal into London, and now she isn't sure what to do with him. And Agatha? Well, Agatha Wellbelove has had enough.

Any Way the Wind Blows takes the gang back to England, back to Watford, and back to their families for their longest and most emotionally wrenching adventure yet. This book is a finale. It tells secrets and answers questions and lays ghosts to rest.

Carry On was conceived as a book about Chosen One stories; Any Way the Wind Blows is an ending about endings. About catharsis and closure, and how we choose to move on from the traumas and triumphs that try to define us.
Reviews
Linda
Any Way The Wind Blows is the final book of the Simon Snow series from the author, Rainbow Rowell. This book is a finale; it tells secrets, and answers questions, and lays ghosts to rest.
Simon may not have any magic left but he has inherited the Mage's fortune, even though he killed him. Baz is frustrated as he doesn't know where his relationship is going with Simon, his stepmom has disappeared and he is full of conflicting emotions about his new found awareness about his vampirism. After smuggling a Normal into England, Penny believes she is a bad influence and is determined to keep away from Simon and Baz and find a cure for Shepherd's curse, which turns out to be a marriage proposal. He's only gone and got himself engaged to a demon! Hilarious. Agatha has reunited herself with her wand and is working for her dad at his veterinary practice. It's not what she expected, what is it about those goats at Watford? Can they really fly? Agatha is eager to learn more about them.
If that's not enough for you, the author as added a new character... The new kid on the block, a new chosen one, Smith. Even though Simon hasn't got his magic anymore he feels a little put out and along with Baz, wants to find out who he is and what he's up to. As the relationship is beginning to develop further between Simon and Baz there are quite a few sexual scenes within the book, nothing in too much detail but still making the story only suitable for 14+ readers. However, I would still recommend the story for book clubs as there are many avenues for discussion.
Any Way The Wind Blows is full of humour, adventure, drama and so much more. The author, however, has added a lot of descriptive text in this book, which made me want to skip read to get to the good parts at times. Don't let this take anything away from this final part of Simon's story, as the readers emotions are definitely in for a rollercoaster ride. It's been a weird but wonderful journey in this World of Mages. Thank you Rainbow for the adventure.
592 pages / Reviewed by Linda Brown
Suggested Reading Age 14+
Other titles