Archibald Lox Volume 1: The Missing Princess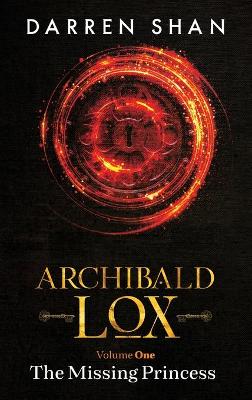 By Author / Illustrator
Darren Shan
Genre
Fantasy
Age range(s)
11+
Publisher
Home of the Damned Ltd
ISBN
9798680198865
Format
Hardback
Published
31-10-2020
Synopsis
When a young locksmith finds his way into the Merge, he discovers a parallel universe filled with an infinite number of bizarre, remarkable worlds. Setting off on the adventure of a lifetime, he soon makes allies and friends who help inform and direct him, but he must also overcome the threat of cold-blooded killers, ravenous hell jackals, evil Empresses and more. As his skills develop, he finds himself part of a perilous mission to save a realm from the forces of tyranny, but he holds the key to its success or failure, and he fears he might not be up to the task. The greatest challenge of his life awaits.
This is the Complete Volume One of the Archibald Lox series, bringing together the first three books -- Archibald Lox and the Bridge Between Worlds, Archibald Lox and the Empress of Suanpan, and Archibald Lox and the Vote of Alignment. A thrilling new fantasy series by Darren Shan, the New York Times bestselling YA author of Cirque Du Freak, The Demonata, and Zom-B.
"A brisk, entertaining tale that unfolds in a wonderfully bizarre world." Kirkus.  "I read quite a lot during lockdown but nothing made me smile quite as much as these first three instalments in the Archibald Lox series." The Bookbag.
Reviews
Emelia
Archibald Lox Volume One The Missing Princess; a young boy leaves home one day with an incredible sense of loss. Little does he know that today is the day he will discover a parallel universe in which he will find himself submerged in mystery and adventure.
Archibold approaches a bridge and sees two men chasing a girl armed to the teeth with weapons. The girl disappears somehow and it leaves Archibold curious. Thus beginning his adventure, making friends and allies on his journey to support and guide him. All the time having to evade mystical creatures and blood thirsty killers. Arichbolds' allies help him to develop the skills to survive along the way to their journey's end where he holds the key to their success or failure.
A fantastic story. I couldn't put it down once I got going.
506Pages /  Reviewed by Emeilia Helliwell, school librarian
Suggested Reading Age 11+
Other titles