Art of Protest: What a Revolution Looks Like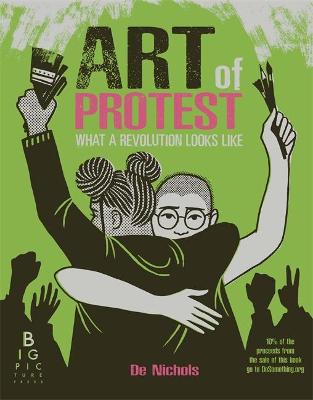 By Author / Illustrator
De Nichols
Genre
Non Fiction
Age range(s)
11+
Publisher
Templar Publishing
ISBN
9781787417663
Format
Hardback
Published
30-11-2021
Synopsis
"Start making. Start being the change you want to see in this world." De Nichols
From the psychedelic typography used in 'Make Love Not War' posters of the 60s, to the solitary raised fist, take a long, hard look at some of the most memorable and striking protest artwork from across the world and throughout history. With an emphasis on design, analyse each artwork to understand how colour, symbolism, technique, typography and much more play an important role in communication, and learn about some of the most influential historical movements.
Tips and activities are also included to get you started on making some of your own protest art. Guided by activist, lecturer and speaker De Nichol's powerful own narrative and stunningly illustrated by a collaboration of young artists from around the world, including Diana Dagadita, Olivia Twist, Molly Mendoza, Raul Oprea and Diego Becas, Art of Protest is as inspiring as it is empowering.
Reviews
Lorraine
Big Picture Press have hit the nail on the head with this new book, Art of Protest: What a revolution looks like, by artivist De Nichols. Formatted and produced to simulate a zine, it is illustrated by several artists, resulting in a powerfully visual and educational book.
Enclosed by two separated covers with unfinished edges, the inside of the book has been split and bound in five parts, almost as if several zines have been put together to form one cohesive idea. Once inside the book, information visually explodes from every corner, using typography, graphics, colour and striking black and white images. The illustrators employ different methods and styles resulting in an expression of art that is joyful. Text accompanies the visuals and is informative and clear, describing key moments for change throughout the years running up to the current day, as well as the history of using art and symbolism to raise awareness and influence change.
The book is sprinkled with suggested tasks for readers to be creative in relation to current issues that interest them. It introduces a younger demographic to the possibility of using art and creativity in multiple forms to find their voice, evoke change, protest against injustices and challenge higher powers. The book also introduces different forms of creating art, such as screen printing, the use of colour and typography, performance and symbols.
Aimed accurately at its audience, it includes examples of younger people who have highlighted issues recently and also finishes with positive uses of the digital age to create art, such as memes and video content. It helps readers to learn about important movements from the past and present as well as highlight how something as simple as chalk can be a powerful voice.
I loved this book from start to finish. How I wish there had been a book around like this when I was a teenager, giving the younger me permission to act on the issues that I felt were important. Young people all too often feel trapped and contained by education, instruction, and home life. They feel the need to conform, succeed and excel. Here is a book that tells them it is ok to express themselves, about subjects they care about, in any creative form they wish. An empowering book, highly recommended.
80 pages / Reviewed by Lorrain Ansell, school librarian
Suggested Reading Age 11+
Other titles