As Long As the Lemon Trees Grow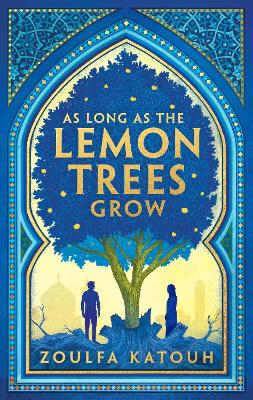 By Author / Illustrator
Zoulfa Katouh
Genre
Representation & Inclusion
Age range(s)
14+
Publisher
Bloomsbury Publishing PLC
ISBN
9781526648525
Format
Hardback
Published
15-09-2022
Synopsis
Burning with the fires of hope and possibility, As Long As the Lemon Trees Grow will sweep you up and never let you go.   Salama Kassab was a pharmacy student when the cries for freedom broke out in Syria. She still had her parents and her big brother; she still had her home. She was even supposed to be meeting a boy to talk about marriage. Now Salama volunteers at a hospital in Homs, helping the wounded who flood through the doors. She knows that she should be thinking about leaving, but who will help the people of her beloved country if she doesn't? With her heart so conflicted, her mind has conjured a vision to spur her to action. His name is Khawf, and he haunts her nights with hallucinations of everything she has lost.  But even with Khawf pressing her to leave, when she crosses paths with Kenan, the boy she was supposed to meet on that fateful day, she starts to doubt her resolve in leaving home at all. Soon, Salama must learn to see the events around her for what they truly are - not a war, but a revolution - and decide how she, too, will cry for Syria's freedom.
Reviews
Louise
Meet Salama Kassab: Daughter, sister, pharmacy student, and protagonist of the most hauntingly beautiful book I have read this year. I haven't read a book that has affected me as profoundly as this for quite some time. Author Zoulfa Katouh's words are both heartbreaking and inspiring, taking the reader on a journey through war-torn Syria and a whole range of emotions simultaneously. In a review of her debut novel, Zoulfa describes it as coming from, "my pain, my guilt, my love, my sorrows, my dreams and my hopes".
It is so easy to see these emotions reflected throughout As Long As The Lemon Trees Grow, as Salama navigates the devastating losses - but bright, bold hope - of conflict. There were moments I laughed with Salama, and more than one occasion when my heart ached for her, and for her experiences. As readers we don't feel sorry for Salama as such, but live those experiences with her; we are entwined from the opening line. Salama is strong and determined; a force to be reckoned with. Concurrently she is innocent and vulnerable. I fell head over heels for her. Zoulfa draws that same review to a close with these words: "We are strong hijabi girls who live life to the fullest, and soft, kind Muslim boys who reject the toxic masculinity ideology. We are not what they wrote us to be."
Through Salama, Zoulfa tells the story she was always supposed to tell, helping young adults of all ages and backgrounds to grieve, celebrate and understand the journey so many people have been on. It is a story that needs to be read and re-read, told and retold until the world understands what is happening under its nose. I would recommend As Long As The Lemon Trees Grow for children aged over 14 years, due to some harrowing content. That said, I would not change a word of the text, as its incredible insight is so important.
448 pages / Reviewed by Louise Baker, teacher
Suggested Reading Age 14+
Other titles