Aziza's Secret Fairy Door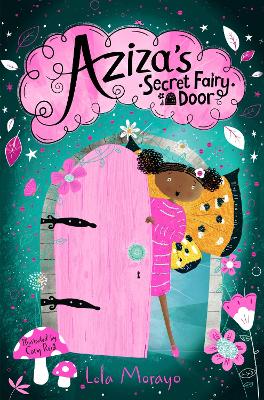 By Author / Illustrator
Lola Morayo, Cory Reid
Genre
Young fiction
Age range(s)
5+
Publisher
Pan Macmillan
ISBN
9781529063851
Format
Paperback / softback
Published
10-06-2021
Synopsis
Aziza's Secret Fairy Door is the first title in an inclusive magical adventure series, perfect for readers of 6-8 from debut author Lola Morayo. It is inspired by world mythology and is gorgeously illustrated in black and white throughout by Cory Reid.

Open the door to a world of magic and adventure . . .

A mysterious gift arrives on Aziza's birthday. It is a secret fairy door that will whisk her away to Shimmerton, a magical world with princesses, naughty fairies, shapeshifters, unicorn shopkeepers and mischief around every corner. But when the precious jewelled doorknob is taken, Aziza is trapped. Will she ever see her home and family again? Maybe her new friends, Peri and Tiko, can help . . . Packed with mischief, friendship and magic, Aziza is perfect for fans of Isadora Moon.

Look out for the second title in the series Aziza's Secret Fairy Door and the Ice Cat Mystery coming soon.
Reviews
Megan
Aziza's Secret Fairy Door is a fun, magical adventure through Shimmerton, a magical world with fairy princesses and other mythical creatures. Aziza's adventure begins on her birthday when she receives a mysterious present. Inside the mysterious gift is a fairy door, which Aziza decorates herself. Once decorated, she follows the instructions to ensure the magical fairy door works. However, Aziza is left disappointed when the door does not work. Until one night, when Aziza is almost fast asleep, she hears a knocking sound. Little does Aziza know, she is about to embark on a great adventure!
Aziza's Secret Fairy Door is a great story for children 5-8. The book looks at many morals, for example, being kind and doing the right thing. It would make a great addition to a classroom or library within a KS1-lower KS2 setting. It looks like to be a fun and promising series!
208 pages / Reviewed by Megan Webb, teacher
Suggested Reading Age 5+
Other titles