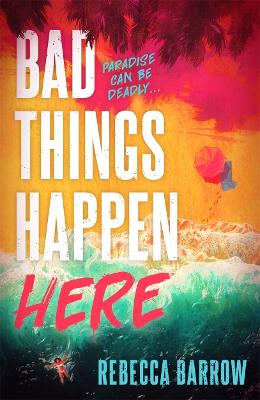 By Author / Illustrator
Rebecca Barrow
Genre
Suspense & Thrillers
Age range(s)
14+
Publisher
Hot Key Books
ISBN
9781471411243
Format
Paperback / softback
Published
28-06-2022
Synopsis
With compelling characters, broken friendships and complicated romances, BAD THINGS HAPPEN HERE is a gripping murder mystery full of dark truths, lethal betrayals, and poisonous secrets.Paradise can be deadly ...Luca Laine Thomas lives in Parris, a beautiful island plagued by the unsolved deaths of young women - most significantly, Luca's best friend. All Luca wants is to heal from the traumatic loss and leave her feelings of guilt and helplessness behind.Then Luca comes home to find police cars in her driveway. Her sister, Whitney, is dead.Luca and Naomi, the new girl next door, decide to take the investigation into their own hands, and along the way their connection deepens. Soon, their casual touches and innocent flirtations become something way more real. But finding out what happened on the night of Whitney's disappearance reveals lie upon lie.Nothing is as it seems. Will Luca's search finally reveal the truth about her sister's murder?
Perfect for fans of WE WERE LIARS, ONE OF US IS LYING, ACE OF SPADES, and ASKING FOR IT.
Reviews
lorraine ansell

- Age 14
Luca Laine Thomas seemingly lives an idyllic life on the island of Parris, an affluent and insular place where everyone knows your name. But there are dark secrets and shadows lurking on the island, where over the years girls have gone missing or succumbed to awful unsolved deaths, the last of which was Luca's best friend Polly. Mostly classed as accidental losses, Luca believes the island's curse is real and fears for the next victim. After yet another cliché party with the same crowd, Luca's sister Whitney threatens to become the next unsolved death. Helped by her new friend Naomi and spurred on by fear that she could be the next victim, Luca determines to find the real cause and culprit for her sister's memory and rid the island of the curse once and for all.
Bad Things Happen Here is a compelling read that drip feeds information much like the recreational drugs used by the young people of the island. It leaves you craving more and from the start I could not put the book down. The dynamic of the sister's relationship is so well written, as is the soft approach and tender handling of Luca's mental health, self-harming and suicidal thoughts. The idyllic island is slowly revealed to be an insidious prison to its inhabitants, with undercurrents of racism, elitism and class social problems. Luca also realises that instead of the town knowing everything about everyone, people keep their own secrets and lies, breaking the foundation of the life she thought she had.
So many important issues are covered in this book but none are made to feel didactic, instead they feel informative and gentle. I loved Luca's character: her feistiness, loyalty, her yearning for another life away from the confines of the island. Having lost a close sister myself, I felt the author got the balance of grief and fear of one's own mortality after such a loss very close to reality. Without any spoilers it is hard to comment on the relationship between Luca and Naomi but the yearning to find someone who shares such a loss and understanding explains the subsequent events in their friendship.
I would highly recommend this book to older teens; it is one of the best I've read in a long time. My one criticism is the ending, once you read it, you'll know. I do, however, feel the author took the book to the only conclusion that sadly made sense in Parris, which reflects horrifically today's society. Having said that, if there is a sequel, I will be first in the queue.
337 pages / Reviewed by Lorraine Ansell, school librarian
Suggested Reading Age 14+
Clare
Bad Things Happen Here, Rebecca Barrow's debut novel, is a stylish YA thriller set on a moneyed North American Island where rich kids prevail and an inordinate number of teenage girls seem to die. Wealthy, backbiting Luca has already seen her best friend die when her sister falls victim to what she perceives to be the island's curse. She is sure that malevolent forces are at work and that she is somehow caught up in it all - as well as being a potential next victim.
When new girl Naomi moves in next door, Luca dares to believe that her luck has changed, that the beautiful newcomer can be an ally, and maybe much more. As she begins a covert investigation into her sister's death, Naomi becomes someone she thinks she can trust, but a betrayal and a series of shocking revelations leave Luca reeling - and her delicate mental health in the balance.
This twisting thriller has a suitably menacing setting - a seemingly idyllic island riven with secrets and an incomprehensible, invisible hold on its inhabitants. Sharp divisions exist between the elite and the less well-off inhabitants and tensions bubble ominously. I didn't particularly warm to the protagonist, Luca - she can be mean, biting and superior, often treating those around her dismissively.
The others in her elite group can also be condescending, seeming to live in a pampered bubble and there are some startling revelations about secret lives somehow conducted in a place where everyone seems to know everyone else's business. Despite these quibbles, this is an engrossing book that keeps the reader guessing and Rebecca Barrow would be a good new author for fans of Karen McManus.
The ending - with secrets and cover-ups perpetuating - also perhaps hints at a sequel.
Pages 337 / Reviewed by Clare, school librarian
Suggested Reading Age 14+
Chomo
The world conjured up is of the rich and elite but the author makes clear that that world is not as perfect as it might at first appear. The characters made me feel I had a window on something I could never be part of, but as things progressed would probably choose not to be anyway. The plot moves at different speeds at various times, so Bad Things Happen Here is great if you love lots of dialogue, but not so good if you are into fast action sequences - except the end, which was an exciting surprise.
To my mind, the style of writing relied too heavily on conversation and internal thoughts rather than narrative, plot and events. Some things are touched on but remained unclear once they had served the purpose of the story, whereas I would have liked to have read more detail. With the story told from Luca's point of view I did not feel the other characters were painted in sufficient detail to engage with them or care about what they thought, felt and would suffer.
352 Pages / Reviewed by Chomo 
Suggested Reading Age 14+
Other titles