Bear and Bird: The Picnic and Other Stories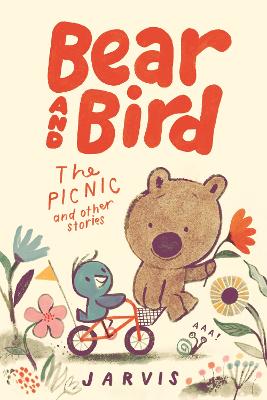 By Author / Illustrator
Jarvis
Genre
Friends and family
Age range(s)
5+
Publisher
Walker Books Ltd
ISBN
9781529504897
Format
Hardback
Published
02-03-2023
Synopsis
Bear didn't really like the painting. I mean, look at it. But he liked Bird a lot, and it would remind him of her...

Bear and Bird are best friends! And while they don't always understand each other, they both agree: all they want is to make the other happy. So, when Bear forgets to pack for a picnic (but pretends that he didn't), Bird doesn't let on that she knew all along. And when Bird discovers that Bear has more of a certain talent than she does, well, Bear finds a touching way to make her feel better...

Full of funny mix-ups and comic misunderstandings, as well as genuine warmth and affection, these four stories are the start of an irresistibly charming new chapter book series from award-winning creator Jarvis.
Jarvis reads from The Picnic and Other Stories
Reviews
Amanda
When two best friends experience different adventures with the purpose of making each other happy it can only lead to beautiful discoveries about themselves. This is what Jarvis has created through these three simply beautiful stories.
In Bear and Bird: The Picnic and Other Stories, find out what happens when Bear takes an empty picnic bag in a picnic and doesn't go to the toilet before they leave! What happens when Bears first painting is loved by the woodland animals; and when Bear discovers an amazing fluffy blanket that he names Suzie.
This is a beautiful text written in simple language that children could read on their own. Equally this could be used in PSHE/ relationships to discuss the decisions the Bear and Bird made to make each other happy. Is it ever ok to lie?
This book could be used from Foundation stage 1 - KS1 and beyond. It is a wonderful easy read with well thought out plots and characters. I am so pleased to have this in hard back as I know that it will be a favourite.
64 pages / Reviewed by Amanda, teacher
Suggested Reading Age 5+
Wendy
What a charming little book this is. Jarvis has created the simple, happy world of Bird and Bear who are best friends. Bear is not too bright and Bird is a bit of a worrier but together, they make a good team. This collection of four little stories is set around simple adventures that they share - including The Flower, The Picnic, The Painting and The Blanket. There is a little problem in each to be overcome but fortunately either Bear or Bird saves the day. The illustrations are sketch-like and simple with muted colours and interesting details. The format is a small hardback - great for little hands to hold and the pages are thick and creamy.
Bear and Bird: The Picnic and Other Stories is a book you want to spend time with and go to a place of friendship, sunshine and simple pleasures. This will become a bedtime favourite of 3-5 year olds and one to be read independently by 6-7 year olds. The text is large and well spaced out and the vocabulary is simple and fairly easy to read. This will be a perfect birthday present for a bookish child or a lovely addition to an infant classroom library. I hope we see more volumes of Bear and Bird's adventures soon.
64 pages / Reviewed by Wendy, teacher
Suggested Reading Age 5+
Other titles