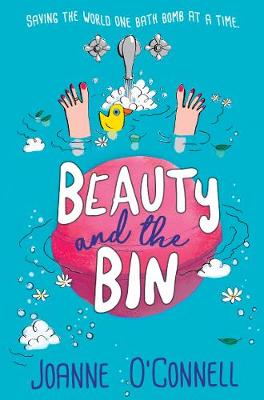 By Author / Illustrator
Joanne O'Connell
Genre
Environment
Age range(s)
11+
Publisher
Pan Macmillan
ISBN
9781529032574
Format
Paperback / softback
Published
18-02-2021
Synopsis
Laurie's home-made beauty recipes are no secret. The secret is that her eco-warrior family get their ingredients from the bin.  Laurie loves her family and she wants to join them in making the world a better place, one home-made bath bomb at a time. But right now, she doesn't want to be fishing her food out the bin. She just wants to go for a hot chocolate with her friends after school and be a normal kid.  
So when a competition comes to Silverdale High looking for the next best 'Business with a difference', and the most popular girl in school wants to team up to sell Laurie's lotions and potions, she can hardly believe her luck. But can she find success and popularity without losing sight of her true self?

Joanne O'Connell's Beauty and the Bin is a fresh and funny debut about friends, family, school and being a young eco-warrior.   'Funny, warm, and just so refreshing . . . I loved this sparkling debut.' Carlie Sorosiak, bestselling author of I, Cosmo
Reviews
Beverley
Laurie Larksie is 12 and lives with her mum, dad and younger sister Fern. The whole family are keen environmentalists, and want to save the planet. Laurie and Fern enjoy making their own eco-friendly beauty products from the foods their parents grow at home. The family even go so far as to look through the bins outside supermarkets for food that has been thrown away but is still perfectly usable. When Laurie's school becomes involved in a competition for young entrepreneurs, Laurie is amazed when Charley Keating-Sloss, an older pupil who is extremely popular, wants to team up with Laurie and sell her food-based face packs, perfumes and skin care lotions so that they can win the competition. With Laurie's flair for invention and Charley's knowledge of social media, what could possibly go wrong?
This is a though-provoking book; the author has taken an extremely topical subject - the problem of food waste - and turned it into an engaging and funny story. Laurie is a lovely character, thoughtful and kind. She loves her parents (even though they embarrass her at times) and is especially close to Fern. She finds herself swept along by Charley's ideas and enthusiasm, but almost loses sight of what is important along the way. By the end of the book, she has learned the value of true friendship and the value of family. Fern is just brilliant, funny, feisty and wise beyond her years.
The story holds the attention throughout, there are several amusing incidents, especially when Laurie and Fern are 'bin diving' for waste food. The descriptions of the Larksie's house are lovely; the family grow their food hydroponically and the girls can actually pick herbs and fruit from the walls of their home. Laurie is conflicted as, although she understands her parents' way of life, she also wants to have a little more money of her own so that she can buy new clothes and be able to be more like her friends. However, she remains true to herself and finds a way to fulfil her ambitions without compromising her ideals.
Some of the story is told in text-speak, which helps to make it more accessible. The author also includes recipes for some of Laurie's beauty products, which is a great addition. All in all, this is an excellent first novel which will appeal to girls from the age of 11 upwards. We are given some indication as to what happens next to Laurie and Fern, and I hope that there will be another book about them, as I feel that there are some great adventures waiting for the Larksie sisters!
368 pages / Reviewed by Beverley Somerset, School Librarian
Suggested Reading Age 11+
Other titles