Begone the Raggedy Witches (The Wild Magic Trilogy, Book One)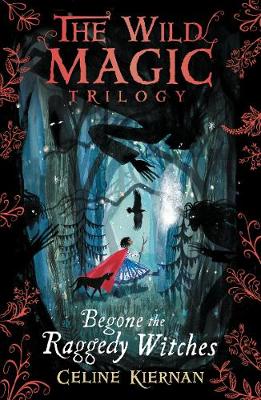 By Author / Illustrator
Celine Kiernan, Victoria Semykina
Genre
Magical Realism
Age range(s)
9+
Publisher
Walker Books Ltd
ISBN
9781406366020
Format
Paperback / softback
Published
01-02-2018
Synopsis
 
A middle-grade fantasy adventure perfect for fans of Frances Hardinge, Katherine Rundell and Sally Gardner. On the night that Aunty dies the Raggedy Witches come for Mup's mam. Pale, cold, relentless, they will do anything to coax Mam back to Witches Borough. When they kidnap Mup's dad, Mup and her mam must leave the mundane world to rescue him. But Mam is strange on this side of the border - striding, powerful, and distant. Even if they can save Dad, Mup is not sure anything will ever be the same again...
Reviews
June
This is the first book in The Wild Magic trilogy by Celine Kiernan and the reader will be hooked from the very first sentence. Within the first chapter we learn of Mup's life with her family and we are introduced to the forces that are about to change that life dramatically.

Mup (official name Pearl) lives with her Mam, brother Tipper, dog Badger and Aunty Boo. Dad is away working on an oil rig. Aunty Boo (Mam's Aunt) dies in Chapter 1 but never quite leaves the family, protecting her niece from the enemies she faces as the family search for Dad 'over the border'.

The border marks the division between ordinary human life and the world of witches. All is not well over the border where the Queen rules with a rod of iron and her subjects live a terrified life, constantly evading the Raggedy Witches. This fearful queen is in fact Aunty Boo's sister and the mother of Mup's Mam. Aunty Boo took her niece away across to the human world to protect her from her mother's evil ways but now she is being pulled back into that world.

The action moves on at breakneck speed as Mup and her family search for Dad, involving rhyming crows, talking cats and long forgotten magic. The use of rhyme as a means of controlling communication is central to maintaining the Queen's hold on her subjects. If they don't speak in rhyme, this alerts the Raggedy Witches to their whereabouts. If they do speak in rhyme, the constraints that places on real communication keep the outlaws in their place.

Being the first book in the trilogy, there is a lot of information about the characters and the witches' world to introduce to the reader but the story moves on quickly with some terrifying battle sequences and revelations. At the end of the book, Mam/Stella is faced with a choice that will affect the lives of all those she loves and the scene is set for the second book. Readers who have been on this journey with Mup will look forward to Book 2.

496 pages / Ages 9+ / Reviewed by June Hughes, school librarian.
Suggested Reading Age 9+
Other titles