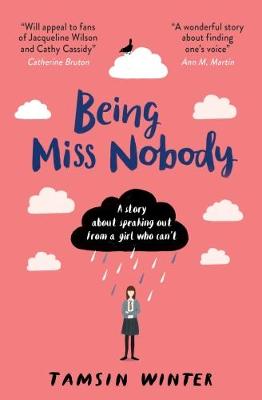 By Author / Illustrator
Tamsin Winter
Genre
Bullying
Age range(s)
9+
Publisher
Usborne Publishing Ltd
ISBN
9781474927277
Format
Paperback / softback
Published
01-06-2017
Synopsis
Rosalind hates her new secondary school. She's the weird girl who doesn't talk. The Mute-ant. And it's easy to pick on someone who can't fight back. So Rosalind starts a blog - Miss Nobody; a place to speak up, a place where she has a voice. But there's a problem...
Reviews
"Some experiences - like walking into an exam hall or moving to a new school - never leave you and for Rosalind, transitioning to secondary school is made even more complicated by a terminally ill brother and her selective mutism. Unable to speak to anyone outside her immediate family except for the kindly, baby-sitting next-door neighbour, Roz quickly becomes an easy target for the bullies and, with the help of her little brother, Seb, sets up a blog in order to fight back; exposing the bullies through her outspoken alter-ego Miss Nobody and giving a voice to her fellow victims. Vigilante justice is rarely the answer though and when a teacher falls victim too, Roz soon realises she has made a huge mistake and must act fast to put things right.
Whilst you can't teach empathy, this book cannot fail to encourage and inspire it in a way that is neither patronising nor preachy. All the characters are rounded and very human giving the reader a real insight into how Rosalind is feeling and why she thinks and behaves the way she does. Page doodles perfectly complement the text and make visual the Massive Mind Muddles Rosalind experiences while trying to get her words out. The clever use of hashtags throughout, even for chapter headings, emphasise just what it is like to grow up in an online world.
With its seamlessly interwoven themes of terminal illness, grief, loss, anxiety, bullying and cyberbullying this could easily be a gloomy, doom-laden read but in fact it is darkly funny and full of witty one-liners, especially from Seb, which lighten the mood. The importance of family and the power of friendship are underlined at every page turn. Counselling and therapy is not presented as a quick fix but the importance of letting people know how you feel is very clear.
Adult readers will no doubt be frustrated by the seriousness and scale of the bullying and the way the teachers seemingly turn a blind eye to it but this highlights the enormity of the issue in Rosalind's eyes and turns the spotlight on the online world which lurks just beneath the surface in all schools today. Librarians will be unsurprised by the fact that Roz finds safety and friends in the school library!
This is a pacy, positive and powerful story which will leave young readers empowered to ask for help when they need it and not be afraid of being themselves. Read this book once to revel in the story and again to appreciate the importance of the themes and the skill with which they have been woven together. With mental health more than ever on the agenda in schools we need more books like this for our young people. Recommend it to anyone wondering what to read after Wonder. Recommend it as a class read at upper KS2/KS3. Recommend it to your English teachers, to TAs who work with vulnerable students, to counsellors and to those in charge of the PHSE curriculum. This book could make a real difference. Winter really is a writer to watch.
Usborne have also produced a useful accompanying pack for schools and book groups including discussion points and writing activities around the main themes including selective mutism, staying safe online, illness, bullying, empathy and facing your fears.
www.tes.com/teaching-resource/being-miss-nobody-by-tamsin-winter-reading-notes-and-activities-ks2-11678880
384 pages / Ages 10+ / Reviewed by Eileen Armstrong, school librarian.
Suggested Reading Age 11+
Other titles