Billie Swift Takes Flight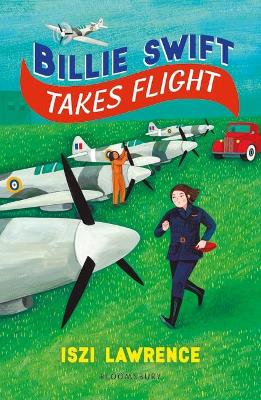 By Author / Illustrator
Iszi Lawrence
Genre
Historical Fiction
Age range(s)
9+
Publisher
Bloomsbury Publishing PLC
ISBN
9781472988171
Format
Paperback / softback
Published
02-09-2021
Synopsis
The story of WWII starring the brilliant pilots you've never heard of... the women of the Air Transport Auxiliary (ATA) who battled against the odds to get the air force's planes to the front lines. This coming-of-age tale is perfect for fans of Emma Carroll, Michael Morpurgo and Hilary McKay.
October, 1942. When 12-year-old Billie is out exploring with her pet chicken, she sees a plane crash into a field and is left wondering if the pilot even survived. Determined to find out more, Billie finds a way into the ATA - a group of amazing pilots who defy the odds to get planes from the factories to the front lines - and her life changes for ever. Some of the pilots are men who are too old, or too injured for the air force. But many more are women. Intrepid, inspiring women who show Billie what she might grow up to become.  With missions including ferrying turkeys over from Ireland and flying unfamiliar, broken planes, Billie is desperate to help. But piloting fighter planes could turn out to be more than she bargained for...
Q&A and video with author Iszi Lawrence
Reviews
Jacqueline
Billie is 12 years old. She loves planes and hates school. She lives near an airfield and the date is 1942. Britain is at war. One day she sees a pilot in a spitfire crash in a field near her home. In order to find out what happened to the pilot, Billie visits the airfield and, through a quirk of fate, ends up learning more about planes than she ever thought possible.
This book pays tribute to the real-life women who flew planes during the war. As with Iszi Lawrence's first book, Lettie Pegg, many of the characters really lived and carried out extraordinary acts of bravery. The people, both real and imaginary, are completely believable and the story is one of excitement and adventure.
Billie herself is one of my favourite characters in a children's book, being both childishly unaware of how people behave but understanding planes in a mature and knowledgeable way: she is such a satisfying heroine. Unusually, not every lose end is tied up and that would be a great story starter for children to continue with what happened next. There are some small and delightful illustrations by Helena Perez Garcia, dotted throughout the book, which add to the feel of the story.
Whilst this is a war story, there is relatively little peril from the enemy, though they are always present, and the story is focussed on the airfield and Billie herself. I never even knew the ATA (Air Transport Auxiliary) existed and how many amazing women were involved in flying. This will be a book that many children will enjoy and it fits really well into the topic of World War II, often covered in Y6. It is a refreshing addition to the many amazing stories from the time.
320 pages / Reviewed by Jacqueline Harris, teacher
Suggested Reading Age 9+
Hayley
Iszi Lawrence has managed to capture an unfamiliar tale of WWII in Billie Swift Takes Flight. This brilliant story highlights the history and bravery of the Air Transport Auxiliary (ATA) women, who were courageous enough to battle against all odds to get the air forces planes to the front line. The main character is 12-year-old Billie who is obsessed with planes; she reads about them all the time and often goes to visit the airfield not far from where she lives to spot new ones. It is here one day that Billie - whilst out with her pet chicken, Susan - witnesses a Spitfire crash just short of the airfield. However, before she can help, she is scared away by the explosive sound of a shotgun in close range.
Determined to find out what happened to the pilot in the Spitfire, Billie discovers a way to gain access on to the airfield, which is home to the ATA. The ATA are a bunch of amazing pilots who defy the odds of war to get planes from the factories to the front line. Billie soon discovers that some of the pilots are men who are too old, or have been injured during the war, but little did she know that many of the pilots are fearless heroic women.  Inspired by these women, Billie is determined to help and, after a surprise meeting with Eleanor Roosevelt, she is driven to get her pilot licence and start training with the ATA as a cadet.
This book not only provides the reader with the thrills of flying, but it also has an intriguing plot bursting with suspicious activity and embezzlement with the enemy. I would recommend this book to support the teaching of WWII in Upper Key Stage 2 because it gives another dimension to approaching the curriculum. It is brimming with historical detail and really highlights the heroic nature of some very inspirational women. It would be an excellent class story that would provide children with a tale about a thrilling war-time adventure.
320 pages / Reviewed by Hayley Summerfield, teacher
Suggested Reading Age 9+
Other titles