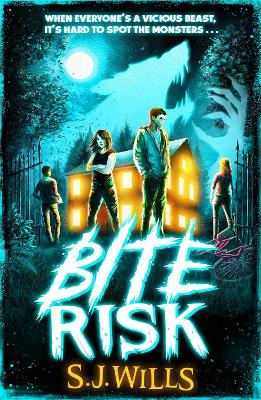 By Author / Illustrator
S.J. Wills
Genre
Horror
Age range(s)
11+
Publisher
Simon & Schuster Ltd
ISBN
9781398520943
Format
Paperback / softback
Published
08-06-2023
Synopsis
When everyone's a vicious beast, it's hard to spot the monsters . . .  The first book in S. J. Wills' blockbuster teen horror series, perfect for fans of Stranger Things, Fear Street and Skulduggery Pleasant.

Sel Archer lives in a normal town with normal residents, except for one night a month . . . When the full moon comes out, almost all of the adults turn into werewolves, and it's up to the young people to protect themselves from danger.  But, as this quiet life begins to unravel, and the Turned start to escape, can Sel and his friends uncover exactly who - or what - is watching their every move, before it's too late?

Welcome, to the TOWN OF THE TURNED!
                                                                Find out more in this video by author SJ Wills

Praise for Bite Risk:   'Bite Risk by the most talented S. J. Wills will have you turning each page feeling sheer horror and laughter.' - A. M. Dassu.  'Pure, thrilling brilliance!' - Louie Stowell.  'I inhaled this book. A concept that crackles, watertight world building, characters you care deeply about, & then the twists & turns . . . ' - Nicola Penfold.  'Smart, pacy, twists and turns with a hero who feels real. Exciting, thrilling but not too scary.' - Emma Norry.   'A gripping, fast-paced thriller.' - Nizrana Farook.
Reviews
Sam
What an absolutely 'ripping read'! Bite Risk is highly recommended read for any almost-teen. I'm not a great fan of werewolves, and at first look that's exactly what this book seems to be all about, but it's so much more. This is dystopia with a difference. Family, friendship, trust and adventure, what more can anyone want from a book?
Sel Archer, lives with his Mum and they get along fine, just like any other single parent family; however, once a month, Sel secures his Mum in a cage as she turns into a werewolf! But Sel is not alone, every full moon the young people of Tremorglade are responsible for locking up the adults who have 'turned', to protect themselves from danger. One night, every month, for as long as they can all remember, the young people in the town, are responsible for keeping the town safe. But then one 'confinement night' things begin to go awry, and Sel and his friends are sure someone is behind it all. Can they work out who is responsible for what is happening to their town before it is too late? New out this month, (June), a great summer read.
320 pages / Reviewed by Sam Phillips, school librarian
Suggested Reading Age 11+
Other titles