Black and British: An Illustrated History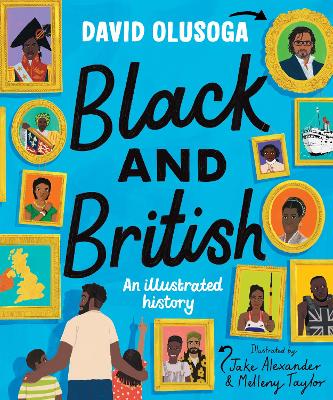 By Author / Illustrator
David Olusoga, Jake Alexander, Melleny Taylor
Genre
Representation & Inclusion
Age range(s)
9+
Publisher
Pan Macmillan
ISBN
9781529052954
Format
Hardback
Published
11-11-2021
Synopsis
This beautiful hardback gift book is a stunning visual journey through Black British history for younger readers by award-winning historian and broadcaster David Olusoga and illustrated by Jake Alexander and Melleny Taylor.

The essential starting place for anyone who wants to learn about Black British History. David Olusoga's thought provoking text charts the forgotten histories of Black people in Britain from Roman times right through to the present day. From Roman Africans guarding Hadrian's Wall, to an African trumpeter in the court of Henry the Eighth, Black Georgians fighting for the abolition of slavery, Black soldiers fighting for Britain in the First World War, Windrush and right up today. These are the stories that brought us all together in this country.

When did Africans first come to Britain?  Who are the well-dressed black children in Georgian paintings?  Why did the American Civil War disrupt the Industrial Revolution?  These and many other questions are answered in this essential introduction to 1800 years of the Black British history.

This children's edition of the bestseller Black and British: A Forgotten History is beautifully illustrated in full-colour with maps, portrait galleries, timelines, photos and portraits.
Reviews
Sharon
David Olusogu says Black and British: An illustrated history is the book he wishes he'd had to read when he was a child. What he hasn't realised is the massive impact his glorious book has had on the children in my class. We had been studying the Romans and Emperor Septimus Severus (a black emperor, who was born in Leptis Magna (Libya) and died in York). He is highlighted in the Roman section of  the book and when I let the class explore it themselves, their gasps were a delight to hear.
They were so impressed with how many important black people were in this book and the discussions we had about the bias in some history texts was quite revealing. The children thought it wasn't fair that both sides of the story didn't always get recorded and that the victorious side tended to write their version of events. The current political affairs came into the discussion with different households holding very different points of view. This was incredibly interesting. The relevance of the text for today's protests gave the children a way in to see why it is so important to speak up.
I hope they continue to read, and think about, this text. The beautiful illustrations and maps really helped the children to picture the people being discussed. This book should be available in every classroom, not just for history topics, but to show all children that history can be used to improve our current and future lives. I'd highly recommend this for children aged 7+.
80 pages / Reviewed by Sharon Porter, teacher
Suggested Reading Age 7+
Other titles