Blow a Kiss, Catch a Kiss: Poems to share with little ones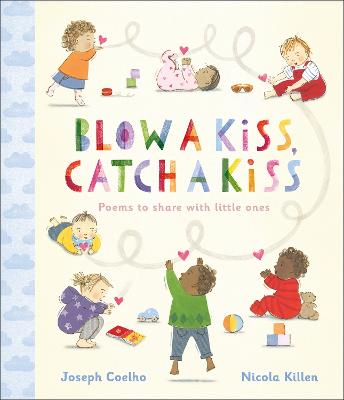 By Author / Illustrator
Joseph Coelho, Nicola Killen
Genre
Poetry
Publisher
Andersen Press Ltd
ISBN
9781839131363
Format
Hardback
Published
06-10-2022
Synopsis
A beautifully illustrated anthology of forty-four short poems by award-winning Waterstones Children's Laureate Joseph Coelho, designed to be shared together.  'Blow a kiss, catch a kiss when we are apart.  Blow a kiss, catch a kiss, put it in your heart.'  From Eye Caterpillars to The Journey Game, and from Dancing Families to Dreamtime, this collection of fun and heart-warming poems from award-winning children's poet Joseph Coelho are perfect for sharing everyday feelings and experiences.
Reviews
Sue
Blow a Kiss, Catch a Kiss: Poems to Share with Little Ones is a delightful collection for babies and toddlers which offers poems about their everyday experiences. Gathered into four sections - All About Me, Out and About, What Do I Feel? and At Home - Joseph's poems capture the essence of the things which shape a little one's day and the simple joy of these experiences.
The poems play with sounds and word families, making the poems easy to learn and even easier to join in with. You can't help but join in with the 'Dancing Families' or use the bubbles in a bath to follow the actions of 'Bubble Pop' or gather your own imaginative collection after reading 'Collecting'. There are poems which share love and hugs and those which help develop empathy and understanding of feelings.
Many of the poems could be used as action rhymes - Stomp, Sneak, Dance, Blow a Kiss - which families could add their own ideas and verses to. 'Take a Deep Breath' is a wonderful poem for encouraging calm and could easily become part of a daily routine just as 'Dreamtime' is the perfect poem for ending a busy day. Each poem is worthy of comment, but two of my favourites are 'Take a Book from The Shelf' and 'Some Words' which offer plenty to chat about as well as being great poems!
Nicola Killen's illustrations are full of fun and energy, perfectly capturing the essence of the poems. Brilliant for home and school - a collection for everyone!
48 pages / Reviewed by Sue Wilsher, teacher
Suggested Reading Age 0+
Other titles