Bonesmith: The thrilling Sunday Times bestseller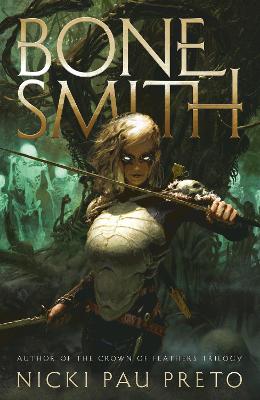 By Author / Illustrator
Nicki Pau Preto
Genre
Fantasy
Age range(s)
14+
Publisher
Hodder & Stoughton
ISBN
9781399722346
Format
Hardback
Published
25-07-2023
Synopsis
The Sunday Times Bestseller.  Ready your blade. Defeat the undead...  Gideon the Ninth meets the Game of Thrones' White Walkers in this dark young adult fantasy about a disgraced ghost-fighting warrior who must journey into a haunted wasteland to rescue a kidnapped prince.

In the Dominions, the dead linger, violent and unpredictable, unless a bonesmith severs the ghost from its earthly remains. For bonesmith Wren, becoming a valkyr - a ghost-fighting warrior - is a chance to solidify her place in the noble House of Bone and impress her frequently absent father. But when sabotage causes Wren to fail her qualifying trial, she is banished to the Border Wall, the last line of defense against a wasteland called the Breach, where the vicious dead roam unchecked.

Determined to reclaim her family's respect, Wren gets her chance when a House of Gold prince is kidnapped and taken beyond the Wall. To prove she has what it takes to be a valkyr, Wren vows to cross the Breach and rescue the prince. But to do so, she's forced into an uneasy alliance with one of the kidnappers - a fierce ironsmith called Julian from the exiled House of Iron, the very people who caused the Breach in the first place...and the House of Bone's sworn enemy.

As they travel, Wren and Julian spend as much time fighting each other as they do the undead, but when they discover there's more behind the kidnapping than either of them knew, they'll need to work together to combat the real danger: a dark alliance that is brewing between the living and the undead.

'Filled with magic, betrayal, and undead horrors' Jodi Meadows.  'I've been dying for a YA novel with unique magic, and Bonesmith delivered it on a ghostly-green platter' Tricia Levenseller.  'Packed with action and betrayal' Rebecca Schaeffer.  'A dark fantasy thrillride' Amelie Wen Zhao.
Reviews
Linda
Bonesmith is the first book in the House of Dead series. This is a dark YA fantasy with a Game of Thrones (White Walkers) feel about it...   
When Wren, a bonesmith, is sent to the Border Wall of the Dominions as a punishment, she must find a way to prove her worth and find a way back to the noble House of Bone.  During her time at the Border Wall she learns things about her family through her mentor Odile, who gives her a chance to redeem herself when the House of Gold's Prince arrives. However, things do not go to plan and when the House of Gold's prince is kidnapped, she finds that she has to make an alliance with one of her enemies in order to get him back.  Julian is an enemy of her house, an Ironsmith. How can Wren work with a sworn enemy and trust him? As they travel through the haunted territory they discover that there is more behind this kidnapping than they realised. Will this discovery bring them together or pull them further apart?
Bonesmith is action-packed from the start. There are themes of necromancy and sinister ghostly spectres, so it is not for the faint hearted, but there are many discussion opportunities around the ideas of magic, ghosts and similarities to other texts. I really enjoyed the banter between the two main protagonists, a 'will they won't they' relationship which is full of mistrust and lies that they have been told about each of their families.
Why all the secrets and lies? Who are their families really protecting? I look forward to book 2 so I can delve back into the dark world of the Dominions and see how these characters develop.
464 pages / Reviewed by Linda Brown, school librarian
Suggested Reading Age 14+
Other titles