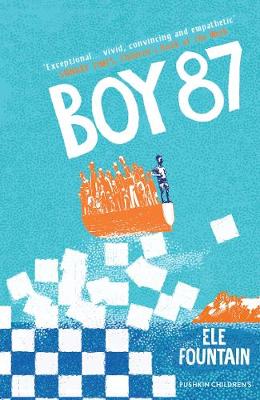 By Author / Illustrator
Ele Fountain
Genre
Representation & Inclusion
Age range(s)
11+
Publisher
Pushkin Children's Books
ISBN
9781782691976
Format
Paperback / softback
Published
05-04-2018
Synopsis
Shif is just an ordinary boy who likes chess, maths and racing his best friend home from school. But one day, soldiers with guns come to his door - and he knows that he is no longer safe.  Shif is forced to leave his mother and little sister, and embark on a dangerous journey; a journey through imprisonment and escape, new lands and strange voices, and a perilous crossing by land and sea. He will encounter cruelty and kindness; he will become separated from the people he loves. 
Boy 87 is a gripping, uplifting tale of one boy's struggle for survival; it echoes the story of young people all over the world today.   'Boy 87 is an original and beautifully written page-turner of a novel about love, survival and the strength that can be found in a hopeful human spirit' - Sarah Crossan, Carnegie Medal Winner.  'Shif is an unforgettable character, and his story should be read by everyone who cares about one of the unfolding tragedies of our time' - Award-winning author Elizabeth Laird
Reviews
Falak

- Age 11
For me the book was boring at first but as you read on you kind of get the image of what the book is about! It took me about 3 days to read but I loved it! Defo recommend
Suggested Reading Age 11+
Emily

- Age 10
Boy 87 is a gripping novel with powerful words and deep meaning. It is about a young brave boy called Shif and his best friend Bini. We follow along their remarkable, uplifting, heartwarming story where they discover kindness and cruelty, wisdom and instinct, protection and danger.

Everything is normal for these two best friends until the army starts patrolling their local school. Along the way they leave their families behind, are forced into captivity, run away and lose each other, but hope and courage help them to believe they can carry on.

I truly recommend this book to people of all ages. It is fascinating, intriguing and raises awareness of all the young and old who are experiencing lives like this or even worse. This is a novel that brings tears to your eyes and lets you see a whole new perspective on life.
Suggested Reading Age 9+
Finlay

- Age 10
This is the story of a boy called Shif and his best friend Bini. Shif and Bini both love maths, chess and racing home after School. They are the smartest in their year and both aspire to have good well paying jobs. But one day soldiers with guns arrive at their doors and their whole life is turned upside down. They are torn away from their families and forced to fend for themselves through a perilous crossing by land and sea.

This is a story filled with struggle, heart-ship and loss. The story is utterly gripping and you'll love it just after the first sentence. It's moving, and the characters feel real and relatable, and the story is so well written.

Ele Fountain has done such a good job of bringing this very real crisis into perspective and showing us how unfortunate some people are and how much we take things for granted. This book will undoubtedly bring tears to your eyes and make you wish it would last forever.
Suggested Reading Age 9+
Emma
Boy 87 is an accessible if often difficult story that reminds us that, behind every refugee statistic, is a real person with an often desperate story.

The Boy 87 in this story is Shif, a 14 -year-old boy who is numbered the day he and his friend, Bini, are arrested by the army when they are suspected of trying to leave the country. After a very ordinary childhood, they now find themselves incarcerated in terrible conditions. However, the kindness of the men they are imprisoned with shines through and escape plans are hatched. This is when Shif's dangerous journey to the Mediterranean and Europe begins and it's a real whirlwind of danger and adventure.

Shif's story is told in spare prose and in the first person, which makes it all the more vivid and engaging. Author Ele Fountain vividly brings to life the dangers Shif faces in the crossing as well as the other problems he has to navigate before he even gets near a boat, such as local trafficking and hostility.  While the country he is from is never named - making his story universal - it is clear that Shif has little option but to leave his family behind and as a reader, we very much hope that he finds a better future; the story ends on a hopeful note for Shif.

Boy 87 would make a gripping class or book group read, which vividly brings to life the country that Shif is from. There is much for children aged 11+ to discuss including the issues Shif and his family face at home; the often thin line that separates an economic migrant from a refugee; and why people are willing to put themselves in such physical danger in attempting the crossing to Europe.

Older readers could go on to find out more about the political instabilities that have shaped the current refugee crisis in Europe and compare it with previous periods in history that have caused large population movements.

Be warned that there are moments of real hardship in Shif's story and while the violence is carefully handled, some readers might find parts of Boy 87 difficult. That said, it is also a book that skillfully explores the current refugee crisis and will answer many of the questions children might want to ask about it. It is also a vivid and beautifully-written story; I'm looking forward to seeing what Ele Fountain writes next.

224 pages / Reviewed by Emma Long
Suggested Reading Age 11+
Other titles