Britannica's Baby Encyclopedia: For curious kids aged 0 to 3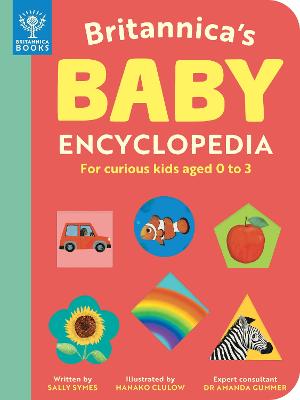 By Author / Illustrator
Sally Symes, Hanako Clulow, Dr. Amanda Gummer, Britannica Group
Genre
Non Fiction
Publisher
What on Earth Publishing Ltd
ISBN
9781913750794
Format
Hardback
Published
13-10-2022
Synopsis
Britannica's Baby Encyclopedia explores big ideas through a little one's eyes. This huge board book covers an enthralling spectrum of topics: Earth, Animals, Plants, Food, Machines, Art, Music, Numbers and Shapes. The simple, clear and lyrical text includes plenty of sound words for an enjoyable reading-aloud experience, and is paired with gorgeous illustrations by Hanako Clulow. Reviewed by early-years specialist Dr Amanda Gummer, as well as a host of Britannica subject experts, this is the perfect book to inspire little brainiacs!
Reviews
Elen
I remember when my child was very young feeling slightly overwhelmed by how much they had to learn, and how to go about imparting all that knowledge - so I would have loved, and felt very reassured, by Britannica's Baby Encyclopedia, aimed at those aged 0-3 years.
It's a very chunky book - a board book, which means its pages are sturdy and won't get torn and also that you can leave it on the floor or with toys for a child to explore by themselves. It's also a book you will want to share on a lap with a little one, although its weight means you need to take care that it doesn't get dropped on small toes!
There is so much to explore, from landscapes, farms and weather to animals, visits to the park and everyday routines. Young children will love exploring all the babies and toddlers in the book doing the kinds of things that they do, and through this, learning more important things like daily routines and about our senses alongside shapes and colours.
Each pages is divided into colourful sections - halves or quarters - so there is plenty to explore on a single spread, and lots to name and talk about. The expressions of the young children are engaging and the illustrations full of fun and colour.
Highly recommended as a starting point to share with very young children to help them learn about the world, and plenty in there to keep them going through their first few years.
72 pages / Reviewed by Elen Green
Suggested Reading Age 0+